4.
PE Investors value leadership assessments – but most run out of time to perform them robustly

While PE investors think most about the skills needed within the portfolio company leadership team during the due diligence phase, only 55% actually do a rigorous evaluation of their portfolio CFOs – with lack of time as the top reason for not doing it.

For those PE investors who do assess their leadership talent during due diligence, few used deeper assessment tools, with fewer than 20% leveraging in-depth psychometric tools and other similar methods. While the least used, these more rigorous methods provide the best information on the leader.

While faced with a lack of time and a limited selection of tools, PE investors are aware of the value that comes from doing this right. As previously noted, 100% of investors surveyed believe the right leadership team becomes the difference between a weak and strong exit.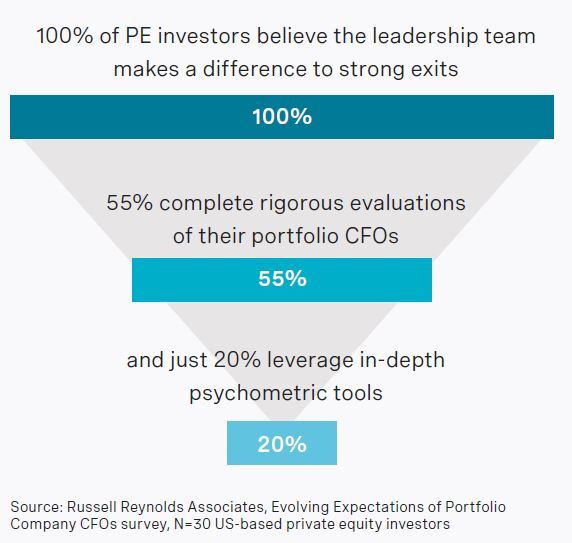 | | | |
| --- | --- | --- |
| | | |
| | Takeaway: Creating a process around leadership assessment during due diligence can be a major differentiator between the success or failure of the deal outcome. Dive deeper into leadership assessments before the deal to set the company and leadership team up for success post-deal. | |
| | | |
5.
The ideal CFO replacement time is post-deal

Deeper pre-deal assessments allow PE firms to determine how the leadership team stacks up against their value creation plans. If existing leaders do not meet expectations, firms have two options:
Promote from within and support the leaders' development, or
Recruit and replace the existing leader.
Most PE firms (79%) choose the latter, with 42% replacing their portfolio CFO immediately following the deal, and an additional 25% doing so within two years.
42%

of PE firms replace the portfolio company CFO immediately after closing the deal
| | | |
| --- | --- | --- |
| | | |
| | Takeaway: Spending time during the diligence process to understand what the CFO candidate pool looks like can accelerate post-deal execution against the deal strategy. | |
| | | |