As companies across all sectors have accelerated technology transformation agendas, many have also prioritized the diversification of talent at the board level; focusing on appointing leaders with tech, digital and data backgrounds. In the turbulent environment created by the impact of Covid-19, we expect this trend to further accelerate. For the past 7 years, Russell Reynolds Associates has published a bi-annual report tracking the addition of such talent to boards. Based on our 2020 analysis of the 300 largest publicly-traded companies around the world, or the S&P Global 300, we find the percentage of boards that include two or more tech and digital directors has grown to 36 percent, up from 28 percent in 2018.

The Trend Continues
We continue to see an influx of tech and digital director additions to boards worldwide, and in several markets the pace is picking up: More than a third of tech and digital directors currently on the S&P Global 300 boards joined within the last two years. While Europe's numbers are flat, in the Americas there has been a significant increase in the number of boards with two or more tech/digital directors. In the Asia Pacific region (APAC), we have seen meaningful growth in the total number of companies with any tech/digital expertise, as well as those with two or more. The shift in composition driven by the addition of tech and digital talent is a critical enabler of a future-ready board.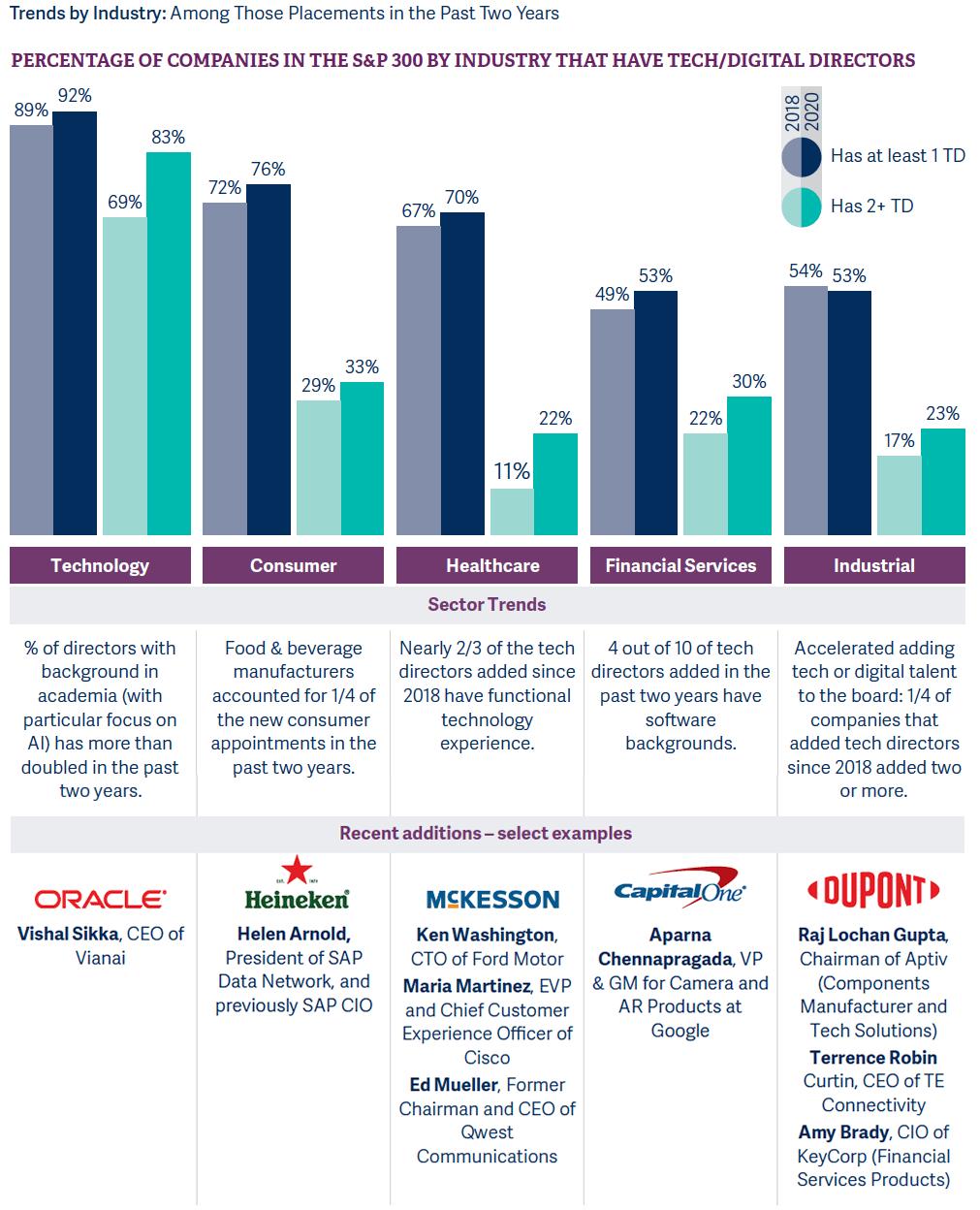 Tech & Digital Director Archetypes in 2020
The profile and expertise of the ideal tech or digital director depends on a company's strategic objectives and governance needs. Though about half bring tech company CEO experience, we have also seen an increase in those with functional tech backgrounds (IT/engineering, data, digital, AI) in the past two years, signaling a shift towards a more targeted approach.


The Elements of a Future Proofed Board: Governance in 2020 and Beyond
In the shaping of a "future proof" board, the addition of tech and digital talent is critical -- but it is only a beginning. Boards must also ensure that they leverage the strength of such diversity by integrating the perspectives of these new directors, particularly when they challenge assumptions about how the business is making space for new business models and growth opportunities, and when they elevate risk topics such as business model disruption, cyber attacks and tech obsolescence.
In the uncharted territory in which all companies now find themselves, it is clear that boards must move away from check-the-box, rear-looking governance and reporting towards a more agile and engaged approach. Those able to pivot will spot opportunities and threats earlier and be better equipped to oversee critical strategic bets, people decisions and risk mitigation.

---
Contributing Members of the Russell Reynolds Technology and CEO & Board Practices
ROBERT ALEXANDER, New York City
DAVID FINKE, Palo Alto
RHYS GROSSMAN, London
CECYL HOBBS, San Francisco
ART HOPKINS, Atlanta
TRISTAN JERVIS, London
MARGOT MCSHANE, San Francisco
TUCK RICKARDS, San Francisco
ERIC SIGURDSON, Chicago