Understanding the psychometric and behavioral drivers of chief technology officers
Across many industries, particularly the consumer, technology and digital sectors, technology has evolved from 'enabler' to 'differentiator.' Alongside this shift, while ambiguity still exists between the chief information officer (CIO) and chief technology officer (CTO) roles, there is widespread recognition that the latter has emerged as the more appropriate title for the future of the top technology job. The role is evolving faster than ever before and we see companies requiring a new CTO to connect and translate the creation and management of new products and services with more traditional enterprise IT and operational enablement activity.
While the scope of the CTO role and pace at which it is evolving varies by industry, company size, geography and culture, almost all companies are expanding the technology leader's responsibilities as the realization of delivering digital products and services, data and analytics capability and customer experience is primarily differentiated by the technology function. Which means CTOs not only need to have broad technical expertise but also the strategic and commercial acumen to challenge, translate and drive decisions across the enterprise and the vision and market connectivity to bring the outside in.
To further understand their evolving roles, we analyzed leading CTOs and identified the psychological attributes which characterize them. Specifically, in addition to innovating and driving a technology agenda, what behavioral competencies do CTOs possess which help (or potentially hinder) their success?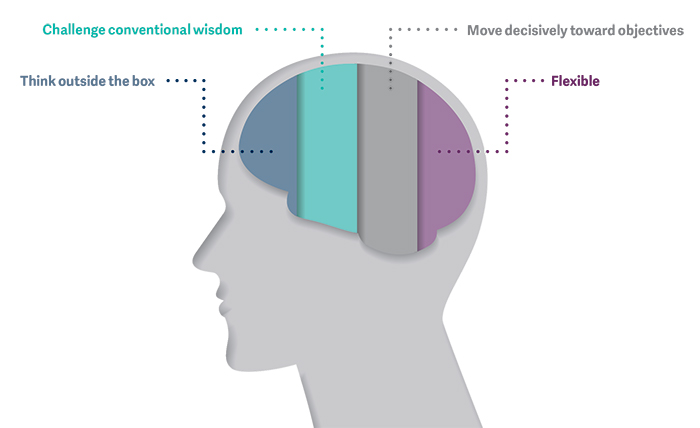 Our findings
Several distinct cognitive and behavioral tendencies which characterize CTOs emerged from our research. These unique attributes are what help leading technology executives navigate the complex intersection of strategy and operations at their organizations. They can be clustered across the following four themes: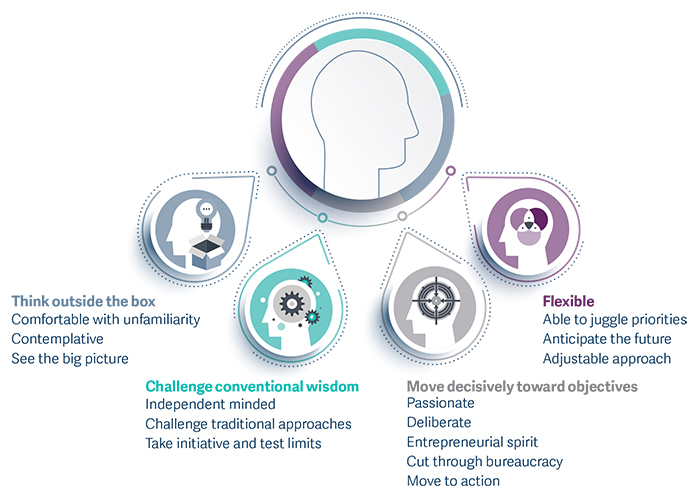 The most successful CTOs tend to have an active and abstract thinking style. They are willing to challenge the status quo and consider novel alternatives. Entrepreneurial and fluid in their approach, they are not likely to be hindered by process and bureaucracy; they have the keen ability to see the big picture. CTOs keep their eyes on the prize: they focus on key objectives and are quick to course correct when necessary. They are business- and results-driven and demonstrate personal investment and involvement in driving initiatives forward. They consistently have a high level of flexibility in style, thinking and action. They tend to be more self-driven and are independent thinkers while being interpersonally reserved.

CTOs are creative problem-solvers.
Leading CTOs are focused on strategic outcomes. They anticipate future events and consistently ask questions about how technology impacts the business, its people and culture, and how it is a catalyst for technology transformation across the entire organization. They focus on the power of technology and think outside the box beyond his/her function.
Case Study: European telecommunications company

The CTO of a major European telecommunications company has driven change around the way the company's products and services are consumed, underscoring that CTOs need to think more broadly and holistically about how to drive change which benefits the entire organization.

Successful CTOs are leaders, not followers.
CTOs are frequently expected to challenge traditional approaches. Their ability to communicate candidly and welcome scrutiny are key differentiators among leading CTOs.
Case Study: Global bank

The CTO at a global bank described how the challenges and resistance he experienced during a major cybersecurity transformation he led resulted in a positive change in company culture. Others echoed the importance of welcoming active brainstorming to generate new ideas, acknowledging one's mistakes and encouraging direct reports to challenge leadership perspectives.

CTOs are passionate executors; they get things done.
Some CTOs possess the unique combination of being passionate, visionary and flawless executors. There's no question that being results-driven is a critical part of the role. This is particularly true for CTOs in turnaround situations who are brought in to diagnose a problem, define strategy and a roadmap, then successfully execute on time. More often than not, the CTO's passion creates the strong drive to ensure s/he is executing for results. The CTOs who bring all of these attributes to bear are truly successful.
Success in the [CTO] role means having the ability to successfully bridge the gap between different agendas and functions.
– Telecommunications CTO
CTOs are adaptable and approachable project masters.
Anticipating the future and having a flexible approach serve CTOs well regardless of industry or company size. Flexibility is also important internally with people and projects as well as externally with clients and shareholders. Further, CTOs who plan well, masterfully manage competing priorities and course correct to stay on task have been successful across a broad range of organizations.
Market-Driven Changes to the CTO Role
Technology functions have experienced dramatic shifts. While there was a time when technology was removed from the business and viewed as an independent function, that is no longer the case. Today, technology leaders are viewed as commercial enablers and the best are true differentiators who are completely integrated with the business and drive the strategic direction of the organization.
The unique combination of competencies and experiences makes tomorrow's CTO in very high demand.
Leading CTOs understand the multidimensional mandates of their role and have the expanded responsibility of optimizing the product, influencing the customer experience and mitigating business risk. CTOs who have adapted to rapidly changing market and organizational demands have successfully driven their organization's businesses, products and strategy. This unique combination of competencies and experiences makes tomorrow's CTO in very high demand and therefore challenging to find.
Turning Challenges into Opportunities
New technologies have introduced new vulnerabilities around data, privacy and security. With increasingly complex technology ecosystems, CTOs have been confronted with a range of new challenges which require unique approaches and problem-solving skills. While proliferation of cloud technologies and an expanding ecosystem of connected devices—the Internet of Things—create tremendous efficiencies, they also expose organizations to unprecedented operational and financial risks. Given that technology is now the backbone of the entire business for many organizations, the CTO has become an indispensable role that will only continue to gain strategic importance within an organization. This creates tremendous opportunity for the CTO role to drive business strategy.
What's Next?
Identifying a leader who can effectively navigate through change is not easy. With such a significant part of organizational change driven by technology, the chief technology officer's role has become critical to nearly every company's success. Leading CTOs are abstract thinkers who see the big picture and are unafraid to explore unchartered waters. They test conventional wisdom and encourage active debate and discussion to ensure that traditional ideas are challenged. They are also results-driven executors with a vision. CTOs are flexible and adaptable, effectively pivoting among priorities and approaches to ensure objectives are met. While great CTOs may be a rare breed, we hope that highlighting their key attributes will help you plan and make decisions to help you and your organization stay competitive.
Methodology
We identified 80 leading CTOs at global companies in largely consumer-facing industries—technology, media and telecom, consumer and digital—which share a common approach to and understanding of the evolving CTO role. Of that group, we analyzed 20 CTOs through three well-validated psychometric instruments: the 16 Personality Factor Questionnaire (16PF), the Occupational Personality Questionnaire (OPQ-32) and the Hogan Development Survey (HDS). We then compared their results to our broader database of over 8,000 executives who have been through the same evaluation process.
In addition to our psychometric analysis, we conducted in-depth, one-on-one interviews with each participant to ground our conclusions in the executives' own perspectives and experiences. Our participants' anonymous feedback is partly captured throughout this report.
Contributors
Tristan Jervis co-leads the firm's Technology Officers practice. With more than 15 years of search experience, Tristan recruits and assesses technology leaders, primarily COOs, CTOs and CIOs, across industries. He is based in London.
Eric Sigurdson co-leads the firm's Technology Officers practice. He has worked in the technology industry for more than 30 years and brings extensive experience recruiting information technology leaders across industries. He is also a member of the firm's Digital Transformation practice and is based in Chicago.
Erin Marie Conklin is a member of the firm's Leadership & Succession practice. She supports assessment programs that lead to effective hiring decisions, leadership development, and cultural integration. She is based in Atlanta.
Diana Horn is a member of the firm's Leadership & Succession practice. She is a business psychologist who advises leaders on culture, diversity and inclusion, leadership assessment, development and succession. She is based in Los Angeles.
Miki Carlton is the firm's global knowledge leader for the technology sector. She is based in Palo Alto.
BRANDT WILLIAMS is a knowledge associate for the technology sector. He is based in New York.
MOLLY FORGANG is a knowledge analyst for the Leadership & Succession practice. She is based in Chicago.