From R&D to M&A, nearly every form of corporate innovation is gaining steam. Yet what matters is not just how much money an organization spends on innovation, but how it harnesses strategy and leadership to support it.
For any organization, large or small, innovation is fuel for growth. As technological advances and digital capabilities continue to disrupt all sectors, few companies have the luxury of relying on traditional ways of doing business. In just the past few years, ride sharing apps have supplanted taxi services and are driving seismic shifts across the entire transportation industry, video streaming services have upended content development and distribution, and plant-based protein manufacturers are serving notice of disruption to the meat-packing and livestock industries. In some cases, innovation pushes organizations far beyond their original business models. Bank of America, for example, has transformed from a traditional banking organization into a technological powerhouse, leading the industry with its data-driven, customer-focused digital products and services. Classic examples of this shift include Amazon, which evolved from selling books online to becoming a leading provider of web services, among many other business lines, and Netflix, the content production powerhouse that began as a DVD subscription service.
To stay competitive, business leaders are dedicating more money than ever before to the search for new ideas. They are also experimenting with new methods and modalities of innovation, going beyond traditional research and development (R&D) and mergers and acquisitions (M&A), to create corporate start-up incubators, venture investment funds and new types of partnerships.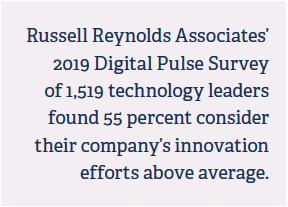 Optimism about innovation also runs high. Russell Reynolds Associates' 2019 Digital Pulse Survey of 1,519 technology leaders found 55 percent consider their company's innovation efforts above average compared to top competitors. Similarly, 56 percent rated their company's culture around innovation positively.
For innovation activities to be truly successful, however, neither money nor optimism is enough. To get the most from innovation investments, organizations also need:
Holistic and coordinated innovation oversight—often headed by the corporate strategy function—to prioritize and shepherd investments, ensuring that each one is aligned to organizational goals, and
Exceptional innovation leaders—both at the corporate and functional levels—who can consistently elicit fresh thinking while separating the wheat from the chaff.
In this paper, we take a look at a variety of common ways companies currently approach the innovation challenge and how they organize innovation oversight at the executive team level, based on an analysis of S&P 100 companies. While there is no single formula for successful innovation, the wide range of current practices provides a starting point for leaders who may be considering or reconsidering how to catalyze growth at their own companies.
Evolving Approaches to Innovation
One of the earliest modern, large-scale corporate innovation efforts was embodied in Bell Telephone Co.'s Bell Labs, founded in 1925. Also known as The Idea Factory, this R&D center was the birthplace of transistors, lasers and sensors, among many other technology breakthroughs, which have paved the way to modern computing, the Internet and most recently the Internet of Things.
In the years since Bell Labs was founded, sourcing new ideas internally through R&D spending has remained a mainstay of corporate growth. PricewaterhouseCoopers recently tracked the 1,000 publicly listed companies around the world that invest the most in R&D and found they spent a combined $782 billion in this area in 2017, an 11 percent increase over the previous year.1
On the other end of the innovation spectrum are M&A, by which companies essentially acquire new ideas, technologies or business models rather than building them in-house. Many of today's largest companies—think Microsoft and Cisco—as well as the fastest-growing ones—think Airbnb and Lyft—rely at least partially on this method to accelerate growth.
But rather than being the only options, these are simply two ends of a broad spectrum.
In addition to R&D and M&A, methods of corporate innovation have continued to evolve and expand to allow varying degrees of collaboration with external partners. Common structures now include incubators and accelerators, in which new internally and externally generated businesses are given support, space and time to reach early maturity; corporate venture capital, which involves investing in external start-ups; and ecosystem partnerships involving alliances among suppliers, customers, universities and potentially other entities, usually aimed at developing technologies or building products and/or services that none could offer on their own.


Nearly every form of innovation seems to be gaining steam, as many companies engage in multiple modalities. Corporate venture investments hit $53 billion in 2018, a five-fold increase from 2013, according to CBInsights.2 At the same time, global M&A volume has remained at historically high levels, surpassing $3 trillion every year since 2013.3
Yet what is critically important to success is not how many innovation modalities a company uses or how much money is invested in them but, rather, whether or not the organization uses strategy and leadership to create a holistic and coherent approach to innovation.
Differentiating Through Talent
Each organization must build an innovation strategy that fits its unique needs and resources. That often means making hard choices among innovation methods rather than pursuing them all with equal intensity.

The first question that leaders must address when it comes to innovation is who—or what function—should own innovation?
In its study of R&D spending at 1,000 large global companies, PricewaterhouseCoopers found that more spending does not automatically lead to higher revenue growth. Instead, a close look at the companies that achieved the highest yield from their R&D dollars revealed that top leadership involvement was a key factor, along with strategy, culture and decision-making processes.4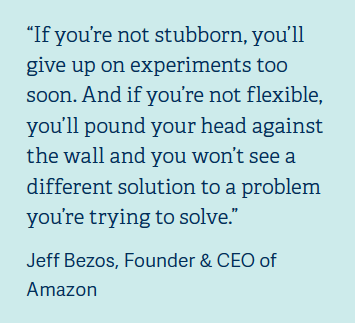 To learn more about how companies structure innovation oversight, RRA recently analyzed publicly-available data on executive leadership team compositions within the largest companies on the S&P 100 index. This revealed the extent to which companies organize their leadership teams around innovation, and how well they signal this commitment to the market. Overall, we found that relatively few companies seem to have a central point of command for their innovation investments.
Just over 20 percent have appointed an executive to oversee multiple innovation modalities, such as corporate venture investing and M&A. Their job titles commonly included strategy, growth and/or corporate development, with only the occasional chief innovation officer. Among this group, technology and healthcare companies are most prevalent.
Approximately 35 percent of these companies have executive leaders overseeing specific areas of innovation.

More than 40 percent of the S&P 100 offer no clear indication of which senior executive might oversee innovation, whether in part or in whole. In some cases, innovation may be viewed as the purview of the CEO, as it is an inherent part of overall corporate strategy. In other organizations, innovation is de facto owned by business unit heads or product leaders distributed across the enterprise.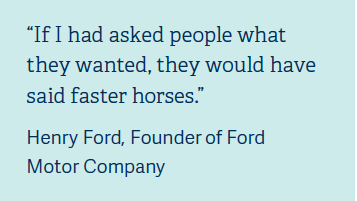 While innovation can flourish under many forms of oversight, the wide variety we observe—as well as the lack of specifically designated leaders at others—raises provocative questions about how CEOs should organize their top teams to get the most out of innovation spending.
This also gives rise to a second question, which is what competencies and capabilities should such innovation leaders possess? We'll address this in a forthcoming publication.
Future Forward
Innovation is a living concept within an organization, adapting to and addressing constantly changing inputs and outputs to better fit the company's business situation and strategic growth imperatives. As they continue to face more disruption, organizations need to evaluate their leadership teams and structures to ensure that the mandates for innovation and growth are optimally addressed.
1 Barry Jaruzelski, Robert Chwalik and Brad Goehle, "What Top Innovators Get Right," Strategy + Business (Winter 2018, issue 93). https://www.strategybusiness. com/feature/What-the-Top-Innovators-Get-Right?gko=e7cf9.
2 CBInsights, The 2018 Global CVC Report.
3 John M. Reiss, "Global M&A value hits new heights in 2018 despite Q4 headwinds," Lexology, January 14, 2019. Mergermarket data.
4 Jaruzelski, Chwalik and Goehle, "What Top Innovators Get Right."

Authors

Michelle Brown is a member of Russell Reynolds Associates' Global Technology/Sector Knowledge team. She is based in Boston.
Cecyl Hobbs is a member of Russell Reynolds Associates' Global Technology Sector and Data Analytics Practice. He is based in San Francisco.
David Finke co-leads Russell Reynolds Associates' Global Technology Sector as well as its Global Hardware and IOT Practices. He is based in Palo Alto.
Alix Stuart is a member of the firm's Center for Leadership Insight. She is based in Boston.