​Amidst the changing healthcare landscape and the pressure to improve quality while reducing costs, physician practices are still in the early stages of bringing the concept of value-based care to life. As a term, "value- based care" may seem overused. The reality is that the healthcare industry is still trying to crystalize the concept of linking healthcare payment to healthcare outcomes.

In this early stage there are already many interesting, potentially high-growth businesses that are implementing risk-bearing models aligned with the value- based care concept, such as Landmark Health, Oak Street and Village MD, among others. However, private equity investors are typically not interested in investing in these businesses, as they operate on a smaller scale. To date, venture and growth investors have been the players in this area, with private equity firms thinking of making investments in the next 3-4 years.

Cyclic trends are not new in healthcare – five years ago there was a rise in Chief Accountable Care Officers, two years ago there was a demand for Chief Population Health Officers, and now, the need to understand the transition to value-based care is more crucial than ever. The conversation is well underway, but experts estimate that the process of fully understanding and guiding the transition to value-based care is a 10- to 15-year journey, with the next 2-3 years being particularly critical in setting the trajectory for the industry.

As healthcare delivery continues to evolve, and physician practices evolve to take on more risk, it is important for organizations to identify senior leaders such as Chief Executive Officers, Chief Financial Officers and Chief Operating Officers who not only understand the considerations for transitioning into value-based care but can also anticipate future evolutions of the healthcare ecosystem.
Profile of a Provider Leader in Transitioning to Value-Based Care
To explore the importance of physician practice leadership and the transition to value-based care, we interviewed prominent leaders intimately involved with physician practices. We combined these great interview insights with our proprietary market knowledge; this analysis revealed which leadership competencies were most important for provider organizations embarking on the transition. These competencies fall into two broad categories: professional experience and leadership qualities.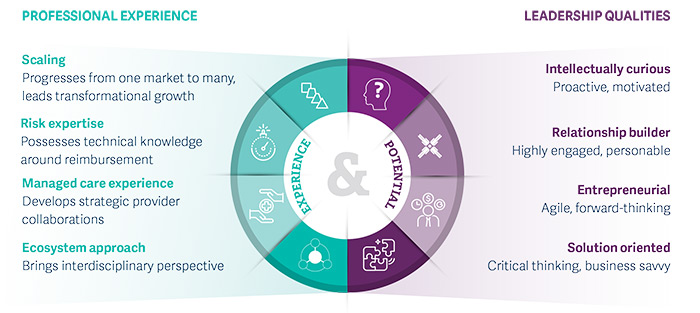 Professional Experience
Our conversations with leaders familiar with physician practices revealed the importance of demonstrated career experience in several areas for leaders guiding their organizations toward value-based care:

Scaling:
To date, the type of transition with which the leadership of some physician practices may be familiar is related to scaling. While some healthcare organizations have had success in scaling regionally (HealthCare Partners, Brown & Toland), the transition to value-based care may be more akin to scaling nationally. As organizations acquire and integrate, both organically and inorganically, it is important to have non-negotiables top of mind: keeping the standard of quality high, enriching organizational culture, and fostering teaming and collaboration.

Risk expertise:
A focus on value-based care requires practices to round out the traditional fee-for-service experience of their management teams and embed risk-oriented economic capability within the organization. While the trend toward value-based care is not headed towards complete risk – successful models take on the least amount of risk so that various partnerships can be established – leaders still need to be familiar with actuarial science (healthcare economics, federal and commercial contracting) and partner with the right stakeholders to create efficiency around this area through technology-building central resources – in order to thrive in the more risk-based landscape of value-based care.

Managed care insight:
Leaders need to be comfortable with the P&L of a managed care organization. They do not necessarily have to bring experience running a managed care P&L (it is not about transplanting managed care leaders into provider organizations), but it is important for them to understand the levers and the flow of such organizations and how to maximize them from a provider perspective. The ability to understand the core drivers of managed care helps leaders internalize the processes that lead to success, particularly in the context of a transition toward value-based care.

Ecosystem approach:
Talent that brings a systems-thinking perspective is very scarce in the market. In their search for leadership, many provider organizations are only focused on those who are able to manage risk. Leaders should also, however, be experienced in thinking through the next areas of growth, identifying the opportunities and challenges that come with bearing additional risk. For example, leaders need to be comfortable executing multiple tasks simultaneously, quickly, and successfully – such as entering new markets, establishing contracts/multi-state licensing, implementing clinical programs, and building central resources.

Intellectually curious:
As healthcare becomes more interdisciplinary, it is not feasible for leaders to possess all technical skills. Effective leaders are able to compensate for gaps in subject matter expertise with their extraordinary intellectual curiosity. A leader's innate desire to seek and "play" with information in order to see what comes of it ends up being a more valuable organizational asset than infinite subject matter expertise.

Relationship builder:
Given the amount of delegation and management needed in complex, matrixed ecosystems, leaders need to be able to develop and sustain successful partnerships. A leader with the qualities that facilitate interpersonal and business-to-business engagement will be successful in building the internal and external relationships that a transition to value-based care requires. In addition, executives need to possess a gravitas that can be respected by physicians, in order to build trust with them and develop a true partnership.

Entrepreneurial:
In order to lead transformation, leaders need to be comfortable with having to start from scratch and enjoy putting together something new. It is difficult to identify forward- thinking leaders that can manage the business and scale; many of these characteristics are developed in real-time, as leaders learn on the job. Leaders who have a consulting background fit well into this role, being able to solve business problems on the spot.

Solution oriented:
It is clear that technical knowledge and capabilities are enhanced when a leader is able to ask the right questions. What a leader then does with this established knowledge and new insight is also critical. Solution oriented leaders take the output of their professional expertise and intellectual curiosity to iteratively refine the question and creatively connect the dots to craft the right solutions.

Recognizing that one individual may not necessarily bring a comprehensive success profile, leadership teams need to ensure that the top 2-3 executives complement each other. Healthcare organizations themselves are innovating while the landscape is transforming, and thus different businesses require different talents. It is important to crystallize the thesis of the business and be specific as to which competencies are needed for each leadership role and why.
Laying the Organizational Foundation for Leadership Success
As physician practices begin their transitions toward new value-based care models, we put forth the following initial recommendations:

Expand the physician executive role:
Adding to the scope of a current physician executive role is one way to make space in the organizational chart for new competencies required in a transition to value-based care. This expansion of capabilities and responsibilities may include oversight of clinical affairs, network development, or potentially operational leadership. A broadened role can be an effective way to attract and recruit top physician executives who otherwise may not have the opportunity to build and/or develop these functions in existing organizations.

Create a new temporary role:
Creating a new role would serve as a powerful signal that the organization is prioritizing value-based transformation. With the primary mandate of ushering the organization through its business-model transition, a brand new position could be structured as a member of the executive leadership team, a consultant, or some combination of both. Whether the "Executive VP, Transition to Value-Based Care" or the "Value-Based Care Transition Consultant," this leader would work with top leadership of the physician practice, in order to accelerate transformation. This executive will need to proactively seek buy-in from the top, as well as build and lead a task force. Responsibilities may include collaborating with contract teams to establish an infrastructure aligned with a greater focus on health outcomes, bridging gaps with the digital/technology innovation team, enhancing the customer experience, and improving organizational competency in new product areas. Ideally, this would be a temporary role; its function would be integrated into the organization once the transition was complete.

Train traditional healthcare executives:
Physicians who are able to run a business, either on the provider or payer side, with full responsibility for the P&L at scale, are very scarce. Physicians tend to be risk-averse, given their education and training, and may be more reluctant to consider fundamental changes to their clinical practices than their business-trained counterparts. That said, organizations may require the next generation of leaders to be physicians. In this case, there are ways to build the business orientation necessary for a successful transition to value-based care.

These opportunities include identifying newly graduated residents and immediately training them in the business; partnering with organizations to groom clinical leaders on leadership and administrative capabilities as well as business acumen; and assessing both internal and external candidates for physician executive traits.
Bring in out-of-industry professionals:
Given the highly disruptive landscape, healthcare organizations are increasingly bringing in talent from other sectors. Healthcare is at a unique transition point in terms of the talent landscape; as organizations are transforming, there is a continuous trade-off between leaders with clinical experience vs. those with administrative capabilities, or traditional leaders with a deep understanding of healthcare vs. innovative, out-of-the-box leaders who bring a fresh perspective to the industry. Provider organizations will need to assess the potential value of out-of-industry executives who offer a non-traditional viewpoint (i.e., determine whether they can help ramp-up the organization in terms of technology and consumer experience) and be honest about the organization's ability and readiness to bring them on.
Authors
Sarah Eames is a member of Russell Reynolds Associates' Healthcare CEO/Board Services and Health Services Practice, specializing in succession planning and recruiting CEOs, senior executive leaders and board members across the healthcare spectrum. She is based in New York.
Amy Saddington is a member of Russell Reynolds Associates' Healthcare Private Equity and Health Services Practice, with deep experience in recruiting senior leadership for multi-site decentralized provider organizations. She is based in Dallas.
Joy Tan is a member of the firm's Global Knowledge team for the Healthcare sector, providing insights and data-driven analysis on key talent challenges in Health Services. She is based in New York.