​Some of the biggest questions in business are often answered with educated guesses. How will the market react to this acquisition? Will this board meeting ever end? What makes a great mentor-mentee relationship?
While the first two may be impossible to answer with any certainty, we can learn a lot about the best mentorships by asking people who excel at cultivating them. That's why, in August 2017, Russell Reynolds Associates surveyed 113 financial executives to understand their experiences as mentors or mentees. The respondents included plenty of heavy hitters: Sixty-five percent are part of the C-suite and 49% work for companies with over $1 billion in revenue.
These senior leaders ended up where they are today in part because of great mentorship, and they're now sharing what they've learned as mentors and mentees to help groom the next generation. And plenty of these senior leaders and mentors are still mentees too, showing how much they believe in the power of a great mentorship.
A Lasting Relationship
How does a good mentorship begin, and what are the practical steps to help it grow? For starters, 66% of all mentorships began in a reporting relationship. And of these, 68% tell us that they continued in their mentorship even after their reporting relationship ended.
Finding the Right Fit
According to mentees, the single most important attribute in an ideal mentor is the ability to provide effective guidance and advice. A whopping 74% of mentees said they valued advice from their mentor more than anything else, far surpassing other characteristics like providing constructive criticism (7%) or providing access to influencers (2%). And when asked about the single biggest way their mentor had helped them, 45% of mentees said it was by giving work-related advice, far ahead of other helpful actions like building leadership skills (21%) and career advancement (16%).
Meanwhile, mentors were more split on what traits they value most in a mentee. Thirty-eight percent said a mentee's most important attribute was an ability to learn through listening and observing, while 31% said demonstrating strong potential in his or her field was more important.
Mentees and mentors also don't always see eye to eye on what makes a mentoring relationship successful. Mentees tended to rank having an organic and personal connection with their mentor as more important, while mentors placed more value on mutual respect.
These differences between mentors and mentees extended to the logistics of their meetings. Mentees were more likely to say their favorite way to connect with their mentor is socially—for lunch, dinner or drinks—while mentors preferred meeting in the office.
But despite these differences, both groups value the relationship. While mentees found the relationship more significant than mentors, most of both groups ranked the relationship high on a 10-point importance scale.
So it's no surprise that, when asked what would make the mentorship better, the most common response among mentors and mentees was spending more time together. Both groups were most likely to connect with their mentor or mentee once or twice a month, with quarterly a close second. But clearly, when a mentorship becomes a mutually beneficial partnership, both sides want to invest more time to help it blossom.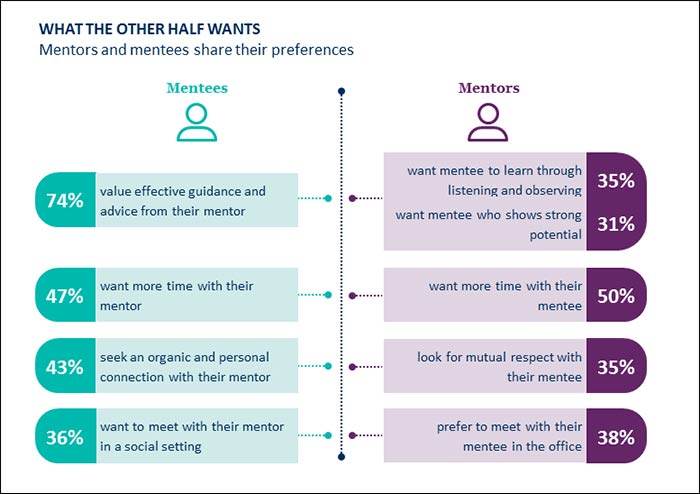 Additional Authors
Jordan Watson