Leading companies are not just using digital platforms to change how they do business, they are also integrating digital expertise into CEO succession planning. Several case studies show a variety of modern approaches to getting more tech-savvy leaders into the C-suite.
The pace of disruption is picking up speed. With Uber's valuation surpassing those of GM, Ford and Honda,1 Amazon purchases accounting for 44 percent of total 2017 e-commerce sales in the United States (and 4 percent of total retail dollars spent)2 and $15.4 trillion worth of mobile payments in China handled by third-party apps in 20173, once-resistant industries are racing to react. As companies continue to grapple with the implications of the technology-centric transformation of their business models, a new leadership question has surfaced: What does all this change mean for CEO succession planning?
Though many traditional companies have embraced the need for change in the ranks of their functional leadership—and even on the board—few have established CEO succession plans that put technology and transformation at the center of the mandate. And while there are any number of innovative CEOs who are turning industries and business models upside down, very few have found a way to leverage technology both to combat disruption as well as to grow and evolve. Experienced operators who can play offense and defense are few and far between.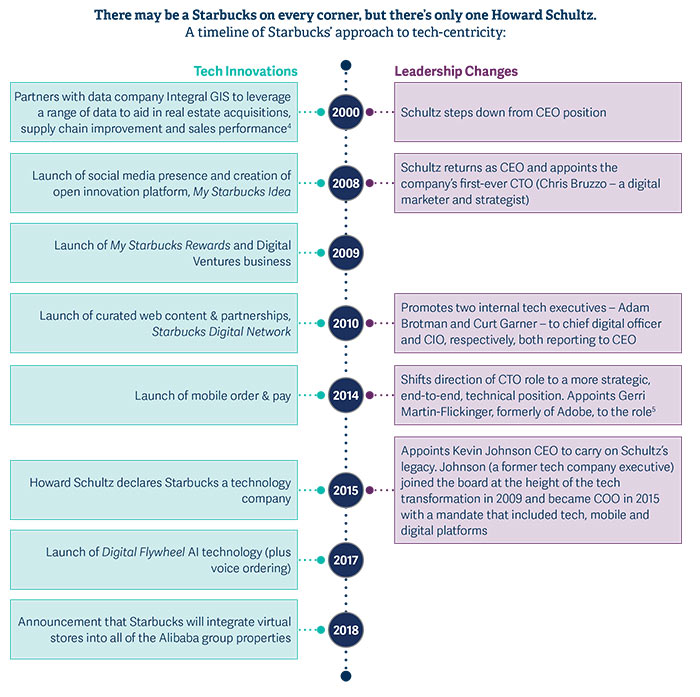 Howard Schultz went beyond POS systems and customer touchpoints to make technology a fundamental component of the company's strategy. And each of Starbucks' tremendous advances in the past decade have been paired with increasingly elevated roles for its technology leadership, including the 2017 succession of Schultz by Kevin Johnson, who is a software engineer by training previously held senior leadership positions at both Microsoft and Juniper Networks.
This critical integration and elevation of technology as a core tenet of the business is becoming increasingly common. As more companies follow in the footsteps of the software-company-formerly-known-as-a-café and declare themselves technology businesses, we're beginning to see a number of other forward-looking companies factor this theme into their succession planning mandates.
BBVA: Strategic Reinvention
Francisco González, executive chairman of BBVA, has publicly declared Amazon, Facebook and Google to be the Spanish bank's fiercest competitors.6 In 2014, BBVA promoted Carlos Torres Vila, an MIT-educated engineer who previously held strategy and corporate development roles in the company, into the role of head of digital banking. A year later, the board approved a new organizational structure and appointed Carlos Torres Vila as CEO.7 This reorg and leadership transition emphasized the critical role technology is to play in the future company.
Ford: A Digital Mindset
In 2017, the 115-year-old automaker replaced its CEO of only three years with Jim Hackett, the executive previously charged with leading its Smart Mobility division. Rather than seeking a leader with a background in technology, Ford has put its faith in Hackett's visionary ability, and in his reputation and sway in Silicon Valley.8 In his previous role as the CEO of a traditional office furniture manufacturer, Hackett set the company on a growth trajectory by encouraging the production of furniture for open floor plans, a then barely nascent concept. And in his role as athletic director for the University of Michigan, he convinced the former head coach of the San Francisco 49ers to move east to coach the university's Division 1 team.
Microsoft: Embracing Cannibalization
Technology companies are not immune to disruption, and the smartest are positioning themselves with leaders who can navigate a transformation. Satya Nadella, a trained engineer with a product-centric background, took the helm of the software behemoth in 2014. Nadella, who joined the company in 1992, brought a track record of success in the face of disruption (counting the transformation of the enterprise business to cloud among his accomplishments). One of his first acts as CEO was to reorganize the company to break up siloes and drive increased innovation through more agile processes. (Executives across industries reported organizational inertia to be the No. 1 barrier to transformation in the 2018 Russell Reynolds Associates' Digital Pulse.) In addition, Nadella has moved away from the traditional businesses for which Microsoft was known and toward cloud and subscription products. The company, now valued at more than $800 billion, has seen its share price nearly triple under Nadella's leadership.9
Siemens: Stacking the Deck
Siemens, once thought of as an industrial manufacturer, now describes itself as a "global technology powerhouse" focused on innovative solutions for automation, digitization and electrification. To align with this shift in positioning, the company has appointed a leadership team replete with technology prowess. Two of the seven members on the company's management board (excluding the current CEO) bring deep transformative technology expertise, and the same can be said for five of Siemens' nine business unit CEOs.
A Look Forward
In 10 years, the average CEO will be someone who was likely in her or his early 30s (if not younger) when the iPhone launched and social media began to play a critical role in day-to-day life. This will be the first generation of leaders who will have grown up in a world where digital technology and constant real-time connectivity are considered professional necessities. As these leaders make their way through the leadership ranks in the years to come, they will be the people who make legacy business models obsolete.
As companies come to terms with this shift in business model and leadership profiles, current CEOs and boards should be formulating plans to navigate the interim. Industries are addressing this shift in different ways and at different paces, and we will likely see a variety of solutions emerge over the coming years. In this time of fast-paced change, only one option is off the table: avoiding the issue.
Additional Authors
Nora Viskin is the Global Knowledge Director for the firm's Technology Sector. She is based in Boston.
Footnotes:
https://www.forbes.com/sites/liyanchen/2015/12/04/at-68-billion-valuation-uber-will-be-bigger-than-gm-ford-and-honda/#3f3beb8e32e3
https://www.cnbc.com/2018/01/03/amazon-grabbed-4-percent-of-all-us-retail-sales-in-2017-new-study.html
https://www.technologyreview.com/the-download/611491/tencent-and-alibabas-mobile-payment-war-shows-how-far-china-is-ahead-of-the-us/
http://integralgis.com/our-work/starbucks/
https://news.starbucks.com/contact/leadership/gerri-martin-flickinger
https://www.economist.com/news/finance-and-economics/21730161-it-wants-be-nimble-fintech-startup-shareholders-are-having-be
https://www.bbva.com/en/biographies-carlos-torres-vila-ceo-of-bbva/
https://www.businessinsider.com/ford-ceo-jim-hackett-ties-silicon-valley-2017
https://www.cnbc.com/2018/07/17/how-microsoft-has-evolved-under-satya-nadella