"By failing to prepare, you are preparing to fail"—the wise words of Benjamin Franklin that apply to virtually anything—a recession included.
Russell Reynolds Associates surveyed 534 senior executives—including 148 CHROs—at companies across the globe—to find out how worried they are about a recession and whether that worry is translating into action.
Advisors to the CEO believe an economic downturn to be imminent, with CHROs being no exception. Just 5 percent of CHROs believe an economic downturn is highly unlikely in the next 18 months.
If a recession is deemed so inevitable, the key question is whether the fear of one is instigating a response among senior executives. Are advisors to the CEO putting into place contingency plans to ensure they are well prepared to manage in the event of the market turning?
"Well prepared" is a rarity
Results from the Russell Reynolds Associates Downturn Survey would suggest they are not. Just 8 percent of executives surveyed would describe themselves as well prepared to manage through an economic downturn. Similarly, among CHROs, just 9 percent describe themselves as well prepared (see Exhibit 1). CHROs are even less confident in the level of preparedness of their teams; just 3 percent of CHROs say their team is well prepared to respond, in comparison to 7 percent of GCs and 5 percent of COOs.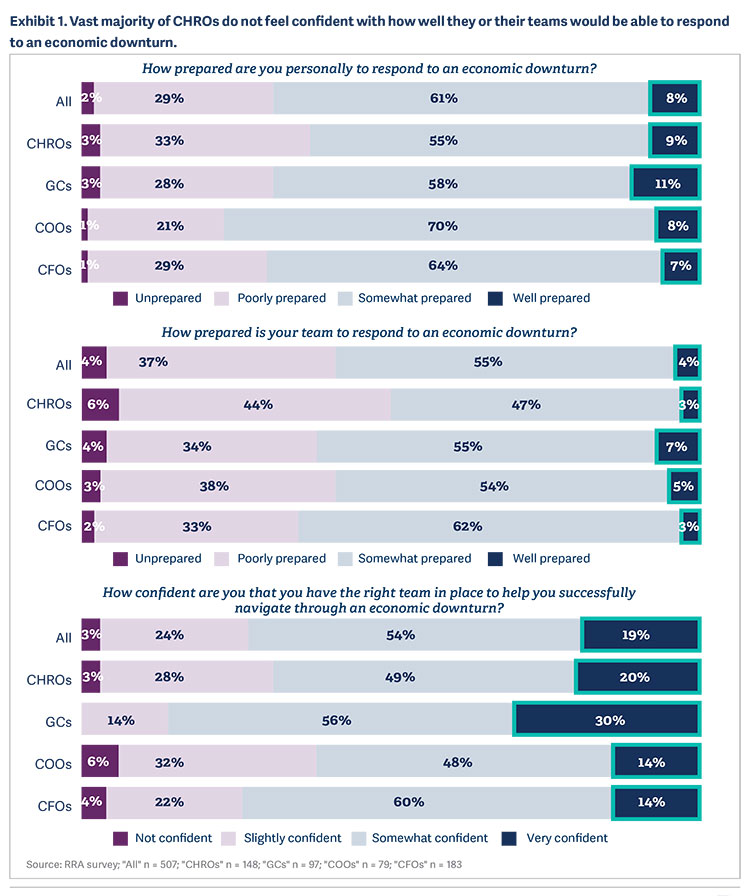 CHROs gave several reasons for feeling underprepared, most frequently citing the greatest weaknesses of their team to be a lack of agility and experience.
Importantly, some CHROs believe their biggest weakness sits outside of the HR function, with one stating, "I would be concerned about the lack of leadership competency in the broader organization to address a significant economic downturn," and another simply stating, "line management" as their biggest weakness. That's unsurprising, really, given HR's concern for having the right talent in place—a concern which naturally extends beyond the HR function.
When senior executives were asked to rank the three most important functions in managing through a downturn, there was agreement among peers of the CHRO that the CEO, business unit leaders and the finance function took first, second and third places, respectively. Interestingly, a mismatch was seen between CHROs and their peers, with CHROs ranking the HR function as the third most important area of management, replacing finance (see Exhibit 2).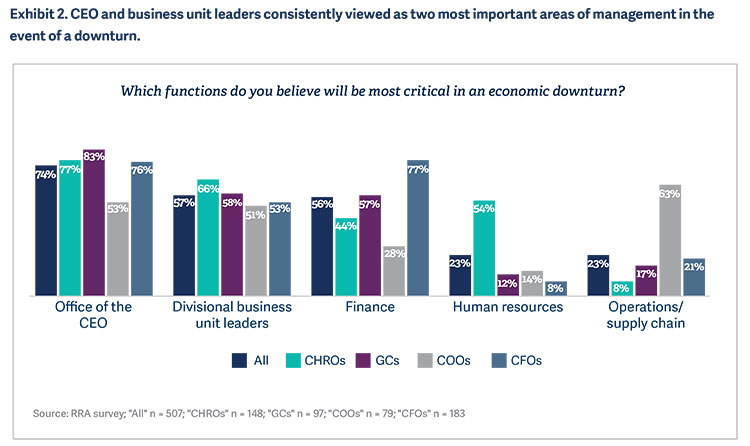 A CHRO's role pre-recession is vital
Attracting the right talent, retaining the right talent and developing the right talent—these are key focus areas for a CHRO, whether facing a downturn or not. HR can therefore play an important role in helping the entire organization to prepare for a potential downturn by asking the right questions in relation to talent strategy. Does the HR team have the right talent/leadership in place to respond effectively to an economic downturn? But perhaps even more important, does the organization have the right management team in place at the business-unit and CEO levels, as well as in the finance function, to successfully navigate through a recession?
When CHROs were asked to consider the aspects of HR that would be most important in the event of a recession, leadership and coaching came out on top, accounting for 27 percent of responses (see Exhibit 3).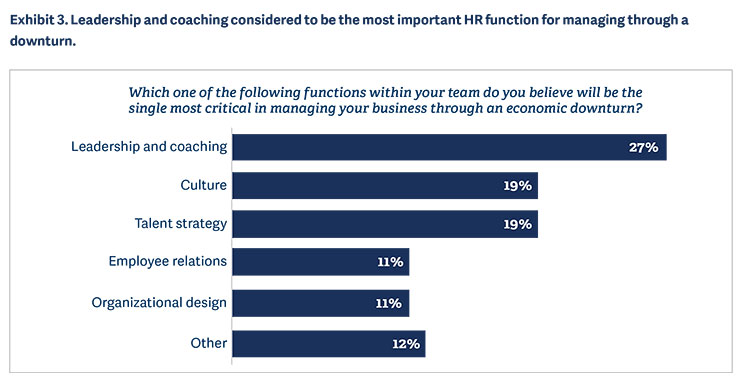 If an organization waits for a recession to hit before discovering that they have the wrong leadership in place, they will find themselves on the defensive. Through a focus on leadership and coaching now, HR can help the organization to equip existing leaders with the tools they'll need to manage through a recession. Not only that, HR can identify gaps in leadership which might require new hires to be made ahead of a potential recession hitting.
The take-home message is all around preparedness. These are interesting times, and who is to say whether the furor surrounding a potential recession will in fact become a reality? While we can hope for the best, it certainly never did anyone any harm to prepare for the worst—something CHROs and their C-suite peers should keep top of mind during these calmer times.