Digital Pulse 2017: What's Different?
Every year, Russell Reynolds surveys over 1,500 senior executives to understand how digital is transforming talent and leadership needs in organizations. The questions cover setting and executing digital strategy, organizational structure, and barriers to success, and the results provide our clients insight into what's next, so they can maximize the positive impact of digital on their own organizations. The third annual Digital Pulse contains a few changes.
Digitally Savvy Respondents: In order to collect the most meaningful and accurate data possible, the respondent base was limited to senior executives who work for a company with a digital strategy. Additionally, the final analysis was based only on the responses of those participants with a comprehensive grasp of the digital strategy.

Expert Perspectives: In addition to the data gathered from survey respondents, we asked several Russell Reynolds consultants to weigh in on what they're hearing in their respective markets and what they expect to see in the year to come.
Industry-Specific Findings: Although they are not included in this report, industry-specific findings are available. Please contact any of the authors for additional details.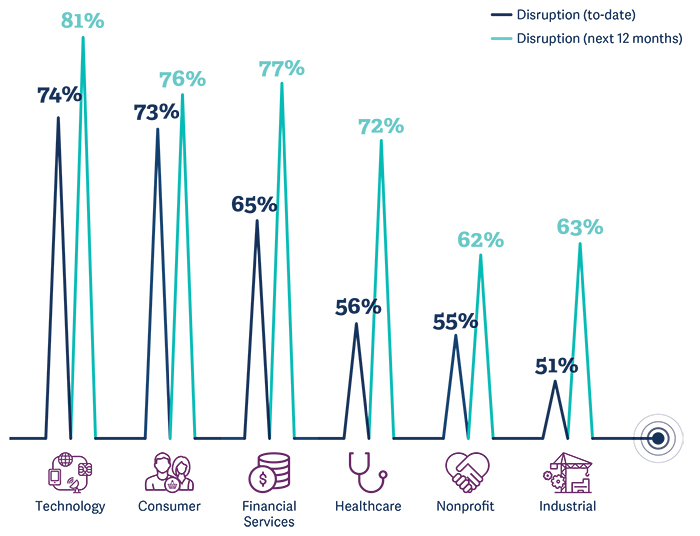 Companies across all industries are expecting continued disruption in 2017, but financial services, healthcare, and industrial companies are bracing for the most significant change.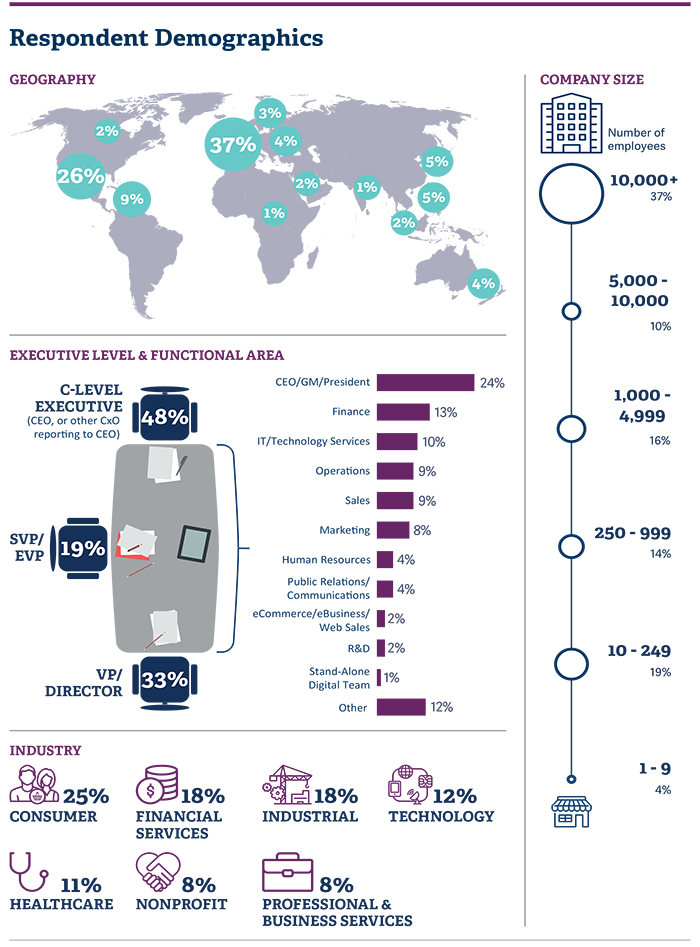 Strategy
Despite CEO support, there is a disconnect between the creation and execution of digital strategies.
Though CEOs are primarily responsible for setting digital strategies, heads of Marketing, Digital, and IT are well established as key advocates. Other key functions have yet to take on significant roles as sponsors, a reality that is a potential obstacle to successful transformation.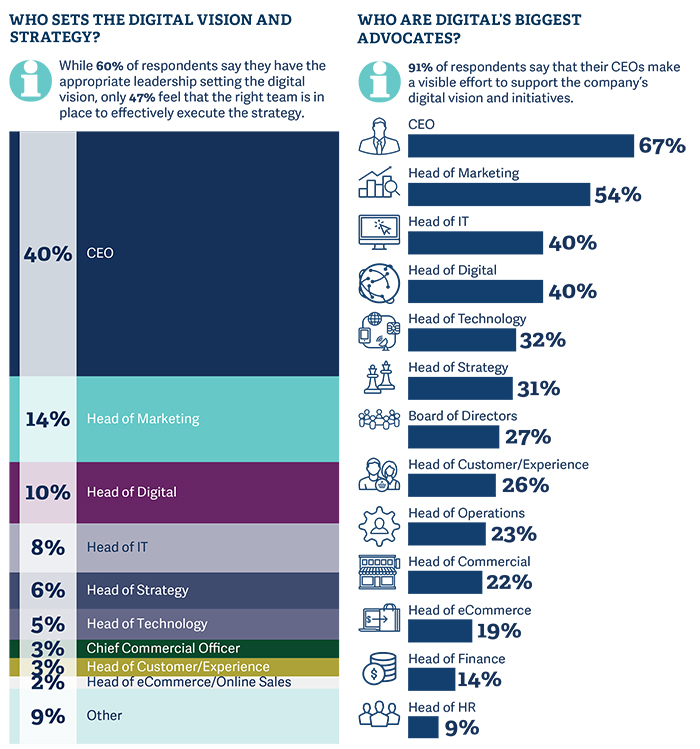 Where are digital strategies focused?
Front-end interactions with customers and clients continue to be the priority of digital strategies, but firms are also leaning heavily on digital to collect proprietary customer/client data.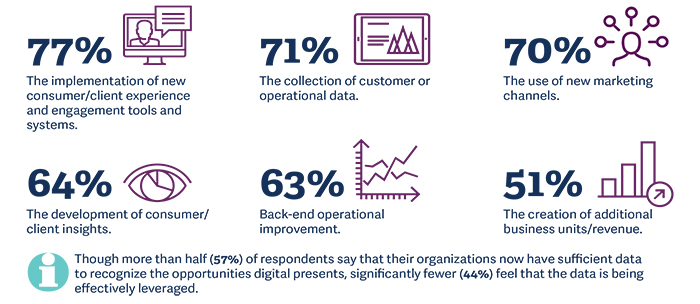 RRA Perspectives from the Market:
"Companies from retail to banking are reorienting their strategies and organizations to align with the customer life cycle and decision-making process. They're leveraging digital capabilities to find new, increasingly targeted ways to convert and engage along previously inaccessible touchpoints in the customer journey." Rhys Grossman (London)
"As digital strategies have matured, our interviews and psychometric assessment of some of the world's top digital executives have brought to light the emergence of a new breed of leader. These successful transformational leaders possess the classic skills one would expect around innovating, challenging the status quo, and cutting through bureaucracy. But they also demonstrate the unique capability to lead with courage, apply social intelligence, convey optimism, and possess the sheer tenacity to get things done." Ric Roi (Singapore)
"The most progressive healthcare providers are treating patients as customers, and thinking through the connected end-to-end patient experience. They are also beginning to think about how to leverage digital internally to lower costs, improve quality, and engage employees. It is no longer an isolated team or strategy; it should pervade every function and department (much like information security)." Amy Saddington (Dallas)
"From a strategic point of view, every industry has had a clear understanding of digital's impact for a number of years. The challenge now lies in its implementation. Successful digital players are truly willing to face the constant evolution of "digital." They're not afraid to try new ways of doing things, and when they meet with success, they are able to scale rapidly, forcefully, and across borders. These companies have not only acknowledged that technology must be a crucial part of the entire organization's DNA, but they've also hired and assessed for strategic, transformational leadership and have made the cultural changes necessary to keep critical talent on board." Adrian Fischer (Munich)
Organizational Structure
Transformation continues to be driven by centralized digital functions, but companies are increasing visibility and agile decision making by also embedding digital talent across the organization.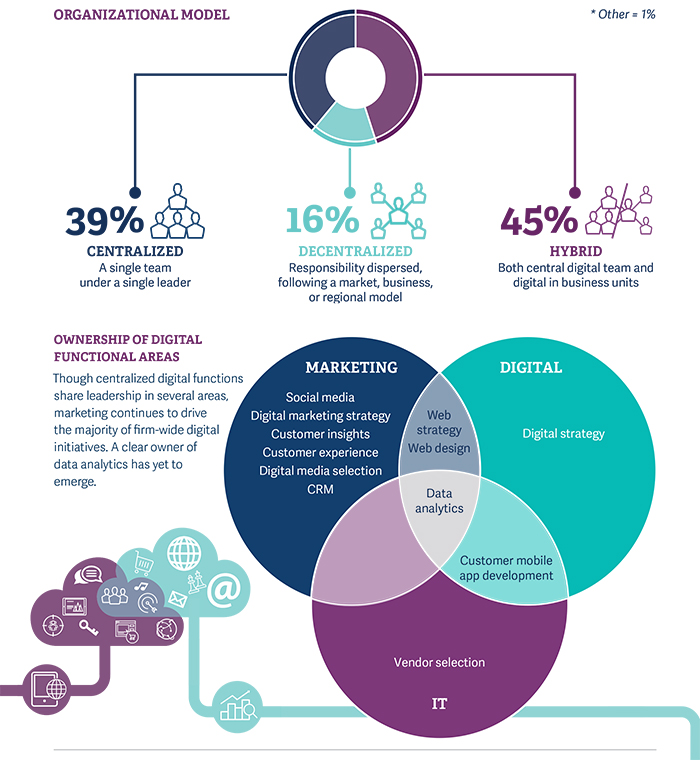 In addition to the vital support provided by the executive team, marketing, IT, data analytics, and technology, partnerships with sales, operations, and the board have emerged as critical success factors.
KEY PARTNERSHIPS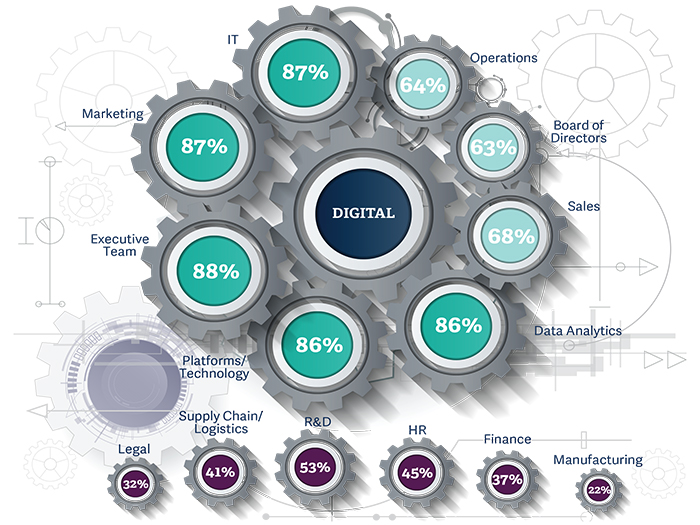 RRA Perspectives from the Market:
"We are at an inflection point in the life cycle of digital transformation. Companies are taking an integrated organizational approach to blend the old with the new in order to create seamless customer/client experiences. In addition to creating centralized end-to-end tech platforms, best-in-class companies are leveraging data analytics, embedding digital talent across the organization, and reorganizing around a detailed mapping of their customers' journey." Tuck Rickards (San Francisco)
"Digital transformation's greatest barrier is organizational ambiguity. Many companies are struggling to coordinate the roles played by core digital teams, IT, and marketing. Successful digital strategies require an integrated approach with clear delineation of governance and decision rights, and the institution of joint metrics across shared areas of oversight." Chris Davis (Toronto)
Barriers to Success
Digital transformation is largely impeded by structural and talent issues, not an absence of executive support or strategic leadership.
Leadership and executive support of digital are not seen as significant barriers to digital success, rather a third of respondents say that their organization's current structure does not permit it to realize all the opportunities digital presents. Nearly half say that functional silos, inertia and a lack of digital expertise distributed across the organization are holding digital back.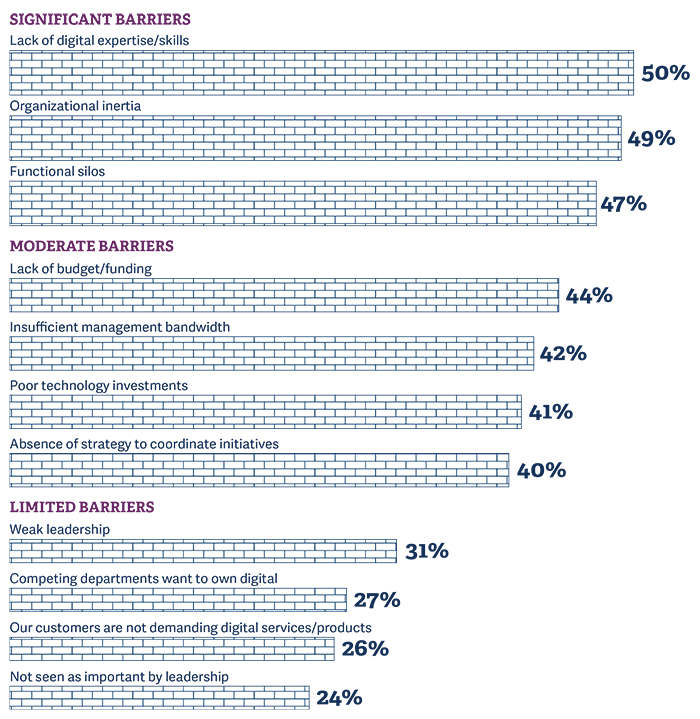 The majority of organizations have recognized that company culture, as it impacts decision making and strategic integration, is a major driver of successful transformation.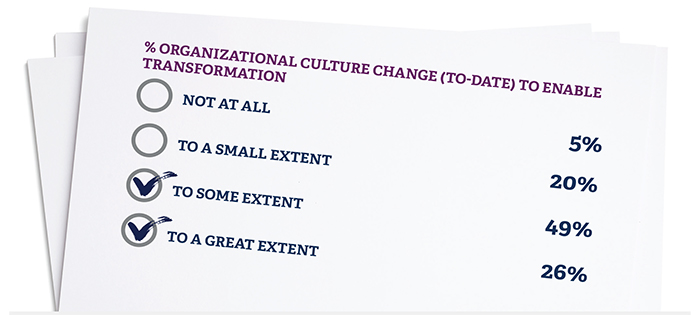 RRA Perspectives from the Market:
"As consumer attention and loyalty becomes increasingly fragmented, lack of continuous innovation in products and services is a major inhibitor to future success, even among the original disruptors. In every industry, companies embracing transformation are relying on real-time customer data to aid in decision making and are dramatically changing the pace of operations, from idea generation to commercialization." Grace Gu (Shanghai)
"One of the key barriers to driving digital transformation across functions in a large (industrial) multinational is that the organization structure is not fit for purpose. There is a risk of creating ivory towers if you build a separate digital acceleration function on the top, and most organizations are not yet ready to instill digital in all parts of the organization. From a leadership perspective, top executives show insights and understand the overall challenges, but middle management does not have the skills and support to drive the transformation." Jonas Augustson (Stockholm)
CONTRIBUTORS
JONAS AUGUSTSON works across industries with transformational digital leaders in bridging the gap between technology and business. He works with entrepreneurial scale-ups, as well as larger, global corporations undergoing transformation and change.
Location: Stockholm
Email:jonas.augustson@russellreynolds.com
CHRIS DAVIS conducts C-suite level executive and board assignments for clients in the Financial Services, FinTech, and Private Equity sectors. Based in Toronto and New York, Chris is a member of Russell Reynolds Associates' Digital Transformation Practice.
Location: Toronto
Email:chris.davis@russellreynolds.com
ADRIAN FISCHER is a member of the Technology sector as well as the Digital Transformation Practice. In addition to his work with technology oriented companies, Adrian leverages his background as a TMT consultant to partner with Big 4 strategy and management consulting companies.
Location: Munich
Email: adrian.fischer@russellreynolds.com
RHYS GROSSMAN is the co-leader of both the Digital Transformation and Consumer Digital and Media practices. Rhys provides leadership and assessment services to entrepreneurial and corporate clients across Europe.
Location: London
Email:rhys.grossman@russellreynolds.com
GRACE GU advises both leading local companies and multinational enterprises on how to innovate and transform within the context of China's unique digital pace and ecosystem.
Location: Shanghai
Email: grace.gu@russellreynolds.com
RIC ROI serves as the lead for the Leadership and Succession Practice for Asia Pacific. He has 22 years of experience advising international Boards and CEOs on matters related to executive succession, selection and development.
Location: Singapore
Email: ric.roi@russellreynolds.com
TUCK RICKARDS is the co-leader of the Digital Transformation Practice and is a member of the CEO/Board Services practice. He advises Fortune 500 organizations on talent and innovation, with a particular emphasis on recruiting high-impact transformational leaders.
Location: San Francisco
Email: tuck.rickards@russellreynolds.com
AMY SADDINGTON is a member of Russell Reynolds Associates' Healthcare Services Practice, specializing in CEO and other senior level executive searches for integrated delivery systems, payer organizations, and private equity portfolio companies.
Location: Dallas
Email: amy.saddington@russellreynolds.com