The business implications for artificial intelligence (AI) are significant, driving gains end-to-end across industries and functions. In the healthcare industry, the promise of AI has been getting the attention of investors. The AI healthcare market is expected to grow from $2.1 billion in 2018 to $36.1 billion by 2025, and companies in healthcare AI received $5.8 billion in equity funding from Q1'12 to Q1'19. There is a great sense of urgency around the topic, as nine out of ten executives agree that AI represents a business opportunity for their organization.
In a recent survey, 82%4 of MedTech leaders indicated that AI is important to their company, putting them in the ranks of executives in the software (88%) and consumer (80%) industries and well ahead of their pharma/biotech peers (50%) (figure 1). Among this group of MedTech leaders, 55% reported currently undertaking AI initiatives in their organization vs. 58% in software, 50% in insurance, 27% in pharma/biotech and 22% in consumer illustrating that there is a large gap between the demand for AI and its implementation. To close this gap, executives need to recognize that implementing AI is not just about the technology and that an investment in AI talent is also necessary.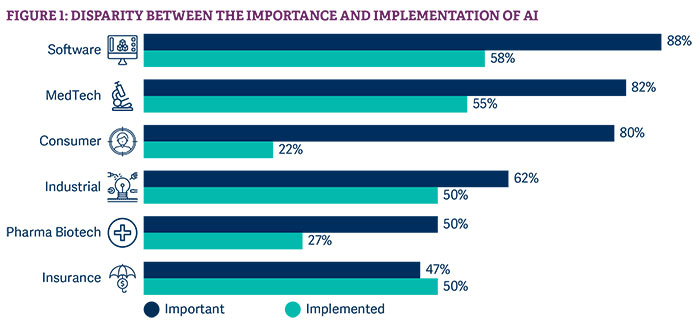 AI promises to be a powerful tool in MedTech. It has the opportunity to vastly improve the current medical system by solving problems around the shortage of healthcare professionals, enabling physicians to improve their accuracy of disease diagnosis, and improving patient treatments, recommendations, and ultimately outcomes.
Unlike most industries, in MedTech, AI is not confined to the sales and operations ends of the value chain (figure 2). Developments in AI technology have made it a viable enabler of solutions related to research and development, clinical decision making, and disease diagnostics and management, leading to even bigger innovation potential and promise for AI in the industry.
Within the broader MedTech landscape, there is a subset of organizations whose core business models are being disrupted by AI. At the forefront of this subset are diagnostics and imaging companies who are building and scaling AI capabilities throughout their end-to-end value chains. They are changing their existing business and services models and introducing new solution models centered around data centers and software. The revenue models of these organizations are also shifting, increasingly including operating expenditure versus their historical focus solely on capital expenditure.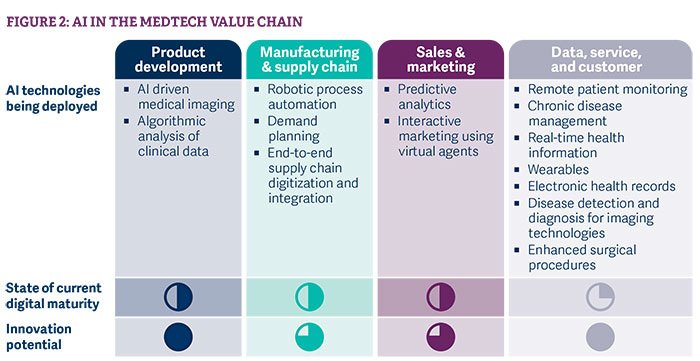 An appreciation of AI is high among MedTech leaders, yet a unique set of challenges accompanies the opportunity when applying AI to clinical functions, such as patient diagnostics, or non-clinical functions, such as supply chain. Russell Reynolds had conversations with MedTech AI leaders who shared their most critical challenges and considerations with us. Challenges around talent as it relates to AI emerged as a key theme that we will discuss in more detail below.
First, we dive into the talent challenges and solutions shared regarding competition from new entrants and more advanced AI industries, talent scarcity, MedTech's traditionally slower hiring processes, and their more conventional team structures and cultures.
Second, we describe the distinct paths toward building and integrating AI expertise within the MedTech organization revealed by our conversations with AI leaders.
Talent challenges and solutions
MedTech companies with a commitment to implementing AI understand that success is built upon having the best talent in their ranks. In a sector where the demand for AI talent exceeds the supply, they are confronted with many challenges in making this happen. According to MedTech AI leaders, the most significant talent challenges in the space are:
Competing with the allure of other sectors for a limited supply of AI talent. Positions with tech and software giants often come with the prospect of living in a large metropolis and high salaries, areas where MedTech companies are traditionally less competitive. However, MedTech companies have a competitive advantage by giving AI professionals the opportunity to innovate in both software and hardware. Moreover, the industry speaks to mission-driven individuals who want to make a difference in a purposeful environment through a joint passion for healthcare.
Slower processes in MedTech can hinder and deter. Even when strong AI candidates are interested in MedTech, the length of the sector's hiring processes can force a candidate to accept the "offer in hand" from a company with a more agile hiring process. Furthermore, job specifications often come with a directive to find people who have had exposure to regulated industries, limiting the candidate pool.
From another process angle, the highly regulated environment and longer time-to-market may make the overall healthcare industry less attractive to AI experts as more stands between the mandate of an AI expert's work and the final product.
"Most completely underestimate the regulatory complexity and how much time it takes to bring a product to market."
The need for an "AI star". AI leaders in MedTech have observed the importance of their existing team in the ability to attract additional talent. Typically, AI talent will select one opportunity over another based on who is going to lead the team. "AI stars" – those iconic experts whom new AI talent is eager to work for – are more likely found in software or high tech than in MedTech. The ecosystem is critical, and the right people need to be brought into the organization in the right order to create a well-rounded team and workplace based on mutual respect.
"We founded the team with a 20-year PhD veteran, who understood both medical devices and data science. He has helped us to attract amazing talent."
The board is "on board" but lacks sufficient expertise. Given the revolutionary nature of AI technologies, as well as the exposure these technologies have been receiving from the media, getting buy-in from the board to build AI capabilities is not seen as a problem. However, as AI technologies become more ingrained in the business and have the potential to disrupt the business model, the board needs to have a sufficient level of technological depth and expertise to be able to credibly challenge and support the CEO and executive leadership team.
AI talent is scarce. When it comes to recruitment, MedTech companies can prioritize and develop six key aspects in making their organizations attractive to top talent (figure 3):
Quality data and solid IT are fundamental to AI. Investments here signal a serious commitment to AI to potential recruits
Flexible cultures encourage autonomy, creativity, and innovation while resisting the imposition of restrictive deadlines
Compensation packages for AI hires might be structured outside of the typical MedTech base/bonus ranges, making them more competitive and value-commensurate
Hiring processes can be streamlined, e.g., fewer rounds, to reduce the risk of losing talent to other industries that are able to make offers more quickly. Collaboration between MedTech and higher-education institutions can help build a direct pipeline of AI talent and expertise
Inspirational leaders create a halo effect, attracting talent with their innovation and vision
Internal evangelists promote the power of AI, creating an overall receptivity to the technology. Creating AI communities within the larger organization helps support individual aspirations of AI professionals and solve problems across functions and units


Building and integrating the MedTech AI team
Recruitment is important, but building a team that functions successfully within the larger organization is essential to both its sustainability and the ability of MedTech companies to achieve their AI aspirations. No matter the approach to building the team, AI leadership is fundamental to its success.
In leadership, the balance between technical and management expertise may vary; however, several characteristics among AI leaders are crucial. First, we look for leaders with deep knowledge in both AI technologies and the domain of their particular industry. Moreover, leaders need to be commercially savvy, able to successfully partner with other organizations in a shared ecosystem, and skilled in navigating a complex regulatory environment. Finally, we look for a track record of building inclusive teams. Our conversations with MedTech leaders unearthed the following approaches to building an effective AI team:

Anchor build. This approach starts with a clear mandate from the top to build the organization's AI capabilities. The structure that houses the AI team may vary – a business unit, incubator, or center of excellence – but the first step is the anchor hire. This person's mix of AI and healthcare or other core domain expertise becomes the magnet that draws other, more junior AI experts and university talent. Having a respected "anchor" adds AI credibility to the company and sends a clear signal about the seriousness of its AI commitment to those within and outside the organization. It also creates an energy and environment conducive to product development. While it is the anchor's technical expertise that attracts other AI talent to the organization, that technical expertise may come at the expense of solid management experience and skill. Additionally, the departure of the anchor might put the team in jeopardy.
Organic build. This more bottom-up approach to AI development starts with an interest in the topic from an existing group or function. The group begins to develop or implement AI-related tools for their area and forms a natural expertise-based hub over time. Traction builds as successes are observed, driving an expansion of capabilities. Within this structure, AI capabilities are dispersed across a group that was likely initially united by its healthcare or other core domain expertise. As the AI capacity gets formalized, the team will need to deepen its bench strength. The organic-build structure has the benefit of a stable group with organizational knowledge and integrated AI-domain expertise. The necessary deepening of AI capabilities via the recruitment of experts may be challenging, however, as joining an "organic" team may be less appealing to prospective AI recruits. Until tangible successes are observed, getting buy-in from the top regarding team recognition and resource allocation can prove to be difficult as well.
Acquihire build. This more immediate form of building an AI team by acquiring an organization primarily for the skills and expertise of the employees is a tactic used to harvest talent more quickly than traditional hiring processes would allow. These teams come with both the AI and healthcare expertise in line with 6 the organization's strategic priorities, but they might be missing the management structure and cultural fit. Special attention needs to be paid to integration into the broader organization to allow the acquihires to thrive in the new environment.
Scale up. Scaling up will be a natural progression from any of the above approaches. The team consists of a strong leader with solid management and domain expertise, several team members who possess both AI and healthcare skills, and a broad support staff. This team structure is well resourced and supported, builds and further develops its own talent, and aligns its mandate with the organization's broader strategic priorities. The formal nature of the team may be appealing to external AI talent and lends itself to university partnerships. Over time, however, this larger team could become less nimble, and a focus on revenue generation may have the effect of stifling creativity and dampening energy. This is where thinking about retention and knowing the dynamics of your talent market become crucial.
Each of the abovementioned approaches to building an effective AI team is accompanied by certain skill sets at the beginning of the build (figure 4). To successfully scale up AI throughout the organization MedTech companies need to recruit intentionally to round out their capabilities.

Conclusion
AI has the potential to directly improve the health and wellbeing of patients and society by significantly boosting both the clinical and operational performance of MedTech companies.
Getting the most out of AI technologies relies on organizations' capacity to attract and retain the appropriate talent and establish the organizational structures in which that talent thrives and drives a successful AI agenda.
Targeted strategies in the areas of recruitment, development, and engagement can help companies successfully compete with other sectors in their quest for talent and build out their AI capacities. Focusing on the future, MedTech companies need to assess where they currently have capabilities, where they need to make enterprise changes, and where they need to recruit intentionally to round out their capabilities and become fully scaled-up organizations.
---
Authors
Fawad Bajwa is a member of Russell Reynolds Associates' global Technology Officers and MedTech practices and leads the Artificial Intelligence work globally. He is based in Toronto and New York.
Sarah Flören is a member of Russell Reynolds Associates' global MedTech practice. She is based in New York.
Sources
Markets and Markets Artificial Intelligence in Healthcare Market by Offering, Technology, End-Use Application, End User and Geography – Global Forecast to 2025
CB Insights Where Smart Money VCs Are Placing Bets in Healthcare AI
BCG How to Win with Artificial Intelligence
RRA Digital Pulse 2018 (n=1381)
Market Intelligence & Consulting Institute Artificial Intelligence in Medical Applications: Global Trends and Major Players