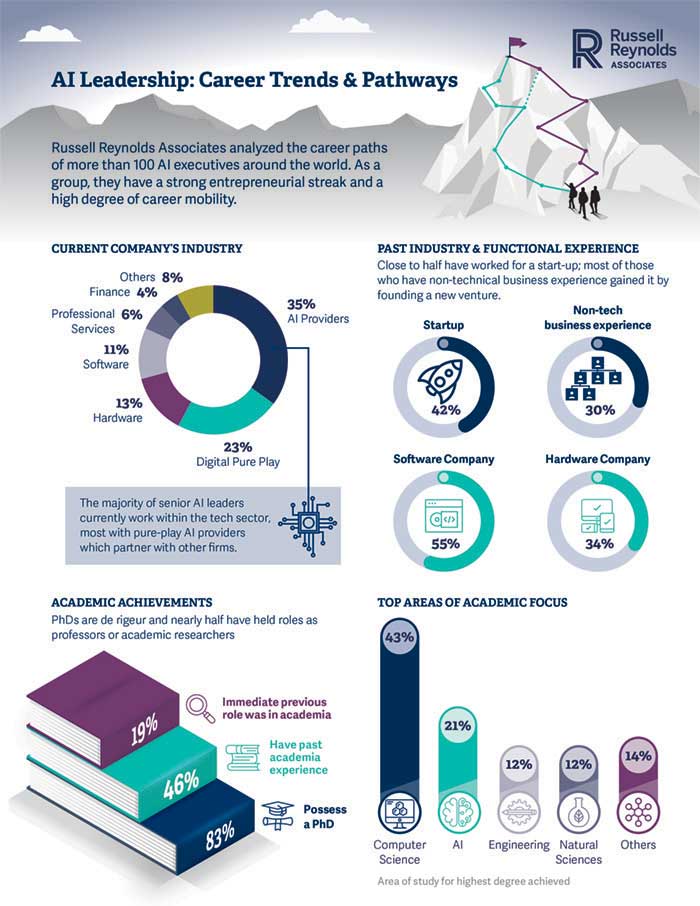 Gender Imbalance
On a demographic level, leadership in the AI field is largely male, with only 8 percent of such roles currently held by women.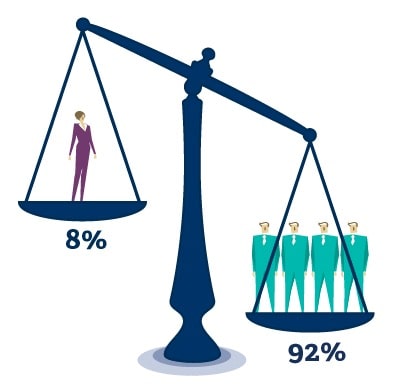 While this is in part a pipeline issue – men comprise 74 percent1 of computer science graduates – it presents a threat in a field that relies heavily on diverse inputs to improve data quality. If the creators of a foundational technology like AI represent a narrow demographic, AI's ability to serve society will also be limited. In fact, some studies have already shown the biases inherent in AI applications.2
In response, a number of companies have hired AI ethicists to help them navigate such pitfalls. They are also supporting efforts in high schools and universities to attract more women to study AI-related fields.
High Demand = Brief Stints
Similar to software developers, AI professionals' career histories are characterized by shorter-than-average stints. Mean tenure is 3.5 years; only about one in five have been at their current firm more than 4 years.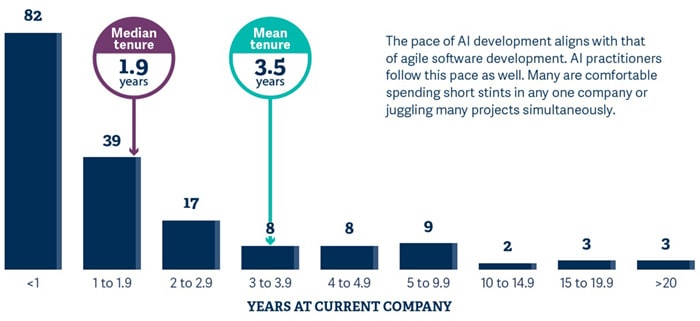 Talent Migration?
Our research indicates the majority of senior AI expertise is concentrated in six regions, namely the US (42 percent), China (25 percent), UK (12 percent), Asia Pacific (12 percent), Canada (5 percent) and Continental Europe (4 percent).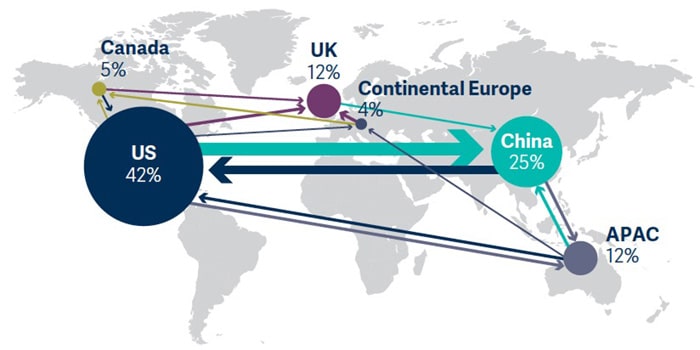 Changing macro-economic and political conditions have recently led to increased – and often unequal – cross-regional movements. Most notably, 31 percent of AI leaders moved from the US to China for their most recent role, compared with just 5 percent moving in the opposite direction. The UK and Canada have also seen an influx of AI leaders, with 50 percent of those in the UK and 67 percent of those in Canada coming from outside the country.

Three Factors Contributes to This Increase in Migration

Flourishing opportunities in China: The Chinese government has designated AI as a key economic driver with aims to foster it as a $1 trillion industry by 2030. As an example, the government has built a $2.1 billion technology park tailored to AI development. Private equity investors have put in over $4.5 billion into 200 AI companies in the past five years. In addition, the wealth of available data and comparatively flexible data privacy protocols in China support AI development needs.

Uncertainty around US research funding and political climate: The US appetite for science investment has been a constant source of anxiety in recent years, with no clear direction on future funding levels. At the same time, the US State Department has also recently toughened visa restrictions for Chinese graduate students planning to study aviation, robotics and advanced manufacturing.

Increasing prestige and global expansion for non-US AI companies: While US software companies have led the field in the past, non-US companies are rapidly becoming global players. China's Alibaba is leveraging sophisticated AI to enhance sales, pushing Singles Day sales to $31 billion – a 27 percent increase over the previous year.
While we see these concentrations of AI investment and talent, we also see an increasing trend for technology companies to invest in localized talent pools. Google is opening an AI research lab in Beijing, while Alibaba is opening five AI labs overseas in the US, Russia, Israel and Singapore. Ultimately, this could lead to more regional migration rather than international movement.
Methodology:
We identified 103 executives around the world with backgrounds in AI-related areas such as machine learning, neural networks, and natural language processing who are currently in technical roles leading AI development within their organizations. These executives represent a total of 69 organizations across 14 countries. Forty-two percent hold VP-level or above titles, including 15 percent who are founders.
3 Churchill, O. Nature. "China's AI dreams." https://www.nature.com/articles/d41586-018-00539-y
4 Mervis, J. Science. "More restrictive U.S. policy on Chinese graduate student visas raises alarm." https://www.sciencemag.org/news/2018/06/more- restrictive-us-policy-chinese-graduate-student-visas-raises-alarm
5 Liao, R. TechCrunch. "Alibaba sets new Singles' Day record with $31B in sales, but growth is slowing." https://techcrunch.com/2018/11/11/alibaba-singles- day-2018-31b/