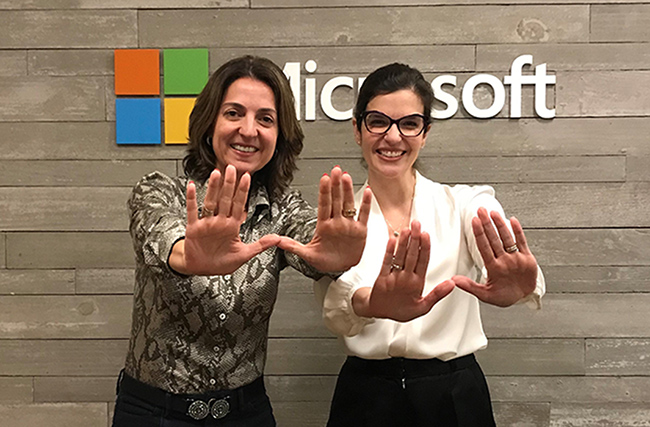 "Winning over hearts as well as minds"— Tatyana Freitas interviews Paula Bellizia, President Brazil, Microsoft.

"Culture change on diversity and inclusion happens through speaking about it every day, living it yourself, coaching people on why it is important and ultimately winning over their hearts as well as their minds." An interview with Paula Bellizia, President Brazil, Microsoft.
Paula Bellizia has been leading the Microsoft Brazil operations, the largest in Latin America, since July 2015. Paula has over 24 years of experience. She began her career in Marketing at Whirlpool in 1992 and after seven years joined Telefonica as Product Group Manager. She left Telefonica in 2002 to begin her career at Microsoft as Small and Medium Business Sales Manager. In her 10 years at Microsoft, she held different roles, until assuming the Director of Marketing and Operations role. She left Microsoft in 2013 and joined Facebook as Sales Director for Small and Midsize Business for Latin America.

She is a member of the Economic and Social Development Council (CDES) from the presidency of Brazil and of the boards of directors of Arezzo & Co. and Brasscom - Brazilian Association of Information Technology and Communication Companies. Paula is also a member of the ICC Commission on Corporate Responsibility and Anti-corruption the Brazil International Chamber of Commerce. She is a Champion of the global non-profit iamtheCODE.

Tatyana Freitas: As a senior executive woman, in an environment dominated by male leaders, what are some of the challenges that you have faced?

Paula Bellizia: When I reflect back on my career, I am lucky enough to have never experienced significant challenges because of my gender, but I can think of many times when unconscious biases have been very apparent. For example, new clients are sometimes surprised when they hear about my leadership role.

There is also a common misconception in Brazil that a successful woman cannot have a family, which is not the case. I am married and have had children, and it is the strength of my family unit that has helped me to grow and thrive in the workplace. These unconscious biases can be very challenging and organisations must try to fight them every day. The only way to do this is to consciously understand and address these biases.

Certainly as a senior woman in the workplace, I have a responsibility set an example for the rest of the organisation by fighting bias.

Tatyana Freitas: And following from that comment, do you see yourself as a role model for other women?

Paula Bellizia: I am certainly an example of a positive journey, but I prefer not to see myself as a role model, as for me, that might suggest that other women should follow the same journey that I have been on. In fact, we should encourage women to strive to take different paths. That said, considering my position as a senior executive, I do feel a huge sense of responsibility to keep diversity and inclusion top of mind within my organisation and in Brazil. I do this by maintaining the dialogue of the business case and talking about the importance of diversity in its broadest definition. Gender is only one perspective, we must also consider style, experiences, background, life stories, etc. I feel a responsibility as a senior female leader to educate and speak up.

Tatyana Freitas: Where do you feel Brazil is on this journey?

Paula Bellizia: Brazil is one of the most diverse countries in the world and I see that as a competitive advantage. Yet we must learn to fully harness the diversity that is around us in order to truly gain the benefits. Ultimately, this is about changing the culture and requires focus and patience. You need to work on changing a culture every day, you can't take your eye off the ball, or people continue to accommodate past behaviours and prevent progress. Culture change on diversity and inclusion happens through speaking about it every day, living it yourself, coaching people on why it is important and ultimately winning over their hearts as well as their minds. It is a journey and Brazil is learning and improving, but I think we can move faster.

Paula Bellizia: And at Microsoft?

A: At Microsoft, diversity and inclusion is core to our business, it is one of our cultural pillars. This is crucial, because any organisation can try to attract diverse talent, but if the organisation doesn't have the right culture that will embrace and welcome this talent, then efforts to recruit diverse talent are wasted. Organisations must ask themselves: what will make all employees successful? What can the organisation do to ensure their success? Are all voices being heard? Are we truly including everyone? Organisations must pay a little more attention to inclusion so that we are truly able to develop and retain diverse talent.

Thank you, Paula.