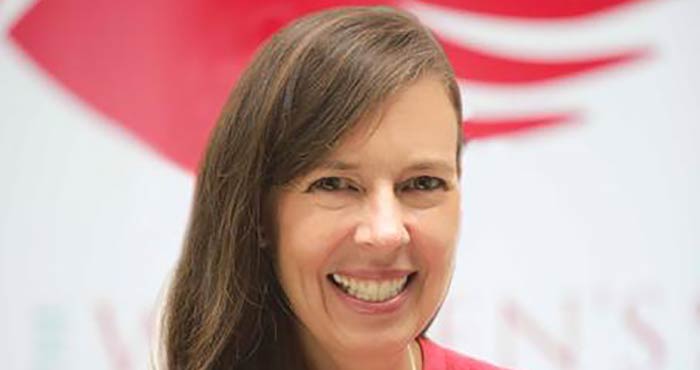 "Creating the right environment for progress"—Caroline Raggett interviews Fiona Nott, CEO at The Women's Foundation, on the barriers women face in the workplace in Hong Kong.
"When gender stereotypes are brought into an organization, they can filter through into the everyday practices of the workplace. They may not be conscious or explicit, but they become unconscious assumptions, which can have a significant impact on women's advancement."
Fiona joined The Women's Foundation (TWF) as CEO in September 2017, combining her senior leadership experience with a passion for TWF's mission to serve marginalized women and girls in Hong Kong. A former lawyer and Hang Seng Index company secretary, Fiona has lived in Hong Kong for nearly two decades, working as a senior legal professional and adviser to a number of leading corporations in Hong Kong and around Asia, including PCCW, AIA, AIG, Aviva and Chow Tai Fook Jewellery, as well as small and medium-sized enterprises, startups and nonprofit organizations.

She is the co-founder of Room to Read's Hong Kong Chapter and helped establish the Regional Program office in New Delhi, India. She is deputy chair of the Australian Chamber of Commerce Hong Kong & Macau and was founder and chair of its Women in Business Network. She is also a non-executive director of Aesop Hong Kong and Taiwan. In 2015, Fiona won the People's Choice Award for the Advancement of Women in Business at the AustCham Westpac Australia-China Business Awards.

Caroline Raggett: What are the top goals of The Women's Foundation?

Fiona Nott: We are a nonprofit organization dedicated to improving the lives of women and girls in Hong Kong. We aspire to conduct groundbreaking research, run innovative and impactful community programs. Our work is focused on three main goals: firstly, challenging gender stereotypes; secondly, empowering women in poverty; and, thirdly, advancing female leaders in the workplace. So it is a really multifaceted organization, starting with grassroots programs in the community, and going right up to very senior women at the board level.

Caroline Raggett: What a fascinating breadth of work. Focusing on women in the workplace, I would love to understand what you think are the major barriers that women face in Hong Kong today.

Fiona Nott: In Hong Kong, there is generally an extremely strong work ethic, combined with an entrenched culture of presenteeism, which can be very difficult for women who have families or other commitments. There is also little opportunity for flexible working arrangements or part-time work. In addition, maternity leave in Hong Kong is just 10 weeks long—one of the shortest in the world.

Gender stereotypes are very strong in Hong Kong. For example, women are expected to take on the responsibility of childcare and elderly care. We often see that as women move up the career ladder, there are a number that drop out of the workforce due to a variety and combination of reasons: the culture of presenteeism, lack of family-friendly policies, gender stereotyping and a limited number of female role models.

Caroline Raggett: How do you think this gender stereotyping impacts a woman's workplace experience?

Fiona Nott: When gender stereotypes are brought into an organization, they can filter through into the everyday practices of the workplace. They may not be conscious or explicit, but they become unconscious assumptions, which can have a significant impact on women's advancement. For example, in a role that requires international travel, managers may unconsciously favor male candidates because managers believe they do not have the same family responsibilities.

Caroline Raggett: Do you think these stereotypes are more deeply entrenched in Hong Kong than in other countries you've worked in?

Fiona Nott: Certainly. The lack of family-friendly policies and flexibility in Hong Kong is worse than in other parts of the world. You can see this in the statistics: The number of women in middle management, senior management and at the board level is significantly lower in Hong Kong than in many other parts of the world. These entrenched stereotypes and lack of structures within companies to support women translate into a serious lack of women in senior leadership positions.

Caroline Raggett: And for the women who do reach those senior leadership positions and are looking to begin their non-executive careers, do they face similar challenges?

Fiona Nott: Women at this level face even more structural challenges. Firstly, there is a limited pool of available non-executive director positions in Hong Kong for women because of the very low level of board turnover in the city. There are various advocates pushing for stronger regulations on term limits to encourage more non-executive positions to open up and for companies to have a more diverse board that is representative of their clients and employee base. However, the regulatory framework in Hong Kong that encourages gender diversity at the board level is really lacking. Certainly, we would like to see more of a recognition that diverse boards and senior management teams are good for business, as well as a concerted effort from regulators to require companies to have diversity policies that focus specifically on gender, which set measurable objectives for change and that report progress.

Secondly, there are a lot of family-owned companies listed in Hong Kong, and the way that they approach board recruitment is very different from what is done in other parts of the world. In these organizations, it is more about personal networks and reputation in the city than other factors. Further, these networks are often developed not only in the workplace but also at traditionally more male-focused events. Typically, women do not have the same level of access to these predominantly male networks, and this can hinder their progress significantly.
Caroline Raggett: In this context, what can senior executive women do to make themselves attractive for board positions?
Fiona Nott: Women in Hong Kong must rise to the challenge of getting on a board. This is a great city for networking and it's important that women move out of their comfort zones and join networks that they may not normally operate in, be it the Jockey Club, executive networking groups, organizations that may traditionally be male-dominated, etc. Gaining more visibility, finding more opportunities to talk about business issues and simply meeting board members are all key ways for women to get noticed as high potential board-ready executives. If they are experts in an area, they should make this known. Raising their public profile by speaking on panels, getting involved with business associations and/or gaining board experience at nonprofit organizations are also critical first steps. Moving into traditionally male spaces can be challenging but is a necessary step for women to find board opportunities in Hong Kong.
Caroline Raggett: What should organizations in Hong Kong be doing differently to push for progress on the advancement of female executives and non-executives?

Fiona Nott: Corporations can employ a multipronged approach. Advocacy is really important, as the government listens to the voices of major employers. Organizations must openly discuss these issues and lead by example. At the minimum, they can implement training on unconscious bias, policies on sexual harassment, and ensure that their recruitment processes actively include women in short lists. They should also offer flexible working arrangements and increased maternity leave, return to work, mentorship and sponsorship programs as well as implement measurable plans for retention of female employees and advancement of women into middle and senior management positions. It's important that these types of initiatives are driven by business leaders as well as the HR function.

A key driver is engaging male leaders to be part of the gender diversity conversation and to help counter gender stereotyping of both women and men. This can have a significant impact on building a culture of inclusion and support for women throughout an organization.

Caroline Raggett: Do you think that we are at a turning point in terms of momentum around this topic?

Fiona Nott: There is certainly a great deal of frustration that the number of women on boards hasn't increased. Despite slow progress on the part of regulators and companies, the good thing is that women seem to be taking this leadership issue into their own hands; they're empowering themselves and empowering each other and creating their own networks. I find this really inspiring.

Caroline Raggett: Thank you, Fiona.