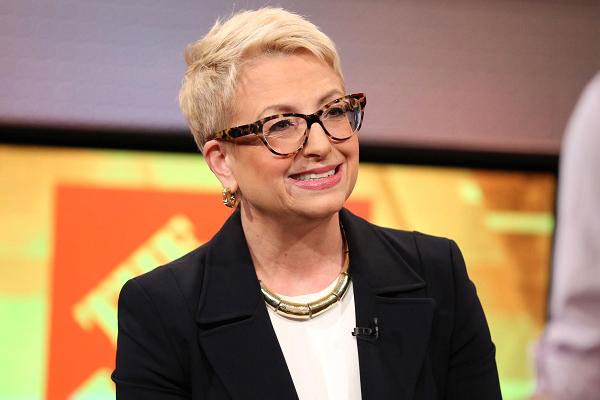 "Our team knows they're part of a winning team—diversity is all about being in the game."—Amy Hayes interviews Carol Tomé, Chief Financial Officer and Executive Vice President of Home Depot, on Carol's own personal commitment to D&I as well as how she has driven progress within Home Depot.
"We have eight core values and one is respect for all people. We don't just have these on a wall, we have them on our apron. We live them every day."
An interview with Carol Tomé, chief financial officer, Home Depot

Carol Tomé has served as chief financial officer since May 2001 and was named executive vice president of corporate services at The Home Depot in January 2007. Prior to that, she was vice president and treasurer of Riverwood International Corporation. Carol began her career as a commercial lender with United Bank of Denver (now Wells Fargo) and then spent several years as director of banking for the Johns-Manville Corporation.

In 2003, Carol joined the UPS board of directors and currently serves as chair of the audit committee. From January 2008 through December 2013, Carol served as a board member for the Federal Reserve Bank of Atlanta, in both a board chair and board vice-chair capacity. In 2012, she chaired the board of The Metropolitan Atlanta Chamber of Commerce, the second woman chair in the organization's 150-year history.

Amy Hayes: I'd love to start by hearing about your personal journey at Home Depot and how that experience has driven your commitment to diversity and inclusion …

Carol Tomé: It started with my interview with Arthur Blank, Home Depot's founder, who said we'll give you every opportunity to reach your highest potential, including a mentor on the board. I've had many such opportunities throughout my career, but as a result I've also been in the position to give others these opportunities. Building a diverse team has been incredibly rewarding. Success is all about the people. Research shows that associates who are committed provide superior financial results. Our associates are beyond best in class, and our financial results are best in class—we see a correlation.

One of our success factors is that when customers come into our store they should feel a sense of belonging—and our workforce needs to reflect that objective. Customers are comfortable shopping in our store because our associates are diverse. Multilingual associates wear their languages on their aprons.

Amy Hayes: How is D&I addressed, both informally and formally, at Home Depot?

Carol Tomé: Our formal process starts with a talent review. We have meetings with team leaders twice a year to talk about our teams and pipeline, with a significant focus on diversity. We lead by example at the most senior level; both our board and our leadership team are meaningfully diverse.

We also track the diversity of our workforce against the population of Atlanta (one of the United States' most diverse cities). If we're under-indexing, we want to know why. When necessary, we've changed our recruiting approach. Once someone is part of our team, it's about ensuring they have visibility and access to stretch assignments and development opportunities. It's easy to get stove-piped, but we force cross-functional review in an attempt to avoid this and focus on putting high-potential people through a leadership program (which we ensure has a diverse slate).
We have eight core values and one is respect for all people. We don't just have these on a wall, we have them on our apron. We live them every day. We live our values. When you're in an environment where you're respected, you respond to that. We survey our associates along a number of attributes (including metrics aligned with D&I) and it rolls up into a commitment index. For the finance team, our D&I score is 86 out of 100.

Amy Hayes: What is the mandate of your Employee Resource Groups?

Carol Tomé: Each has a separate mandate—it's not dictated. There is an executive sponsor aligned with each group, a VP lead who is actually responsible for getting stuff done, and a board to support the VP. The board develops the mandate. Each focuses yearly activities broadly across career development, networking, driving financial results and community involvement.

In the past I've been the executive sponsor of the Women's Link Group, the African American Pulse Group and Limitless, our ERG for disabled associates. This group once brought in a speaker who completely opened my eyes; she was born blind but became a mountain climber and sky diver. It's an incredible opportunity in a corporate setting to have everyone in the room learning about each other's individual experiences and relating through such a personal lens.

At the end of the day, we're all shareholders. The retail industry is struggling, but not Home Depot. Our team knows they're part of a winning team—diversity is all about being in the game.

Amy Hayes: Thank you, Carol.