In this paper, we look at how organizations have integrated their technology and customer functions through a 'balance of powers' to streamline accountability, and the types of leadership needed to make these changes.
"Every company is a software company." Or at least according to Forbes in 2011, and this was not by any means the first eye-catching headline in the market. Technology companies and sector verticals are converging rapidly: retailers are now eCommerce platforms, traditional automotive companies are experimenting with autonomous vehicles and telematics software, primarily holding a digital bank account is no longer considered quirky, and physicians are a mere Zoom call away.
To advance technology, organizations initially focused their efforts on innovation (to meet disruption head-on) and customer functions (to build out omnichannel and digital go-to-market strategies). Organizations began to remove the divide between their digital programs and traditional IT delivery systems by consolidating them into a single technology operating model.1 In 2018, 18% of technology leaders said their companies had either converted their digital and IT teams to a single operating model or developed a fully digital model; by 2020, this number had almost doubled.2 However, organizations are quickly realizing that this is not enough. Simply creating a single technology operating model does not necessarily build the right customer activation platforms, nor does it guarantee a streamlined integration. Technology and customer functions are often misaligned as platforms are opportunistically created. Furthermore, digital complexity is creating confusion; organizations are uncertain how to embed digital capabilities and discern what type of technology leader is needed, often hiring a flashy technology leader without additional thought to scope or structure. A deeper, more complex, and intentional integration is required today, one that simultaneously considers structure and talent, to ensure that customer and technology functions partner effortlessly and design a frictionless end-to-end customer journey for increasingly sophisticated customers.
Organizations need to implement an appropriate structural archetype, aligned to their business model, that ensures cross-functional connectivity across the customer lifecycle, from technology and digital solutions to product offerings, marketing, and sales. This connectivity will enable flatter, faster teams to prioritize creativity, speed, and accountability – three non-negotiables for innovation and technological advancement.3 In determining the right structure, it is also important to simultaneously discuss roles and responsibilities and streamline reporting lines. This means focusing accountability on one or two prominent leaders, instead of having an array of executives with overlapping remits, causing teams to answer to multiple bosses.4 Go-to-market leaders are key here; these leaders need to harness their unique perspective on customer demands, behaviors, and digital platforms and champion cross-functional connectivity across the broader organization.
To understand how technology and customer functions can be advanced meaningfully, Russell Reynolds evaluated market-leading organizations, distinguished in their technology structure, customer-activation capabilities, and/or go-to-market digital platforms. The analysis highlighted four structural archetypes, each with a distinguishing balance of power between core considerations: a technology-weighted model, a consumer-weighted model, an equally-weighted model (between technology and consumer), and a product-weighted model. Each structural archetype has its own talent implications around accountability and role responsibility spanning a spectrum of core expertise, including the chief information officer (CIO), chief technology officer (CTO), chief digital information officer (CDIO), chief technology digital officer (CDTO), chief digital officer (CDO) or multichannel leader, chief digital marketing officer (CDMO), or chief marketing officer (CMO) or brand leader. These structural archetypes are continuously shifting with the business landscape; organizations that initially began with the technology-weighted model may have evolved to an equally-weighted model, depending on consumer demand and business strategy. Roughly a third of the organizations included in this analysis have since shifted their model in the past four months. Using the concept of balance of power, with an agile culture, organizations will be able to better integrate technology and customer functions.
What leaders feared…is that their companies were organized for a world that is disappearing—an era of standardization and predictability that's being overwritten by four big trends: a combination of heightened connectivity, lower transaction costs, unprecedented automation, and shifting demographics.5

Organizing for the Future: Nine Keys to Becoming a Future-ready Company, McKinsey & Company
Figure 1: Integration of customer and technology functions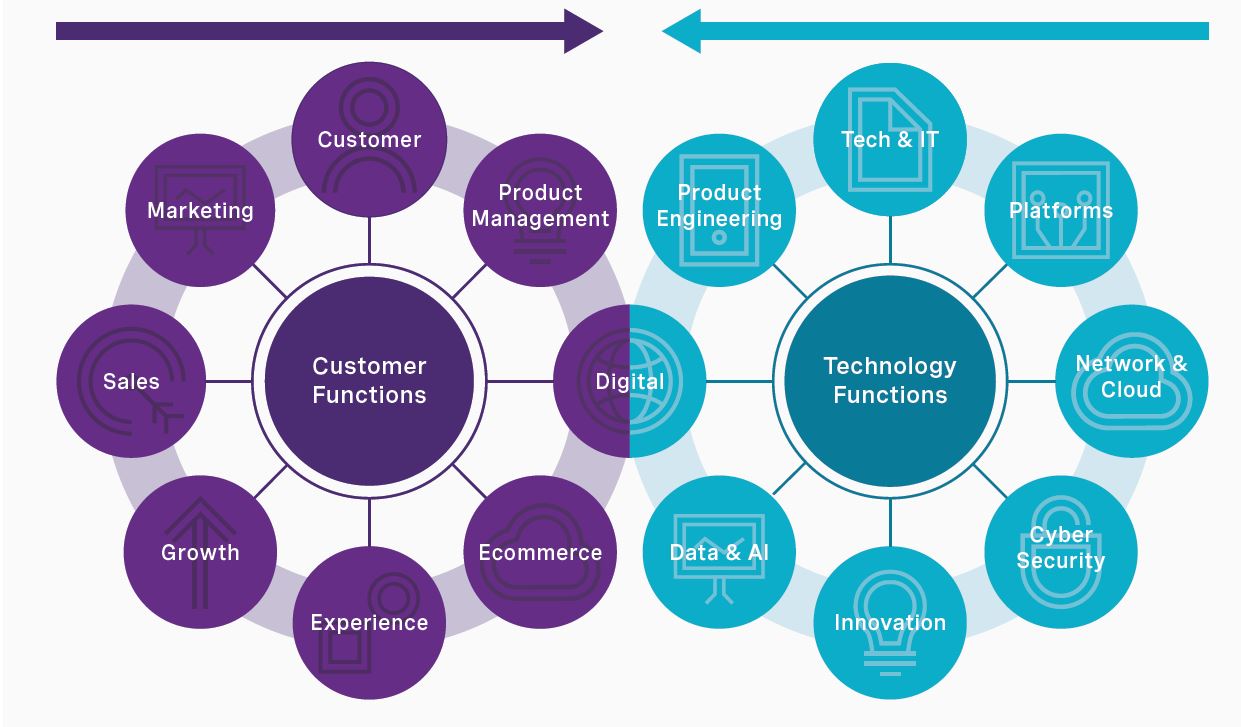 In the customer functions, there has been an influx of new roles. Over the past six months, 17% of appointments were to newly created roles in a given organization, such as chief growth officer, chief customer officer, or chief revenue officer. As digital transformation becomes a top priority for organizations, leaders are forced to not only have frontend capabilities but also the ability to understand data, analytics, and back-end systems more fluently.
In the technology functions, single leaders are taking on the remit of all technology and digital from data, security, engineering, and IT to digital customer touchpoints and occasionally digital product development. This requires customer-centric leaders capable of stepping up to a leadership role, often sitting on the executive committee and reporting to the CEO. The titles of these roles are almost irrelevant, with the difference between CIOs, CTOs, CDOs, and any combination of the three dematerializing over time.
50% of chief customer officer appointments over the last six months were to newly created roles.6

The Pandemic has Created New Opportunities for Customer-Centric Leaders, Russell Reynolds Associates