With the outbreak of the COVID-19 pandemic in China, in efforts to contain the spread of the virus, the Chinese government has taken aggressive and unprecedented quarantine measures, including a series of strict lockdowns restricting people's movements and postponing the resumption of work. Businesses operating within China are inevitably impacted by the implementation of those measures. With this in mind, Russell Reynolds Associates wanted to understand how organizations in China have been impacted and how they have coped with the recent measures. Therefore, we spoke with business leaders from the consumer-facing industry, the manufacturing industry, and offline and online businesses to glean from them lessons for navigating the uncertainty and adapting to "the new normal." This is what we heard:
Impacts on Business Operations have been Drastic
LIQUIDITY SQUEEZE
The hard hit was immediately felt by businesses that rely heavily on income from offline commerce activities, e.g., restaurants, retailers and entertainment service providers. Given the shutdown of transportation and physical stores, revenue income was almost frozen at zero. The decline in revenue put crushing pressure on cashflow.
EMPLOYEE WELL-BEING
Where the situation was evolving rapidly and employees were unable to perform their regular duties, the challenge for businesses was not only about how to reallocate the workforce to carry on business activities, but also to properly safeguard impacted employees and provide the necessary support to ensure everyone's safety and well-being.
SUPPLY CHAIN DISRUPTIONS
Turbulent times such as these test the resilience of businesses' supply chains. Companies were forced to handle the disruptions resulting from the immediate halt of upstream/downstream activities. Moreover, being the world's largest exporter of goods, China's shutdown of commercial activities inevitably generated collateral impacts on multinationals' global operations.
Three Ways Organizations have Responded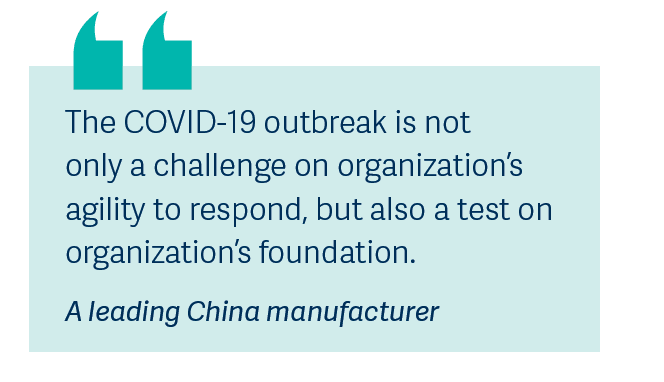 It can be challenging for businesses to effectively respond and smoothly manage through sudden disruptions. In the
conversations we had with executives who think their organizations handled the situation well, several elements were mentioned that played an indispensable role in dealing with this unprecedented situation:

To make informed decisions and create effective responses to the dynamics, the top team must get highly aligned and work closely together to obtain firsthand information, ensure transparency and coordinate operational activities. A cross-functional special task force, spearheaded by the senior-most leader and consisting of the leaders of the key functions such as HR, finance, admin and supply chain, operates as the decision-making and coordination organ to achieve a single operational focus.

The crisis tested the top team's leadership capability and the organization's foundational muscles, which are mostly built during normal times. For example, we saw that manufacturers that made proactive investments in robotics and smart manufacturing were able to carry on manufacturing activities even for factories positioned nearby to severely infected districts; e-commerce platforms were able to quickly source and ensure product supply given partnership-oriented relationships they cultivated over time with their suppliers.

Amid all the complexities, most companies have made the safety/well-being of employees their top priority. However, the best leaders have done more to boost morale. Despite working remotely, which distanced team members and complicated coordination efforts, we saw leaders investing extra effort in communicating and exploring creative ways (e.g., social media platforms, livestreaming) to interact with every team member. Moreover, some companies have been actively joining government/public initiatives and leveraging this as an opportunity to drive employees' joint efforts to contribute to the social good.
A LEADING GERMANY-BASED COOKWARE MANUFACTURER
In-time actions were taken to review our current operation. There were intensive communications and negotiations with external partners to relieve the pressure on cashflow. We also weighed in resources for online business and encouraged offline employees to contribute. We successfully limited the revenue loss to 50%.
A LEADING CHINA MANUFACTURER
As a manufacturing-heavy business and a local enterprise, remote working remains a new concept for most of our employees and disrupts how we traditionally operate. Extensive communication efforts were made to ensure smooth operations and help our employees better get used to the pattern.
A LEADING CHINA E COMMERCE PLATFORM
At the initial outbreak, we saw a sharp increase in demand in certain categories, e.g., masks and sanitization products. We must act quickly to ensure supply. Using team efforts, from sourcing to listing, we eventually managed to squeeze the process within four days, while it would have taken one to two months normally.
A LEADING US-BASED FLAVOR BRAND
We quickly assembled two crisis management teams, at both the local level and the corporate level. Through intimate collaboration with HQ, we successfully leveraged the firm's global network to quickly sort out alternative solutions for our supply chain operation, both locally and globally.
What we can do now to prepare ourselves for future uncertainty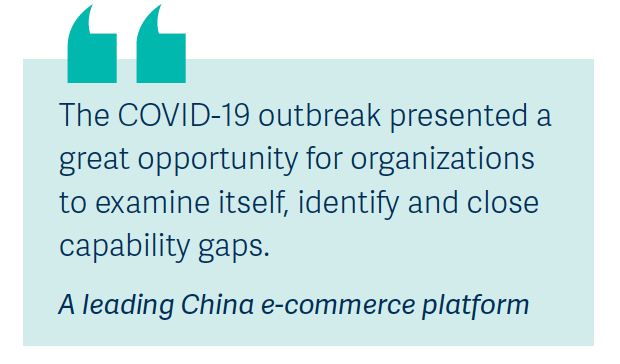 As the number of locally transmitted cases of infection is now believed to be curbed in China, most businesses are starting to shift to a "new normal." Organizations can already apply the following learnings now to be able to better navigate their organization through future uncertainties:
BETTER PREPARE YOUR (FUTURE) LEADERS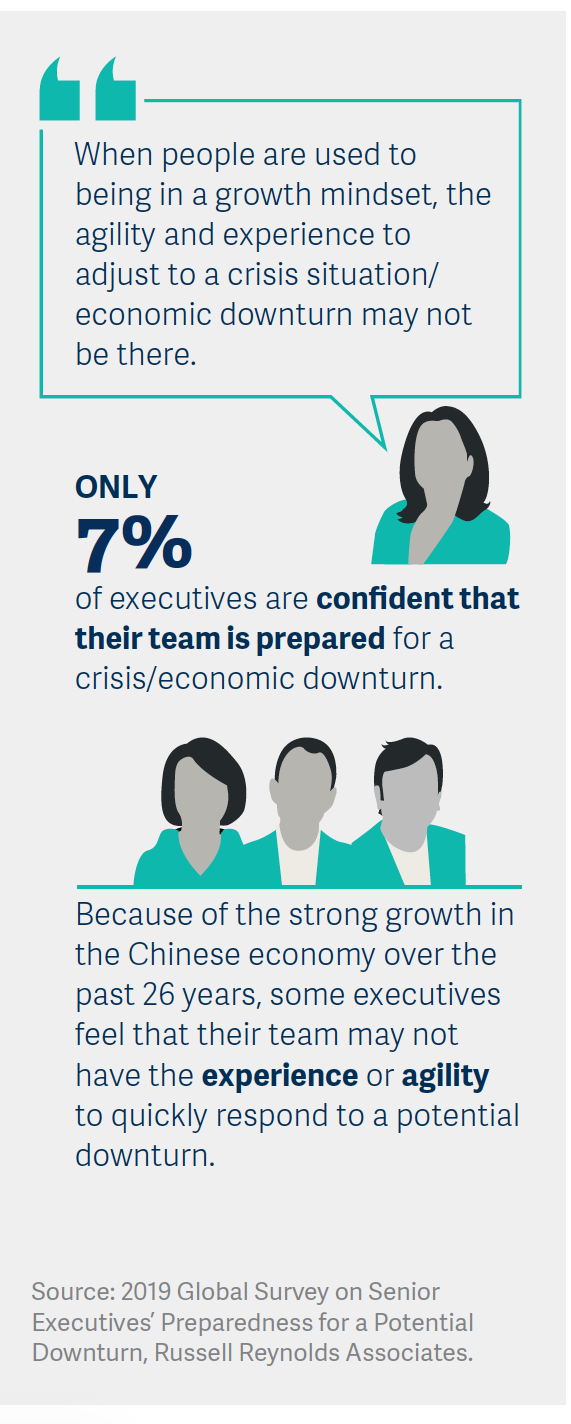 While companies we talked with generally gave high marks on how their leadership team responded to manage the crisis, there's still room for improvement. Lack of experience in managing downturns/ crises is the first thing to note. As most leaders in China are accustomed to a growth mindset, more proactive investments are expected to better prepare both incumbent and bench leaders with the attributes and skill sets needed for managing during unexpected/ crisis situations.
BUILD A VALUES-/MISSION-DRIVEN TEAM
This could often be overlooked in normal times, when the team is very much driven by fast-paced/intense commercial goals. However, an organization's mission, culture and values are put to the test in turbulent times. And it is the company's culture and values that will guide the organization through difficult periods. This crisis should be a good reminder for companies to strengthen their efforts in advocating and reinforcing the culture and values they want to be embodied in every team member.
FOCUS ON THE SHORT TERM BUT ALSO SET SIGHTS ON THE LONGER RUN
Without a doubt, organizations have been drawn to respond to the drastic impact that the crisis cast on business activities/operations. However, it is important also to not overlook or miss out on emerging opportunities that lie behind the immense challenges. For example, we see businesses rapidly redeploying their workforce to address needs from online channels. While the crisis is not yet over and there remains huge unpredictability of the disease, proactive and forwardlooking leaders wasted no time in leveraging this crisis to identify and close organizational capability gaps and, in the meantime, to mobilize available resources and set up their organization for success in capturing the next wave of business opportunities.

Key Takeaways

Based on the conversations we have had with senior executives in the market, we have listed action points which can help organizations better navigate and recover the sudden disruptions incurred by the crisis:

ALIGNMENT OF LEADERSHIP TEAM
Call on a special task spearheaded by the senior-most leader (e.g., CEO) in efforts to drive coordinated efforts and enable informed decision-making
Set clarity on the role and responsibility of each leadership team member to facilitate cross-functional collaboration
RECONFIGURE COMMUNICATION
Mobilize available internal and external resources with a collaborative and partnership spirit
Cultivate the relationships the organization has with suppliers, customers, and other stakeholders
DRIVE BOTTOM-UP SUPPORT
Prioritize and provide sufficient care to employees' health and well-being
Amplify corporate's vision, culture value and social responsibility to drive collective efforts and boost morale
TAKE A FLEXIBLE AND INNOVATIVE RECOVERY APPROACH
Keep flexibility and consider tailored approach by business/geography in navigating response and planning for recovery
Leverage technologies and encourage engagement with the broader group for innovative solutions and capture emerging opportunities
TAKE A FORWARD-LOOKING VIEW IN BUSINESS STRATEGY
Ensure that short-term actions/responses are in line with longer-term strategic vision
Identify 'glitches' in current operation model and leadership/organization capabilities to be built/ strengthened
AUTHORS

Jeffrey Cheng is a key member of the firm's Corporate Officers, Tech-Industrial and Fintech Practices. He advises both multinational and Chinese companies on talent management. He is based in Shanghai.
Marieke Van Der Drift leads knowledge management for Asia Pacific's Board and CEO Practice. She is based in Singapore.
Collins Shen is a member of Chinese Enterprises Practice knowledge team. She is based in Shanghai.