New lessons - and questions - about how to thrive in a fast-moving digital economy from a recent leadership summit that included more than 60 CEOs from China.

As many of us have experienced first-hand, the business environment in China is in constant motion. That is largely because it is highly digital, with everyday tasks from banking to car-buying nearly completely online. New businesses can emerge quickly, and loyalties can shift just as fast, allowing for no complacency. A beneficial side effect: China-based businesses collect an enormous amount of electronic data and are rapidly advancing in how they use it for competitive advantage.

Last fall, Russell Reynolds Associates was fortunate enough to host a leadership summit in New York for more than 60 CEOs from the China CEO+ Group, an independent organization affiliated with Harvard Business School's CEO Renewal Program. Working with this group of CEOs – all of whom are based in China and have completed extensive executive education coursework at Harvard -- was illuminating. It touched on many of the themes we're talking about with clients both in China and the rest of the world. And it left us with three lessons that are critically important for leaders of organizations in the Western world to absorb.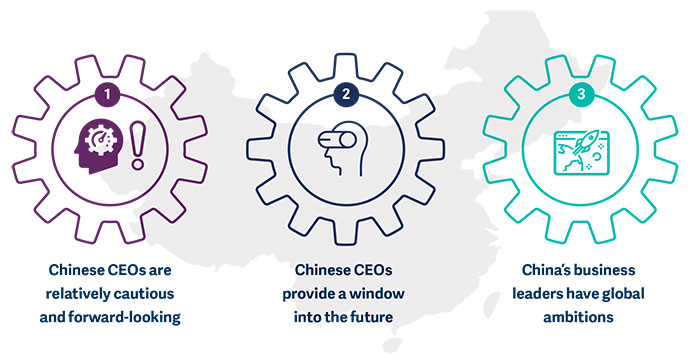 Chinese CEOs are relatively cautious and forward-looking.
Given the pace of change, the common thinking is that China's CEOs move at a million miles an hour and don't take the time to think strategically. But when we aggregated the results of the Leadership Span psychometric assessments the CEOs took as part of the experience, we found exactly the opposite. While they are appropriately strong on heroic, disruptive and risk-taking measures, they are equally strong on measures of reluctance and pragmatism. This suggests they are carefully selecting opportunities and weighing consequences before taking action. In fact, we saw this play out in their choice of topics for the day. Unlike many groups we work with, they turned down tactical sessions on building better boards or executive committees and instead chose two very forward-looking options: the role of talent in AI and how to design leadership and succession strategies. The implication for the rest of the world: Don't underestimate the depth of Chinese CEOs, and the caution they apply to decisions.

As a group, the Chinese CEOs we worked with leaned toward pragmatic, reluctant, heroic and connecting qualities within our Leadership Span framework, which considers four pairs of competing competencies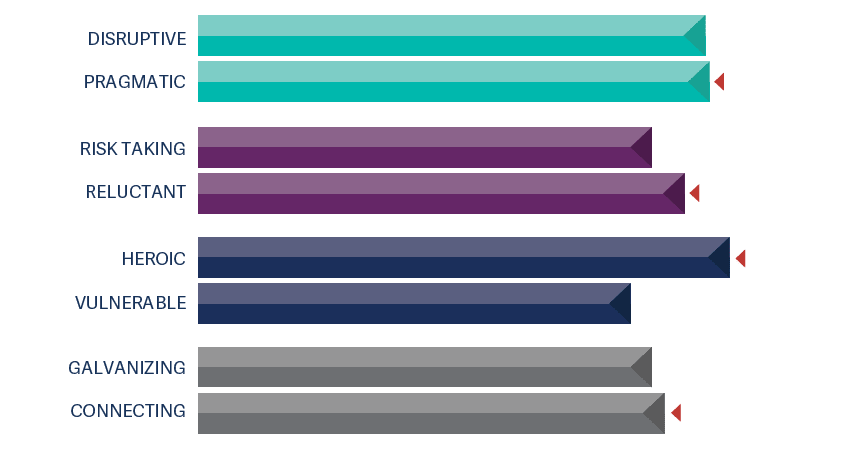 Chinese CEOs provide a window into the future
As nearly every industry confronts the need to adapt to the digital era, China's CEOs help us see what it takes to succeed in it. Our meetings left us with a burning question that will continue to drive our research agenda and our advice to clients: What is the DNA of a leader who can thrive in a market where things move so fast that if you're not first, you're last? Currently, indicators in our data imply that the ability to keep up with a seemingly furious pace of innovation while also making careful, pragmatic decisions is becoming a fundamental competency required of leaders in both developed and emerging markets, across all sectors. We can also see these competencies in practice; observing how China's digitally savvy CEOs manage innovation and talent in their home country is likely to prove extremely helpful to leaders in other geographies.
China's business leaders have global ambitions
Indeed, it's one of the reasons they met in New York and sought perspectives from a variety of US business leaders. As they scale up at home, Chinese CEOs are rapidly preparing to win market share in developed economies like the US and Europe. Part of the preparation is finding the right talent – proven executives who can operate globally — to do so. It also means that US and European leaders will face major competitive challenges ahead from Chinese companies, both in their own backyards and in their efforts to expand in China.

As Chinese companies consider how to go global and Western companies ask how they can invest and innovate in the digital-forward world of China, one thing is abundantly clear: we all have a lot to learn from each other. We look forward to continuing to work with and learn from exceptional leaders like those in the China CEO+ Group.