Diversity and Inclusion (D&I) is top of mind for most companies today. Yet despite spending significant funds, and expending significant effort, to attract a diverse workforce, many companies struggle to grow and retain these employees.
Having diverse talent walk through the company doors is not enough. An inclusive environment, one that creates opportunities for all employees to realize their unique potential, is critical to talent retention. Ultimately, an inclusive culture is crucial for an organization to benefit from the numerous advantages a diverse workforce promises.
We tested this observation by surveying 2,167 senior executives around the world and asking them about their perceptions of diversity and inclusion within their current organization. We found that most companies struggle to define, measure and strategize for an inclusive culture, and there is much work to be done in creating truly inclusive organizations.​
Companies are struggling with "Inclusion"
The survey responses indicate that many companies understand "diversity," but struggle to grasp "inclusion" in concrete terms. Nearly half of executives (47 percent) state that their organizations have a clear, holistic definition of diversity, while less than a quarter (24 percent) are aware of a definition of inclusion. It's not surprising then that executives indicate that their company is more likely to publicly align their business strategies with diversity than with inclusion by a margin of nearly 20 percentage points.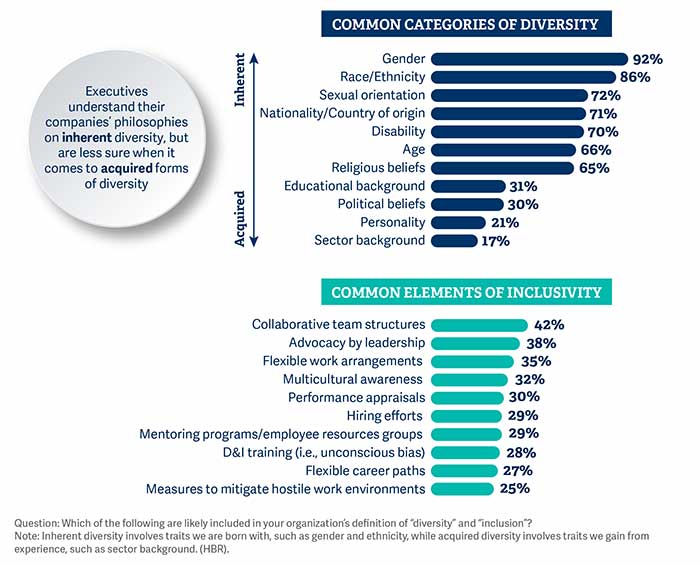 Unsurprisingly, mechanisms to measure inclusion, and stay accountable towards meeting inclusion-related goals, are rare in corporate environments. Only 40 percent of executives say their organizations have a plan in place to measure inclusion, while 38 percent say their organizations are held accountable to meeting inclusion-related goals.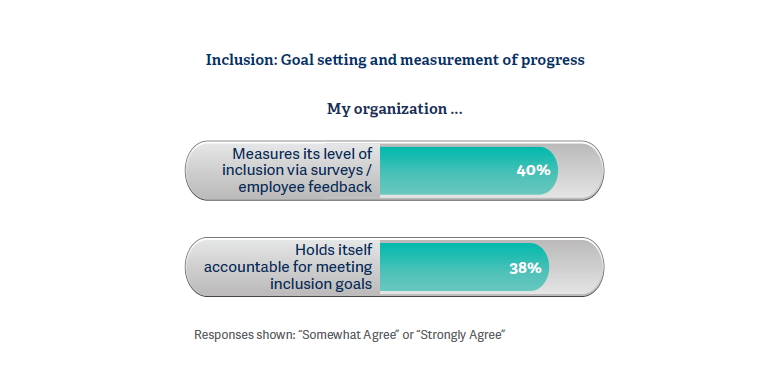 Executives also indicate that companies tend to overestimate the importance of a diverse talent pipeline and underestimate the importance of an inclusive culture. Although more than half of companies (53 percent) prioritize the hiring of diverse talent, significantly fewer are focused on talent retention (47 percent). Further, only a quarter of companies are ultimately effective at talent attraction and retention, with 32 percent seeing diverse talent leaving due to a lack of inclusion, suggesting there are significant obstructions to creating an effective D&I strategy.
Overall, companies struggle to articulate and measure inclusive cultures, and are largely uninformed about potential obstructions to effectively developing inclusive cultures. What can they do to improve?
How companies can measure their level of inclusion
There are a number of steps companies can take to create an inclusive culture, and diagnosing a company's level of inclusion to uncover drivers and pain points is a critical starting point. In order to help clients build more inclusive organizations, Russell Reynolds Associates developed a proprietary Inclusion Index that allows CEOs and boards to quantify their organizations' levels of inclusion. One leading consumer products company's supply chain function recently used the Inclusion Index to drive their diversity agenda forward.
The Supply Chain Officer and Human Resources business partner of the consumer products company were concerned about diversity and inclusion in their part of the organization. The leadership team had a number of hypotheses they wanted to test around how inclusive the supply chain function was for diverse talent. They deployed the Inclusion Index in order to collect data from employees around the world, allowing them to test their hypotheses as well as provide them with actionable insights.
The company wanted to survey the leadership levels within the global supply chain employee population (over 100,000 employees) across three employee levels, which amounted to over 3,000 managers. Russell Reynolds Associates partnered with them to create the survey's demographic questions to both fit the demographic groups of interest and to ensure that the surveyed population could be analyzed appropriately. After administering and analyzing the survey, results were shared at a Human Resources offsite, and a train-the-trainer session was conducted for regional supply chain HR representatives from around the world. Those HR representatives then ran workshops in their regions around the topic of diversity and inclusion, using regional and functional reports from the survey data for each of the workshops.
More than 50 percent of the employees completed the survey, and data showed the client to have a moderately strong culture of inclusion. Through analysis of the survey results, the company identified 3 of the 7 assessed areas of inclusivity as having a relatively stronger impact on their employees' feeling of belonging within the organization. The regional and functional data enabled each team to understand their own inclusivity.
Although similar findings existed across regions, differences were also identified and highlighted to equip regional leaders with strategic insights about their portion of the organization. For instance, one sub-function consistently scored lower across all aspects of inclusion, which the HR business partner brought to the attention of the head of the function. The regional workshops empowered local leaders to engage in conversations about diversity and inclusion, leveraging the survey results. The end result is that these leaders have been better able to define their path to a more inclusive culture, as well as how this path reflects the overarching journey for their organization.
This consumer products company's journey, like that of many other companies, is complex and still ongoing. However, gathering data around its level of inclusion was critical to knowing where it stood, and strategizing its future D&I initiatives. In order to gather context around inclusion data, leaders must have the courage to drive the D&I dialogue by asking uncomfortable questions, and hearing and reacting to honest answers. Actions and outcomes might include unconscious bias training, workshops, cross-cultural mentorship, assisted succession planning, and a plethora of other well documented practices. However, only those practices that address a company's specific pain points and barriers to inclusion will ultimately be effective.
Authors
PIETER LIGTHART​ co-leads the Global Supply Chain Practice and is a member of the Diversity & Inclusion Practice at Russell Reynolds Associates. He is based in Amsterdam.
Harsonal Sachar SACHAR is the knowledge lead for the Consumer Products Practice and a core member of the Diversity & Inclusion Practice. She is based in Toronto.
​