In Brief
Some companies invest in diversity and inclusion (D&I) but fail to gain traction with it. Others invest in D&I and make it an integral part of their culture. What makes the difference? To learn more, we recently explored what distinguishes organizations that have successfully capitalized on their D&I efforts from others. We found that organizations with advanced D&I strategies have more structure and accountability than those with less developed efforts. We also found that leaders at advanced organizations are nearly twice as likely to understand the crucial difference between simply hiring diverse talent and creating an inclusive environment to develop and retain that talent.

A key reason to study these organizations: Executives at organizations with advanced D&I strategies are about 30 percent more likely than others to feel highly loyal, innovative and set up for top performance.

Another reason to study them: Our research shows that taking a reactive, check-the-box approach to D&I leads to worse outcomes than doing nothing at all.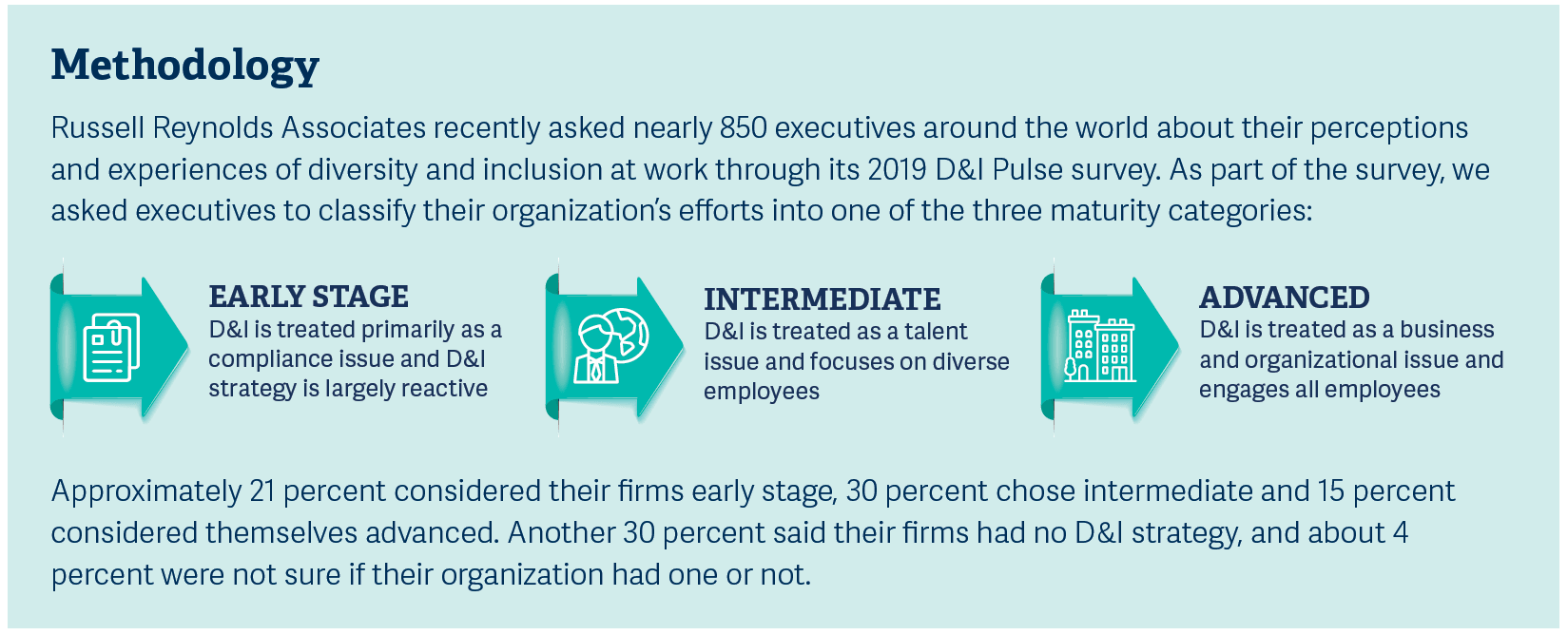 Elements from each stage—namely, a focus on compliance and talent—are essential to success, yet the most advanced organizations manage to move beyond any single end goal and make diversity and inclusion an ongoing enterprise-wide mission. They tackle D&I from all angles, investing in inclusive leaders and cultures as well as diverse talent and equitable policies and practices

Related Content: BlackRock's Global Head of Inclusion and Diversity, Jonathan McBride, discusses his personal experience, how to approach difficult conversations and why D&I is a business imperative.
The benefits of getting D&I right—and the risks of getting it wrong
What defines the best when it comes to D&I? The answer goes beyond simple measures. Companies advanced in their D&I journeys may have more years of experience with D&I than others and invest more time and resources, but these factors alone are not enough. Instead, being the best means getting the most out of all talent, including diverse employees, via a holistic approach that resounds in every facet of the business.

Specifically, advanced companies are better at hiring, retaining and developing diverse talent and creating inclusive leaders and cultures, as well as implementing unbiased talent management processes. Beyond that, they also see better business outcomes on a broad range of metrics.

Our research shows that taking a reactive, check-the-box approach to D&I can be worse than doing nothing at all. Executives at organizations with early stage D&I strategies report more negative workplace sentiment than those at organizations with no clear D&I strategy in every key category except one.

In our conversations with clients, we find that counterproductive D&I strategies are often the result of leaders rushing to solve a particular problem, such as high turnover rates among diverse talent, without fully probing its root causes. Taking the one-size-fits-all approach risks further disenfranchising employees. Instead, the best companies gather information about employee sentiment before building a strategy to address it.
What advanced D&I organizations do differently
Improving diversity and inclusion is not a frictionless endeavor. All companies, regardless of the stage of their D&I journey, reported similar challenges in our 2019 D&I Pulse survey of nearly 850 global executives, with cultural constraints and leadership accountability leading the way.

Organizations with advanced D&I strategies know where to focus efforts

While these barriers affect all organizations, advanced companies are far more likely than others to prioritize the thorniest areas of culture and leadership behaviors. Specifically, they differentiate themselves in five key categories: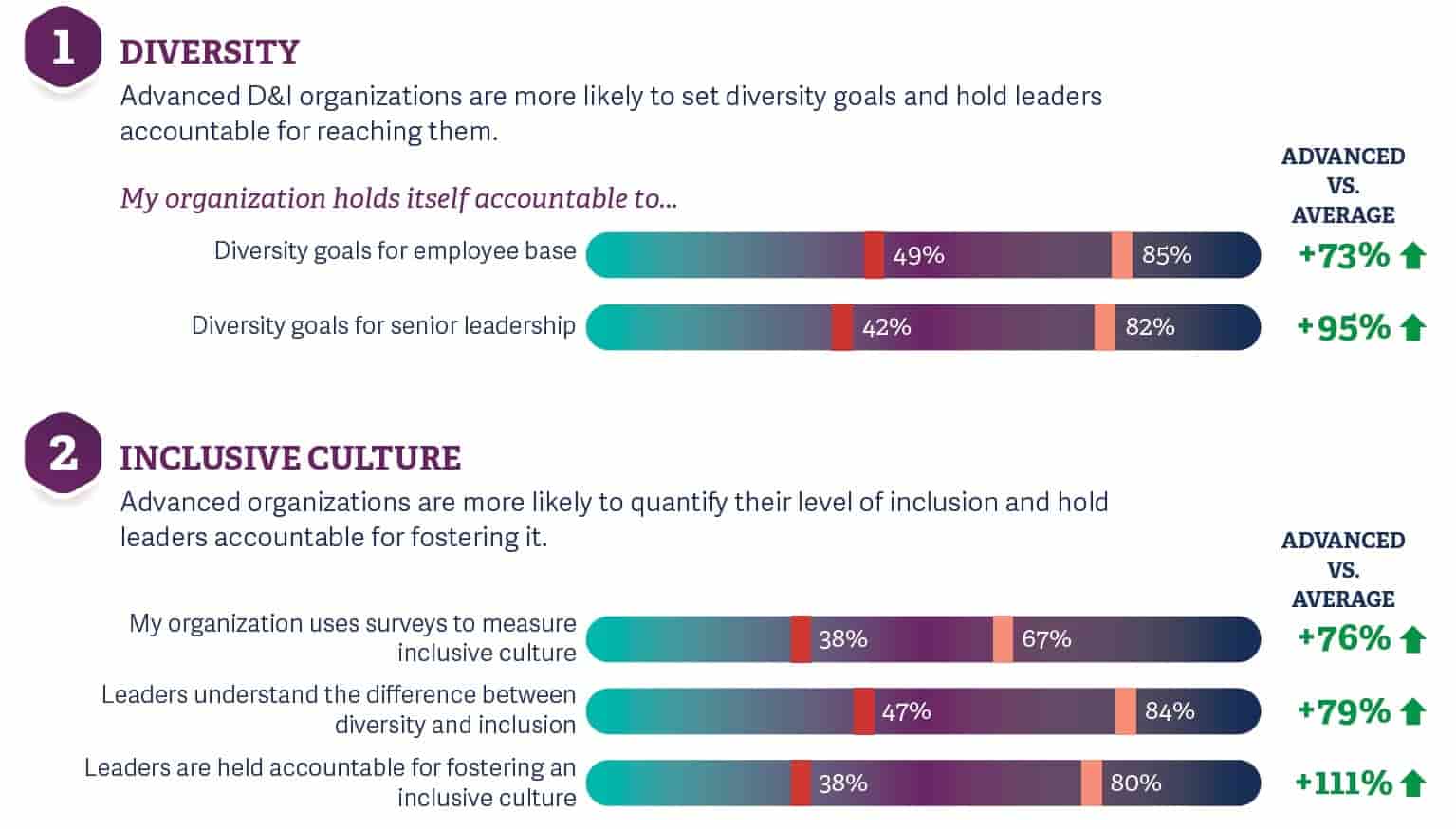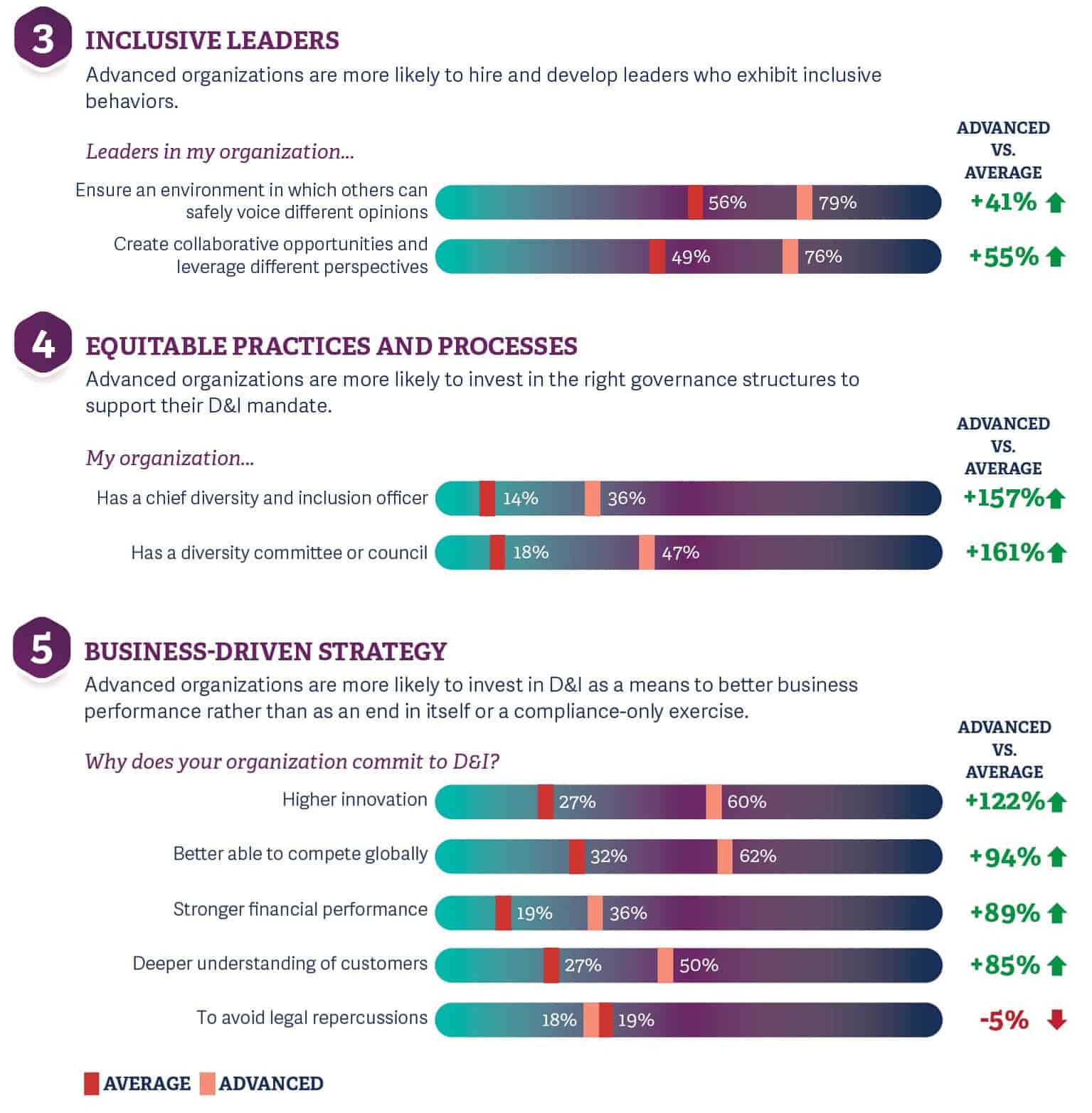 Lessons from best-in-class D&I organizations
As many leaders have discovered, simply hiring diverse talent does not ensure lasting diversity. Instead, many other elements— namely, an inclusive culture—are essential to building a resilient organization that reaps the benefits of diverse talent. There are several steps leaders can take to build a more diverse and inclusive organization.

01: Hire, Retain, and Develop Diverse Talent

Regardless of where an organization is in its journey, leaders can make extra efforts to be intentional about diversity. They should make a visible commitment to D&I and create authentic partnerships with diversity-focused organizations to have access to the broadest pools of talent. Once they hire diverse talent, they should actively sponsor them and ensure that the needed visibility and stretch opportunities to advance are present within the organization.
02: Build Inclusive Cultures

Committed leaders have a pulse on the culture of their organization—in fact, leaders in advanced organizations are almost twice as likely to feel that their organization is effective at fostering an inclusive culture. They know which populations feel less included and why (i.e., the root cause) and not just the symptom (e.g., women are leaving the organization). They tackle, head-on, the #1 barrier to effective D&I strategy—an organizational culture that is resistant to change—and actively build a more inclusive culture by holding people accountable to changing organizational norms and values. They understand the data behind their workforce sentiment and are clear on what needs to be fixed in the short term and in the long term.

03: Develop Inclusive Leaders

Leaders who build inclusive organizations understand that individual and team behaviors are critical—in fact, a lack of leadership accountability and commitment to D&I is one of the top barriers to an effective D&I strategy. These leaders set an example by leading inclusively themselves. They create opportunities for collaboration, leverage diverse perspectives and ensure an environment where employees can safely voice their opinions. They also develop inclusive leaders and hold others accountable for leading in an inclusive and courageous manner by emphasizing D&I as a business issue.
04: Create Unbiased Talent Management Processes

Leaders in inclusive organizations take a rigorous, data-driven approach to their talent management processes and understand the specific D&I pain points in their talent recruiting, promotion, compensation, and retention. They can pinpoint the leaks in their talent pipeline and have a plan in place to reduce or eliminate bias and make the necessary changes to their D&I strategy and broader talent efforts.

05: Create a Sustainable D&I Operating Model

Finally, committed leaders understand that a self-sustaining inclusive organization needs the right D&I operating model in the form of governance, structure, accountability and resourcing to achieve and sustain its D&I objectives. They realize the importance of taking a long-term holistic approach while simultaneously focusing on short-term metrics and incentives to ensure leaders are meeting key milestones along the way. Accordingly, they make the right investments to support their culture, leaders and talent—be it hiring a chief diversity officer, setting up a D&I council or committing to regular employee engagement surveys.
Looking ahead
Ultimately, leading D&I organizations realize that diversity and inclusion efforts are part of a larger goal of being a preferred employer, serving clients better and outperforming financially. While maintaining a holistic and business focused approach, they also remain open to continuous improvement, recognizing that D&I is an ongoing journey. By taking this approach, more organizations stand to see greater results from their D&I efforts.

Authors
Alessandra Abate co-leads Russell Reynolds Associates' Diversity & Inclusion practice in Europe, the Middle East and Africa and leads the Global Biotech and Pharmaceuticals practice. She is based in Amsterdam.
Dee Fitzgerald co-leads Russell Reynolds Associates' Diversity & Inclusion practice across Asia Pacific and is a member of the firm's Leadership and Succession practice. She is based in Sydney.
Ryoko Komatsuzaki co-leads Russell Reynolds Associates' Diversity & Inclusion practice across Asia Pacific and is a member of the firm's Consumer sector. She is based in Tokyo.
Harsonal Sachar leads Knowledge for Russell Reynolds Associates' Diversity & Inclusion practice and is responsible for thought leadership and insight development along with internal strategy and operations. She is based in Toronto.
Alix Stuart is a member of Russell Reynolds Associates' Center for Leadership Insight. She is based in Boston.
Ulrike Wieduwilt co-leads Russell Reynolds Associates' Diversity & Inclusion practice in Europe, the Middle East and Africa and is a member of its Consumer sector. She is based in Hamburg.
Cissy Young leads Russell Reynolds Associates' Diversity & Inclusion practice in North America and is a senior member of its Global Biotech & Pharmaceuticals practice. She is based in Boston.