Summary
Investment management firms need to demonstrate a genuine commitment to ESG principles to be credible with their end user investors.

Sustainable investment leadership needs to report to the top of the house and be given the remit to coordinate across all business lines and geographies.

The alpha generation of strategies incorporating ESG and sustainability metrics will continue to outperform those that ignore them.

Investors will continue and intensify their vigilance on whether or not sustainable funds live up to their marketing and mandates.
ESG 2020 – The transformation of private equity
"If your ESG factors aren't that good, you probably won't get money from an institutional investor." – David Rubenstein, Co-Founder and Co-Executive Chairman of The Carlyle Group, Greenwich Economic Forum, November 2019
Where are we now?
Private equity firms have prioritized the development of more credible ESG efforts, targeting policy and governance experts from the non-profit world to help create and lead these strategies. However, highly publicized new "Impact" funds from firms like KKR and TPG raise a fundamental and problematic question – if these new funds are driven by more sustainable investment metrics, does that mean that all of their other funds are not?
In order to pre-empt any notions of "greenwashing", private equity firms are now building out teams of senior ESG leaders responsible for:
Partnering with the leadership of the firm to develop and implement a holistic, global and enterprise-wide ESG strategy

Embedding ESG principles directly within the investment processes of the individual asset class strategies

Partnering with Marketing and Investor Relations teams to effectively articulate the firm's ESG strategy to the institutional LPs

Partnering with the management teams of the portfolio companies to help them devise and incorporate more sustainable long-term corporate strategies
These decisions are being driven by a range of different factors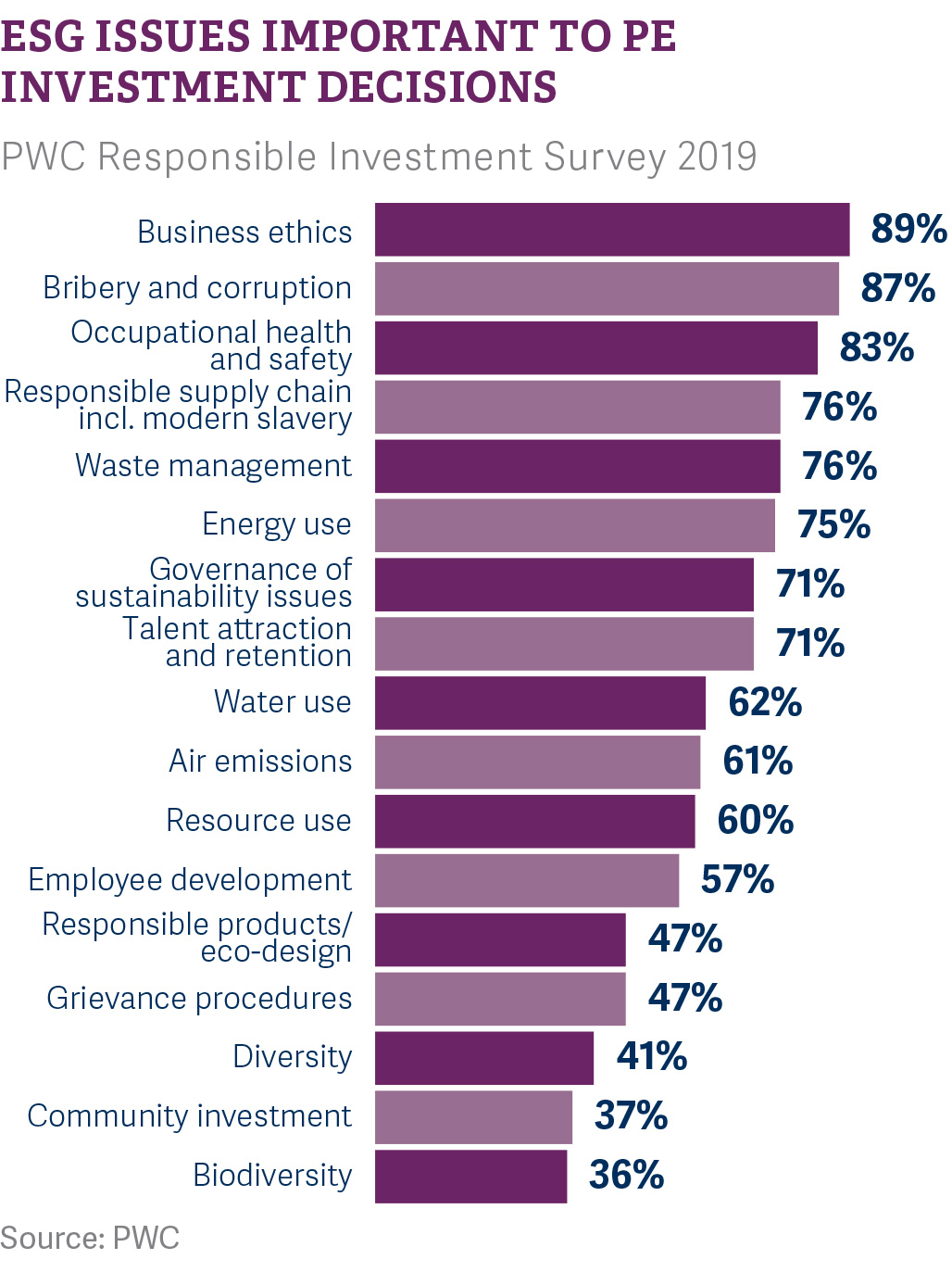 What's next?
Private equity funds will be focused in 2020 on putting forward a more conciliatory persona, to demonstrate to their investors that their ESG efforts permeate every corner of the organization. However, senior investment teams within these organizations will not willingly concede on their return profiles solely in order to deliver greater impact.
Private equity Heads of ESG in 2020 will need to work closely with these investment teams to explain how incorporating ESG into their already successful investment processes will actually generate incremental alpha over the long run.
To gain an edge, investors are thinking beyond the typical value creation levers:
Private equity investors are incorporating ESG issues into investment decision-making to mitigate risk and generate sustainable returns

PE firms are augmenting reporting capabilities and incorporating ESG into investment decisions in response to LP due diligence, regulation and reputational risks

Portfolio companies are seeking to align financial, social and environmental value creation to enhance performance and to attract, engage and retain talent
01. Determine Where You Are In Your ESG Lifecycle
The first step in creating a credible ESG framework is performing a self-diagnostic as to where you are as an organization in your ESG lifecycle. Most firms are somewhere in the middle, but all strive to be best-in-class.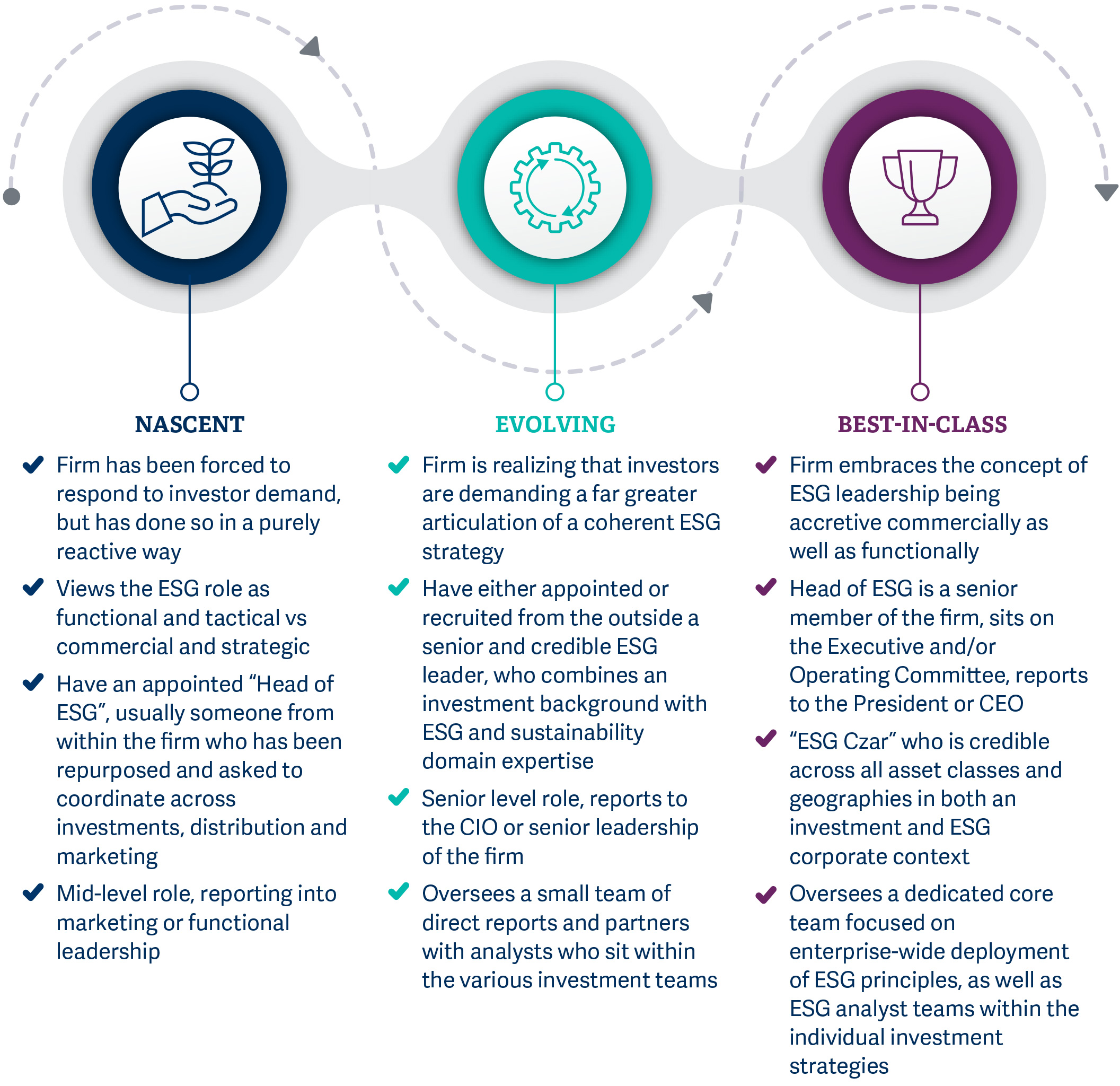 02. Identify Next Gen Financial Services CEO & Board ESG Competencies
"The hit to market value of an ESG controversy is significant and the impact is long-lasting. It can take a year for a stock to reach a trough following an ESG controversy. Negative headlines stick in investors' minds." – Savita Subramanian, Head of US equity and quantitative strategy at Bank of America, December 2019.
ESG 2020 – Next Gen CEO competency checklist

A proprietary, market leading board assessment for ESG
In addition to today's board composition requirements around diversity, technological fluency and operational expertise, good governance going forward will dictate that every board contain C-suite corporate executives with a track record of creating and implementing sustainable long-term corporate strategies.
Russell Reynolds Associates has a globally-recognized Board Consulting and Effectiveness Practice, which actively partners with our corporate clients to identify the specific behaviors, actions and processes boards can adopt to maximize their positive impact on corporate results. As part of our process, we analyze and help to optimize board composition, performance and governance processes.
Leveraging our experience and continuous engagement with the investor community, RRA's framework identifies 20 ESG Metrics that institutional investors tend to seek disclosure of.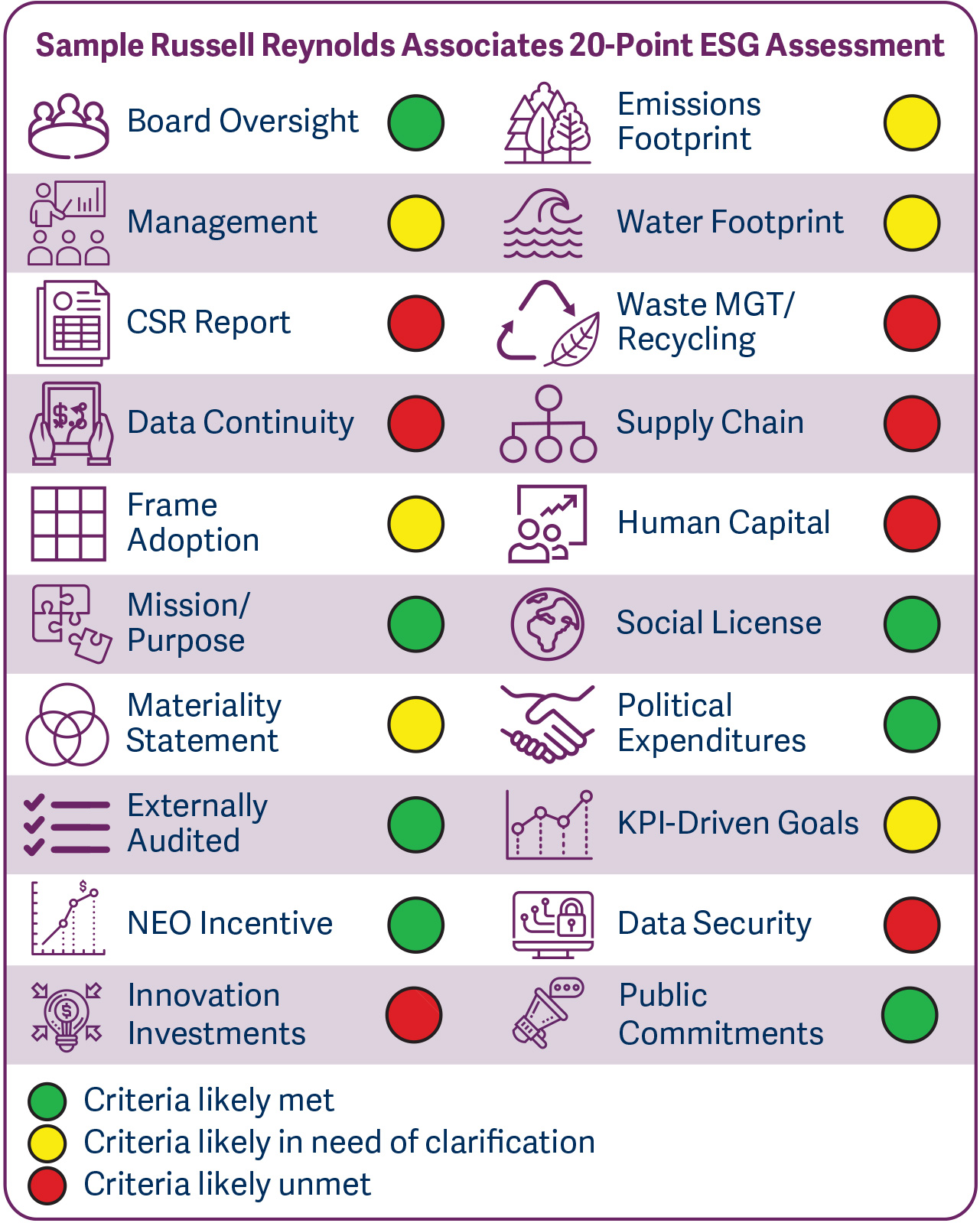 03. Identify and recruit top ESG talent
We are seeing a rapid growth across financial services in demand for ESG leadership; a selection below shows recent appointments that have been announced in the public domain – and we would be happy to discuss the broader talent landscape in more detail.