After a decade of digital transformation conversations, "every company is now a software company",1 but it has been the exponentially transformative pace of the last few years that has brought this idea to life. The pandemic has accelerated a shift towards technology, and demarcations between the technology sector and other industry verticals are breaking down faster than ever before. Retailers are now eCommerce platforms, traditional automotive companies are experimenting with autonomous vehicles and telematics, bank accounts have transitioned onto mobile and digital platforms, and physicians are advancing in telehealth, a mere Zoom call away.
Over the last eighteen months, there has been a bifurcation in the market, with technology and digitally-advanced companies rising above the rest. Market-leading organizations such as Amazon, Nike, Tesco, and Wayfair have demonstrated how crucial it is to embed digital capabilities and technological innovations within the business (see Figure 1). These companies have been effectively pandemic-proof, and have seen large increases in customer bases and profitability, grabbing market share and delighting otherwise frustrated customers. Given that online spending is expected to top $1 trillion in 2022, conventional corporate organizations are prioritizing a pivot to technology and digital offerings.
Figure 1. Bracing against the pandemic by embedding digital and tech into the business
Talent is the backbone of tech-led growth
To support this rapid growth and necessary transformation, organizations are competing fiercely for software engineering talent. A LinkedIn analysis of 2020 hiring trends showed a 25% hiring increase for software engineers (see Figure 2). Availability of key talent and/or skills, changes in consumer behavior, and technological change were among the five biggest factors impacting organizations across all sectors, according to Russell Reynold's 2021 Global Leadership Monitor.2 Strikingly, the technology sector was the most concerned around talent skills shortage, with 69% of technology executives stating this was in the top five risks, and only 46% of technology executives agreeing that leadership is prepared to address this talent issue.
Figure 2. Digital roles that are rising in demand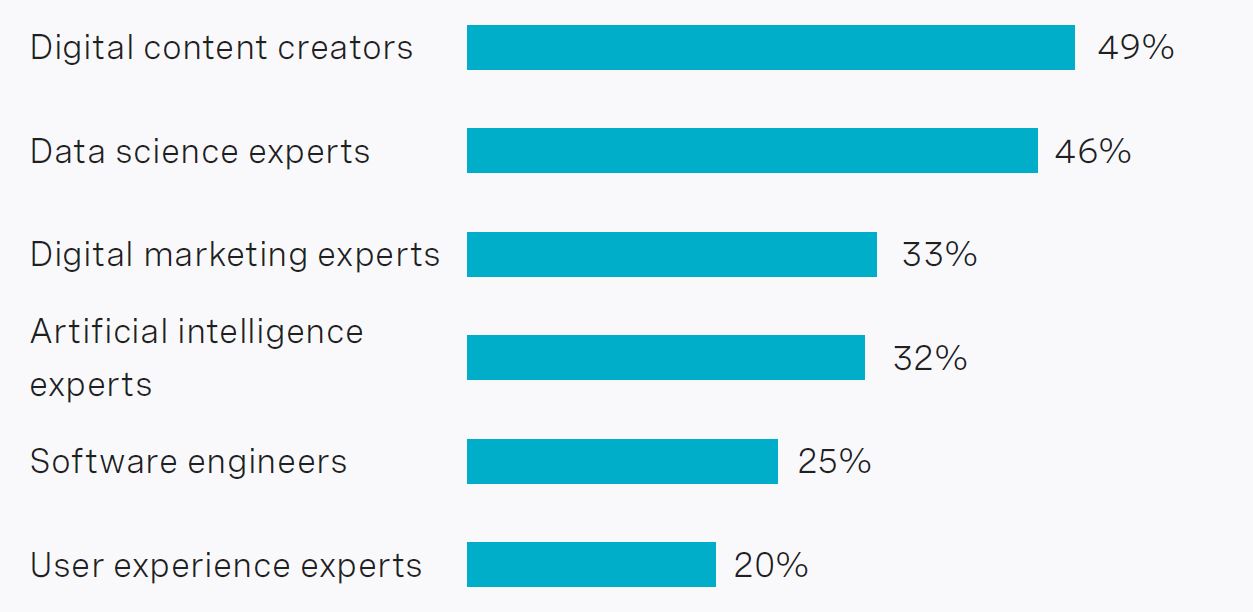 Source: 15 opportunities that are in demand and hiring now, LinkedIn, 2020
This same demand is seen in executive leadership. In 2020, one in four respondents to a McKinsey Global Survey anticipated a struggle in finding executive management technology talent.3
To better understand the executive engineering talent landscape, Russell Reynolds analyzed 138 chief technology officers and senior executive engineering leaders across prominent organizations based in Europe and North America. These leaders represent a broad swath of talent, responsible for technology platform businesses and non-digital businesses across industry sectors. This analysis highlights the fact that engineering executives change roles roughly every three years – opportunities are boundless and companies across the spectrum, from start-ups to corporations, from technology platforms to legacy businesses, are competing for talent.
Navigating the chief technology officer and software engineering leadership landscape
Engineering talent moves around – a lot!

Engineering talent changes position every three years, with women moving slightly more often than men. These leaders are mainly moving into an external opportunity, in a more senior position. The size and scale of the company did not seem to be a significant consideration to the candidate.
Larger organizations are more susceptible to turnover.
The average tenure of a leader at a large organization was a little over three years, a slight drop from the average of their last three positions.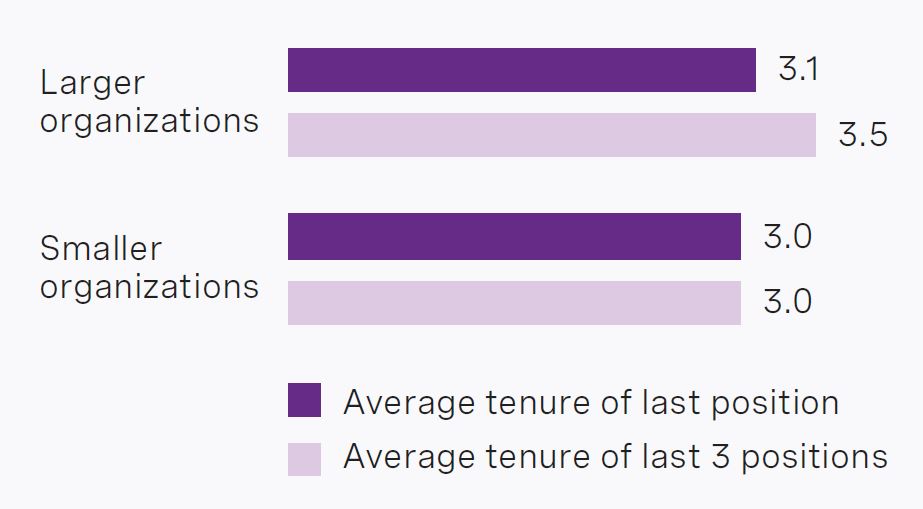 Tech talent in financial services is especially jumpy.
Healthcare, technology, and consumer sectors had similar average tenures for tech leaders, at around 3.5 years, but tech tenure in financial services was noticeably lower at 2.2 years. This held true for all previous roles, suggesting an extremely tight war for talent in financial services.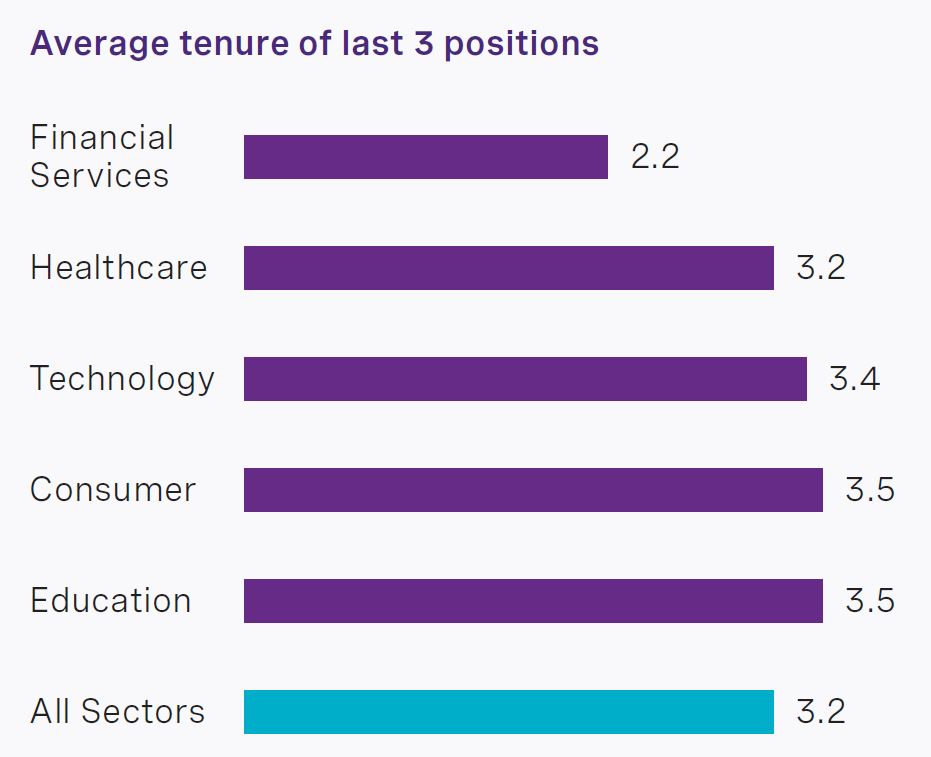 Most talent is found externally, based in North America.
Across all sectors, about a third (32%) of the leaders were promoted internally, with the majority (68%) from external appointments. There was a significant difference between external appointments across regions – 52% of European hires are external, compared to 77% of North American hires. Although the talent pool for digital transformation sits predominantly in North America today, there is an expectation that this talent landscape will change in the next two to three years.
Engineering leaders are overwhelmingly male.
In 2018, a Zippia survey found that 88% of US chief technology officers and tech founders were male.4 Today, based on Russell Reynold's analysis, 94% of the leaders are male, showing a distinct lack of progress.
Most talent is poached from the tech sector.
The majority (64%) of engineering leaders, across sectors, originate from the technology sector. Removing pure-technology leaders from this analysis did not make a difference – 60% of engineering leaders, across healthcare, consumer, financial services, and industrials, came from the technology sector.
Founders appear to enjoy the start-up life.
All founders who are no longer at their initial businesses have transitioned into leadership positions at other small software/digital companies, organizations below the median revenue, instead of pursuing a career at a large tech company.