Accelerating change
We are seeing explosive growth in the emergence of new technology disruptors impacting financial services. The challenge C-suites face is to successfully manage their business through these unprecedented rates of change.
However, the pace of transformation in banking today is not nearly fast enough to survive. By the time banks realize what is pertinent, it was pertinent.
The hindrance is that a bank's ability to transform evolves in a linear manner, while the number and complexity of disruptive events is increasing exponentially.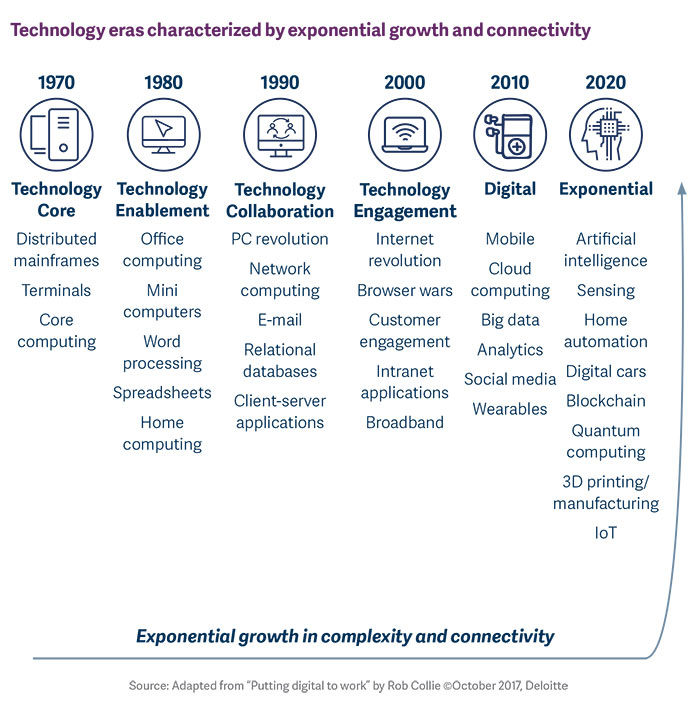 Transformation lag
While institutions can adapt to change, current structures and strategies in large institutions create a significant lag between disruption and transformation.

Risk from competition is everywhere
Digital competitors in this environment put significant pressure on revenue – and they are successfully competing in the typical strongholds of banks.
32% of banking revenues will be at risk by 2020.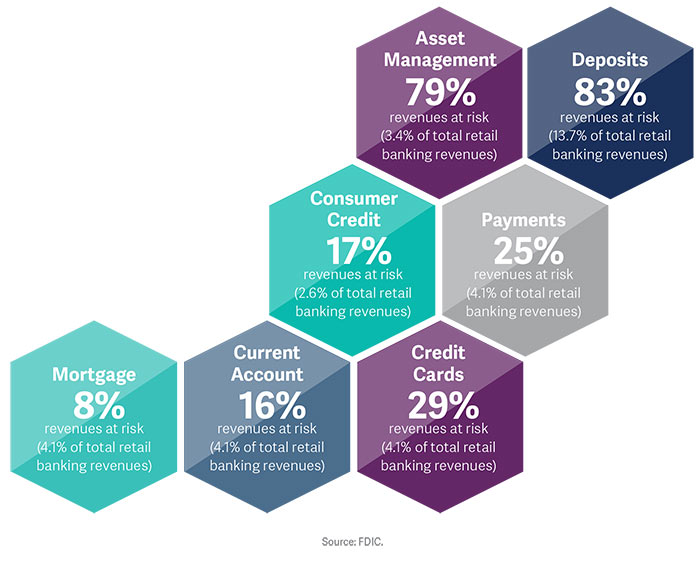 Assess your response
Banking's response
The main challenge for banks is to become frictionless digital companies that provide banking services versus utility providers offering banking accounts, treasury services, and commercial loans. Artificial intelligence, machine learning, and the automation of processes are more than a next-generation strategy – they are the current state of competition and the keys to a bank's very survival.
"The future of finance is an ever increasingly converged ecosystem where consumer and small and medium enterprise (SME) financial services are provided by banks and by platform companies with roots in e-commerce and social media. For an incumbent bank to evolve into the new landscape will require: (1) senior leadership teams to be focused on digital transformation; (2) relatively simpler business mix by geography and products; and (3) the cushion of better existing financial returns that allows management to divert their attention from near-term firefighting."
Bank of the Future – Citi (March 2018)
Solving the Banking CODE
A roadmap for modernization
If the need to transform is no surprise to executives in the banking C-Suite, why is there a constant struggle to move the needle on some of even the most seemingly simplistic changes necessary to establish and execute a converged ecosystem? We believe the answers lie in the inherent challenge in transforming banking's existing business model, organizational structure, culture, and technology infrastructure.
In order for banks to thrive, we see the need to focus on four core areas – Customer Experience, Organizational Design, and Diversified Talent, all supported by a next-generation Ecosystem.
The ability to solve this CODE is in the hands of the C-Suite executives and their one- and two-down teams. Banking's senior leaders must possess a variety of technical skills complemented with personal drive and political fortitude in order to guide their banks through continuous innovation and disruption.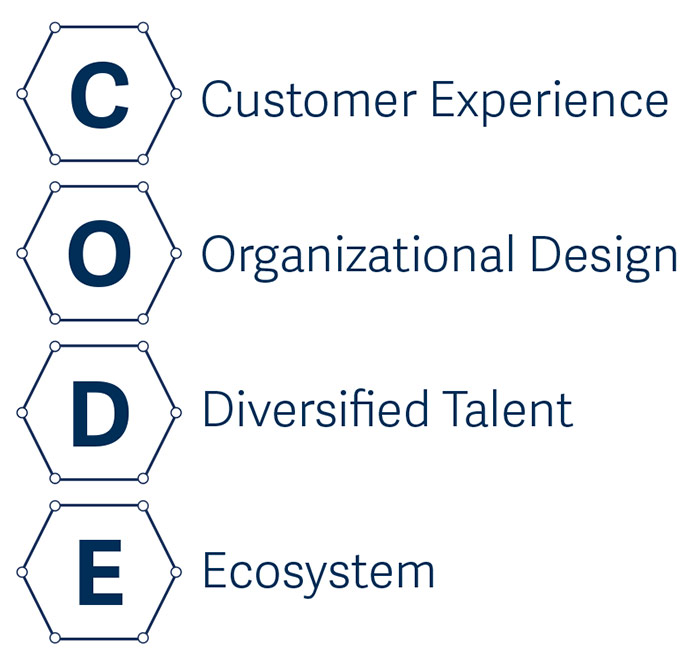 All four action areas are interconnected, requiring a commitment to aggressive strategies that involve more than increases in funding and agile development. It will take the soft skills of leadership to break down silos and create clear ownership of decisions accompanied by a culture of speed and true accountability for results – all focused on the end game of becoming an organization obsessed with the customer experience.
Customer Experience
Challenges
Customers are not at the top of the pyramid in a traditional bank. They are instead at the end of a product and service development lifecycle that, by its very nature, compromises customer experience.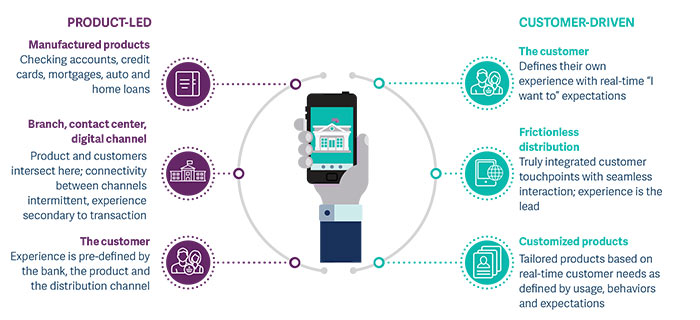 Customers' expectations keep rising as they grow accustomed to simple and convenient digital channels.

However, banks still have a competitive advantage in consumer trust.
Readiness
Assessing your readiness
Moving to a customer-centric model can be a significant and complex undertaking. A clear understanding of the bank's readiness for such a transition can help it successfully navigate its way through.
Do we have a clear roadmap for the journey towards a customer-centric organization?
Are we making leadership across the bank aware that this is a strategic imperative?
Are we focused on rigorously identifying and removing barriers to change?
Have we communicated an energizing vision of change (and success) to the organization?
Solutions
Design around episodes
Ensure your universe revolves around the "I want to...."
For instance - "...open an account"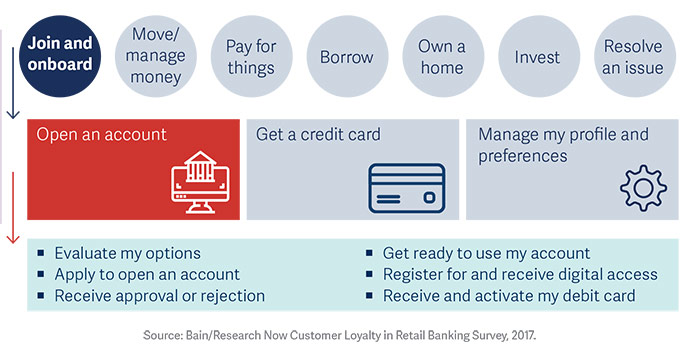 Branches are key to a successfully integrated frictionless experience
According to the J.D. Power 2018 U.S. Retail Banking Satisfaction Study, 28% of retail bank customers are now digital-only, but they are the least satisfied. Leveraging branches in combination with contact centers and digital apps is the key to delivering a banking experience that should maximize customer loyalty.
Highest satisfaction
Branch-dependent digital customers used the branch two or more times in the past three months and also used online or mobile banking - 823/1000
Middle ground
Digital-centric branch-using customers who used the branch once in the past three months and used online or mobile banking - 808/1000
Lowest satisfaction
Retail bank customers who exclusively used online or mobile banking channels during the past three months - 791/1000
Ask the tough questions
Do you have an enterprise-wide CX lead who is responsible for the creation and execution of a holistic strategy?
If not, do you act together on a clear understanding of how your separate CX leads interconnect with each other and their support partners in marketing, technology, data & analytics, product development, and distribution?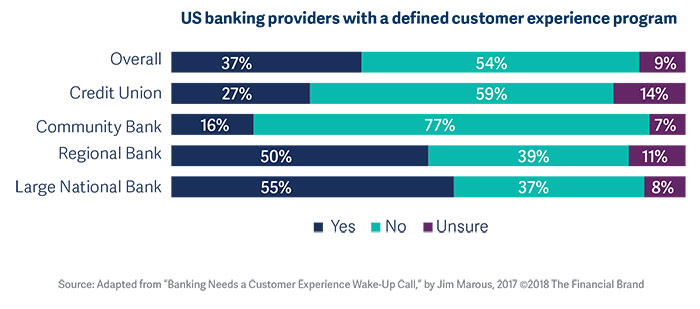 How do you measure customer experience? What are the methodologies and are they being implemented everywhere?
How do you ensure all channels are actively identifying the "next best action" and then, seamlessly, optimize that journey?
Data & analytics are table stakes; how are you using D&A to predict and enhance needs before your customer asks, thus enhancing the experience and increasing loyalty (i.e., highly personalized experiences). How well do you anticipate vs. serve, react?
Ask your CDO – is your digital engagement strategy truly focused on experience enhancement vs. cost reduction
Organizational Design
Challenges
Growth brings complexity
Traditional banking structures have evolved organically as the bank has grown – and are not conducive to efficiency, agile innovation, and a frictionless customer experience.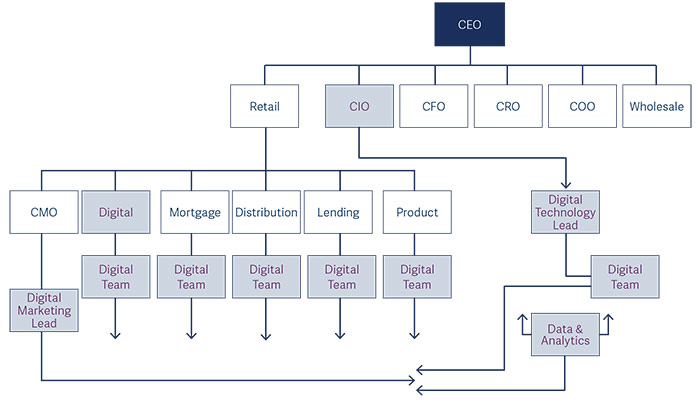 The Bank of Today
Digital is layered and distributed independently across different functional departments.
Siloed nature makes uniform delivery and experience nearly impossible, frustrating customers.
Ad hoc digital solutions provide quick fixes, but this structure inherently blocks holistic progress around frictionless experiences.
Solutions
Tear down to build up
Dismantle traditional hierarchical infrastructure; redesign to improve the customer experience, improve efficiency and allocate work based on interconnected and flexible executive teams. This will allow for a more agile, customer-focused approach.
The Goal
Design episodes through small, cross-functional teams that own and improve each individual episode. Use agile methods to determine product/service, gather and bake feedback from customers into newer versions, then execute across the enterprise.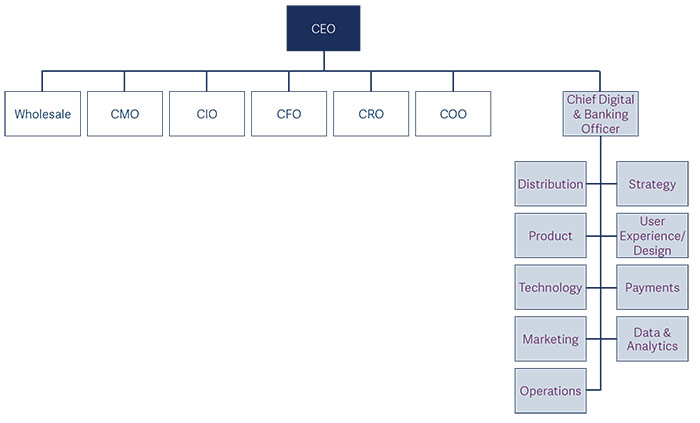 The Bank of Tomorrow
This structure inherently redefines legacy organizations as a forward-leaning digital architecture that drives an agile work environment.
All-in-one digital; eliminate any friction and design an organization that is digitally ubiquitous.
Product development and distribution outcomes ensure seamless experiences across all touchpoints.
Ask the tough questions
Can you identify areas where sacrosanct organizational designs are in the way of efficiency gains, customer experience, and/or role clarity/decision rights?
Is your company building a culture that fosters an allocation of work based on interconnected and flexible executive teams that enable an agile, customer-focused approach?
What roles are repetitive throughout your organization? Do they need to exist? Why are they there – tradition, longevity, "culture" reasons?
Diversified Talent
Challenges
Executive talent is heavily skewed toward traditional veteran bankers with limited diversity in race, gender, and experience.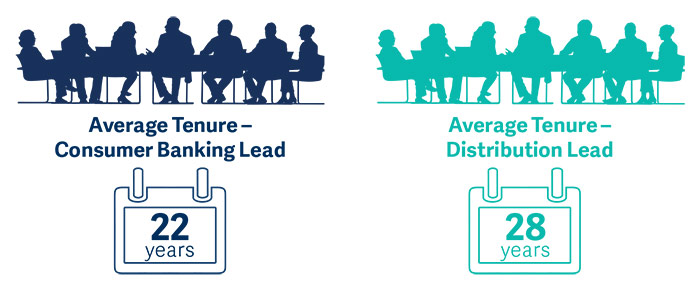 Lack of diversity affects all functions and outputs
The direction and culture set from the top affect product development, distribution and marketing, all of which intersect with the overall customer experience.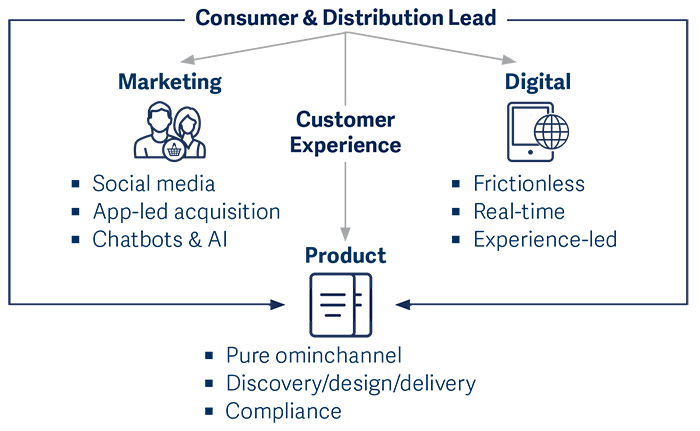 Solutions
Grow the bottom line
Companies in the top quartile for racial and ethnic diversity are 35% more likely to have financial returns above their respective national industry medians. Companies in the top quartile for gender diversity are 15% more likely to have financial returns above their respective national industry medians. (McKinsey1) Companies with the most women board directors outperformed those with the least on return on sales by 16% and return on invested capital by 26%. (Catalyst2)
Attract and retain the best talent
When employees feel part of a diverse and inclusive workforce, turnover decreases by up to 20% and employee effort increases 12%. (CEB3)
Employees with the highest level of engagement perform 20% better and are 87% less likely to leave the organization. (Diversity Inc.4)
Ensure a sustainable workforce
By the year 2050, there will no longer be a clear racial or ethnic majority in America. And over the next 40 years, immigrants and their children will account for 83% of workforce growth in the US. (Center for American Progress5)
Stay competitive
80% improvement in business performance among firms with high diversity levels (Deloitte6) Work teams with high levels of inclusion outperform others by 8:1. (Deloitte7)
Capture new opportunity
70% higher likelihood of capturing a new market among firms with high gender and ethnic diversity. (HBR8) Employees in a "speak up" culture are 3.5 times more likely to contribute their full innovative potential. (HBR9)
Create investor value
Investors would have been better off, on average, investing in companies with women on their management boards than in those without. (Credit Suisse10)
1 Adapted from "Why Diversity Matters," by Vivian Hunt, Dennis Layton & Sara Prince, 2015
2 Adapted from "Why Diversity Matters," 2013 ©2013 Catalyst
3 Adapted from "Creating Competitive Advantage Through Workforce Diversity," 2012 ©2012 The Corporate Executive Board Company
4 Adapted from "Driving Performance and Retention Through Employee Engagement," 2004 ©2004 Corporate Executive Board
5 Adapted from "The State of Diversity in Today's Workforce," by Crosby Burns, Kimberly Barton, & Sophia Kerby, 2012
6 Adapted from "Waiter, is that inclusion in my soup? A new recipe to improve business performance," by Giam Swiegers & Karen Toohey, 2013 © 2013 Deloitte
7 Adapted from "The Rise of the Social Enterprise," 2018 ©2018 Deloitte Global Human Capital Trends
8 Adapted from "How Diversity Can Drive Innovation," by Sylvia Ann Hewlett, Melinda Marshall & Laura Sherbin, 2013 ©2013 Harvard Business Review
9 Adapted from "How Diversity Can Drive Innovation," by Sylvia Ann Hewlett, Melinda Marshall & Laura Sherbin, 2013 ©2013 Harvard Business Review
10 Adapted from "Higher Returns with Women in Decision-Making Positions," by Mark Misercola, 2016 ©2016 Credit Suisse Group AG
Ask the tough questions
Are your talent acquisition team and their LOB partners forcing square pegs of desired, transformational talent into the round holes of vertically-aligned, product-driven organizations? Is the right talent interested in these roles?
Do your teams aggressively pursue non-traditional routes for ensuring top diverse talent is spread throughout the organization? When diverse talent is identified, is there a process and openness to cross pollinating and/or ability to combine/develop roles?
Who is responsible for designing the position profiles and the initial screen? What methodologies are being used to ensure executive talent is being evaluated against competencies relevant for tomorrow's challenges?
Is compensation adjusting appropriately to the market for data & analytics, AI, and digital? How handcuffed is your team re: compensation compression and legacy banding/grading as you look to acquire top talent?
Ecosystem
Hurdles in your ecosystem
The solutions to the first three challenges - Customer Experience, Organizational Design, and Diversified Talent - will fall apart without an enterprise-wide ecosystem to support their growth. Gartner's Financial Services Innovation Survey found:
"The biggest threats to innovation are internal politics and an inflexible organizational culture that does not accept failure or ideas from outside." Gartner
Banks still possess the size and scope, resources, funding, and customer base to attract top leaders in all businesses and functional support roles. So why is it such a challenge to build a world-class ecosystem?
Challenges
Decisions take too long; agile is a catchphrase, not a culture philosophy.
An outdated board unable to challenge and ask the right questions.
Lack of role clarity that leads to competing agendas, mainly from a matrixed model.
Inflexible hiring/retention strategies; expanded work locations.
Human Resources that is transactional vs. strategic.
Technology unwilling or unable to partner and afraid to fail.
Solutions
Agile is a philosophy, not a buzzword. Lead from the top by increasing the speed of decisions. Fear of failure is paralyzing - challenge senior teams to redefine processes.
Update the board with skills that meet the needs of the future that are on your doorstep today - e.g. AI, ML, and Information Security. push beyond the comfort zone.
Be brave - kill the matrix and replace it with clear channels of decision making and accountability.
Expand employee footprints in geographies where talent resides, offer sabbaticals/community service at 5/10/15 etc., redesign talent acquisition to identify talent vs. spec.
Break traditional HR molds, focus on teammate experience, cross-train business leaders through HR roles, insist on continually updated LD/OD and succession plans.
Agile development, continual investment in training (Stanford D School, IDEO), aggressive external partnerships.
Ask the tough questions
How successful have you been in creating an ecosystem of lower acquisition/servicing costs and high customer advocacy within your digital channels? Seamless transactions lead to higher usage, leading to reduction in cost and volume across the branch and contact center, allowing reinvestment to further improve digital offers that allow your field to focus on problem resolution.
What is the pace of movement towards an open banking model? Leveraging your core operating infrastructure as an asset – reused, shared, monetized through APIs – will help you outpace your peers and even compete with European banks.
Have you baked cybersecurity into every aspect of change, from legacy systems to new technologies?
Is your diversity diversified? A focus on gender and race diversity only is myopic and, as such, misses opportunities to bring in talent from other industries. To successfully compete for top diverse talent, companies need to experiment with alternative offices as well as innovative compensation and retention strategies.
When did you last engage in a Board assessment & effectiveness program?
Can you honestly see your C-Suite managing in an agile environment? If not, what steps are you taking to remove those hurdles?
It is imperative that the C-suite create a culture conducive to innovation and growth and willing to challenge the status quo. The world's most successful companies consistently question themselves and have parted ways with outdated hierarchies and sacrosanct decision and communication paths that block innovation and progress.