STEP 1: Agree on the Meaning of D&I
Ensure that all executives understand the organization's specific definition of diversity and inclusion so that they can act as informed advocates.
STEP 2: Develop a D&I Strategy
Establish a D&I strategy to realize human capital benefits, such as increased employee engagement and creativity.
Step 3: Publicly Commit to D&I
Transparently commit to D&I and hold leadership accountable to results.
Step 4: Use D&I to Attract Top Talent
Demonstrate commitment to D&I to attract top talent, which is increasingly seeking out companies that "walk the walk."
Step 5: Incorporate D&I into Talent Strategy
Understand how the absence of an overarching process or strategy will ultimately obstruct talent attraction, development, and retention.
Step 6: Lead by Example
Personify the organization's D&I agenda and philosophy to influence others to do the same.
Methodology
Russell Reynolds Associates surveyed 2,167 male and female executives around the world to understand how companies align themselves around diversity and inclusion (D&I). We compiled insights from our data and our work in the market into six steps that leaders can take to help their companies achieve D&I success. We used the following definitions to craft our approach:
Diversity: Gender, race, ethnicity, religion, national origin, age, sexual orientation, gender identity and expression, disability, veteran status, political affiliation, education, experience, work style, communication style, socio-economic background, cross-cultural competency and perspective
Inclusion: The cultivation of an environment that creates opportunities for all employees to realize their unique potential
Belonging: The extent to which individuals feel they can be their authentic selves at the organization
We used these definitions to test the impact of D&I on the following human capital outcomes:
Decreased intent to leave
Increased employee engagement
Increased creativity
Greater employee belonging
Diverse talent retention

Step One: Agree on the Meaning of D&I
Companies must ensure that executives are not only aware of D&I strategies, but also understand what D&I means to their specific organizations, so that they can serve as informed advocates.
Many companies understand "diversity," but struggle to grasp "inclusion" in concrete terms. Nearly half of executives (47%) state that their organizations have a clear, holistic definition of diversity, while less than a quarter (24%) are aware of a definition of inclusion. Similarly, many more companies publicly align their business strategies with diversity than with inclusion, according to their executives.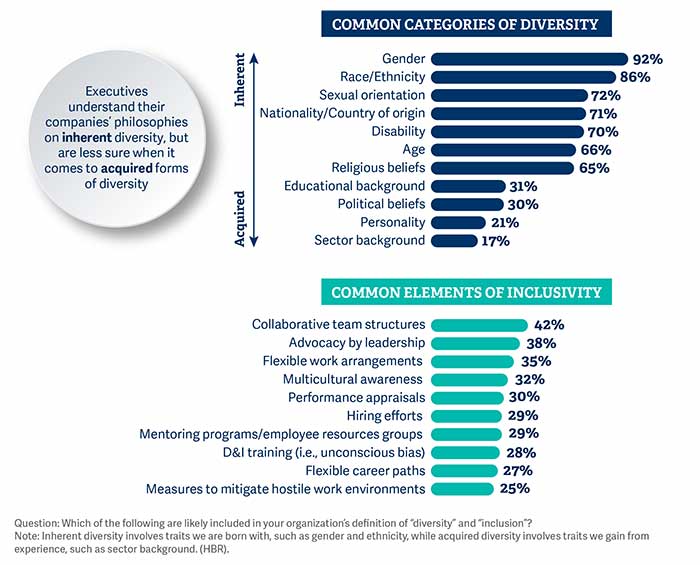 Step Two: Develop a D&I Strategy
Companies that have an established D&I strategy consistently score higher on human capital outcomes, such as employee engagement and creativity. The impact of this strategy is enhanced when leaders are fully committed.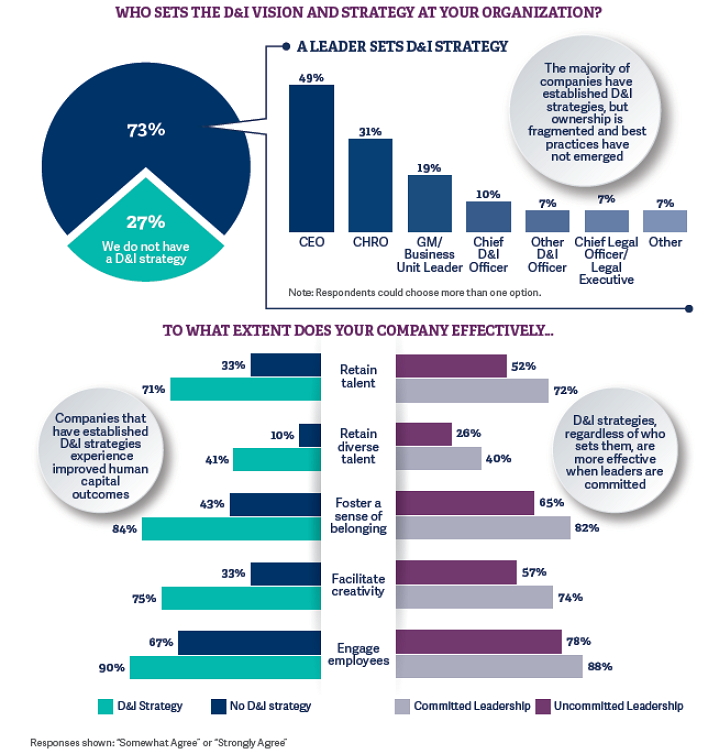 Step Three: Publicly Commit to D&I
Companies are increasingly aware that they need to commit to D&I as a corporate objective and establish systems of accountability. For a D&I strategy to succeed, however, leaders must be motivated to drive it. To get these leaders on board, companies are moving beyond treating D&I as a compliance obligation and are instead broadcasting the commercial benefits it promises if truly embedded into the company's DNA. Further, they are encouraging D&I goal setting across the employee base, and specifically the leadership team, as an important step in displaying commitment to D&I. Formal accountability mechanisms, such as adding D&I targets to leadership performance criteria, ensure that real progress is made over time.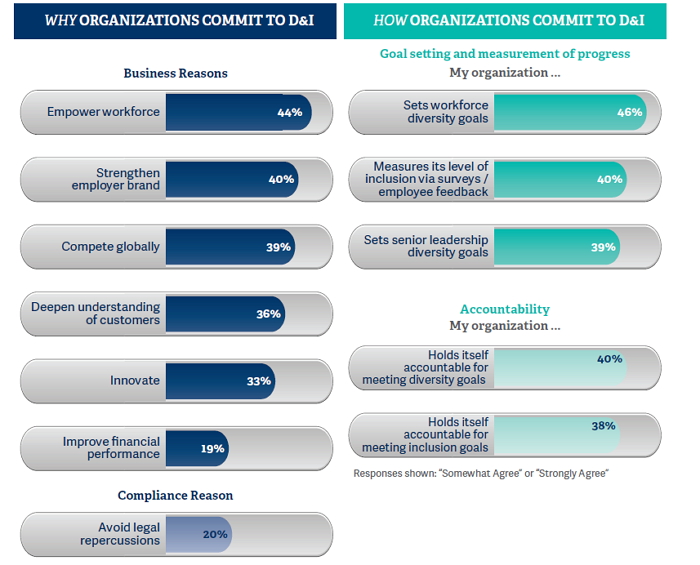 Step Four: Use D&I to Attract Top Talent
Companies are failing to recognize D&I as a critical solution to the challenge of identifying and attracting top talent. While 74% of executives view D&I as crucial to the success of their organization, most companies do not take advantage of D&I to attract top talent. By failing to embed D&I into their talent strategy, companies not only miss out on exceptional talent, but also on the benefits realized by diverse talent and an inclusive culture.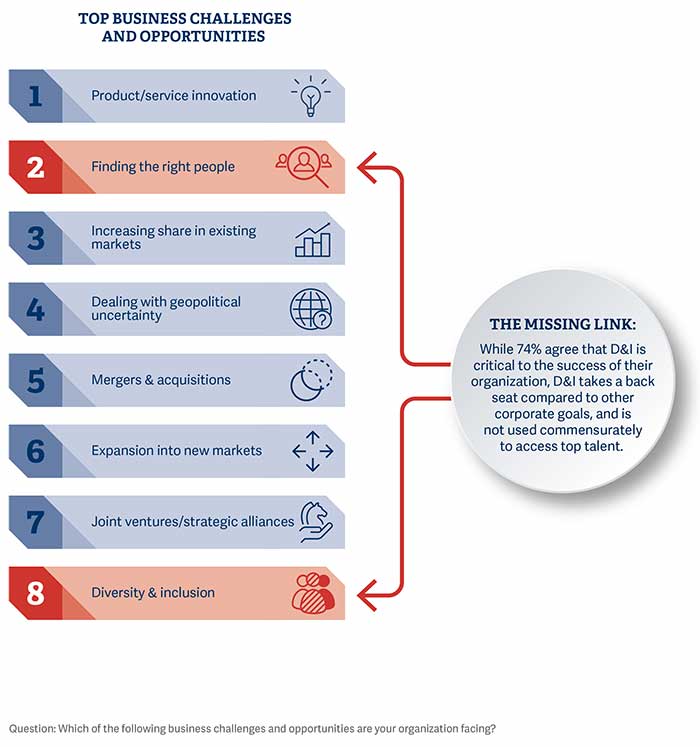 Step Five: Incorporate D&I into Talent Strategy
Although more than half of companies (53%) prioritize the hiring of diverse talent, significantly fewer are focused on talent retention (47%). Further, only a quarter of companies are ultimately effective at talent attraction and retention, suggesting there are significant obstructions to an effective D&I strategy. Leaders must understand that while isolated efforts, such as hiring programs or flexible work arrangements, may get diverse employees through the door, the lack of an overarching process or strategy ultimately impedes talent attraction, development and retention.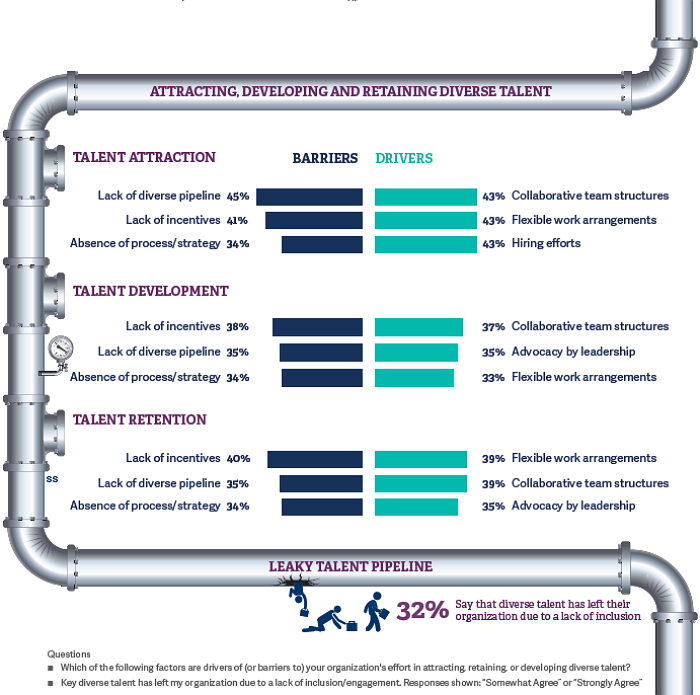 Step Six: Lead by Example
D&I strategy is most effective when leaders are visibly committed to D&I and modeling inclusive behaviors.