Encouraging diversity and fostering an inclusive working environment are widely considered the right things to do. However, research increasingly shows they are also key to maximizing business performance. Russell Reynolds Associates' second annual Diversity and Inclusion (D&I) Pulse survey asked more than 1,800 executives worldwide about their perceptions of their organizations' cultures and commitment to D&I. We also asked for specific feedback on their leaders' styles. A key finding: Inclusive leadership behaviors profoundly affected their experiences – and often performance – in the workplace.
When leaders demonstrated inclusive behaviors such as visibly committing to D&I and encouraging people to voice different opinions, more than 90 percent of executives felt they had a positive working relationship with that leader, could bring their authentic selves to work and wanted to remain in their jobs.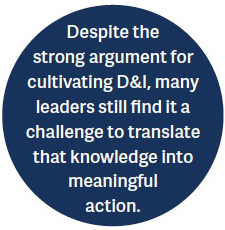 Further bolstering the importance of inclusive behaviors, recent research shows that companies with diverse leadership teams and inclusive cultures are more likely to be innovative, and consequently produce higher revenues than their more homogeneous counterparts. These effects are not insignificant: one recent study found organizations with inclusive cultures were twice as likely as others to meet or exceed financial targets, and six times as likely to foster innovation.1
Despite the strong argument for cultivating D&I, many leaders still find it a challenge to translate that knowledge into meaningful action. RRA data shows that diverse populations frequently feel less positive about their work experiences than others, a feeling that is particularly acute for LGBTQ+ executives.

Based on data from more than 700 executives in the US and Canada, RRA compared the D&I Pulse responses related to perceptions and experiences in the workplace of the 8 percent (55 executives) who self-identified as LGBTQ+ to those of others: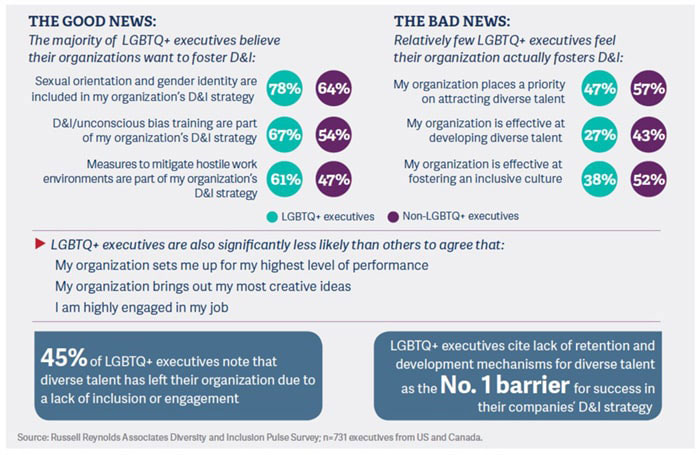 Marketplace Perspectives

In line with RRA's findings about the workplace experiences of LGBTQ+ executives, the recent "Workplace Divided" report by Human Rights Campaign reveals ongoing challenges in the workplace for the broader population of LGBTQ+ employees.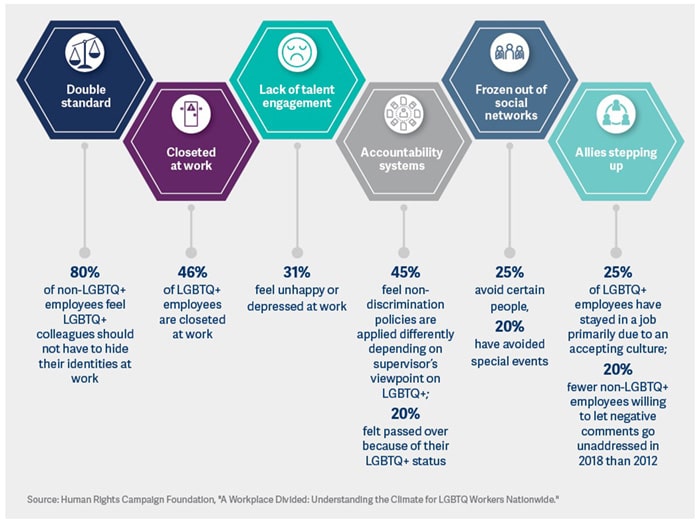 The Path Forward

Membership status in the LGBTQ+ community is often invisible. Yet by not attempting to create an inclusive environment where people can feel free to disclose their true identities – including LGBTQ+ status – companies risk eroding productivity and losing key talent.
Based on the survey responses of LGBTQ+ executives, RRA's D&I Pulse data point to three primary areas for attracting, selecting, retaining and developing this group: raising awareness, mitigating hostility by managing risks and developing internal networks.
In practice, we recommend the following steps to help organizations make progress in these areas and ultimately improve talent outcomes.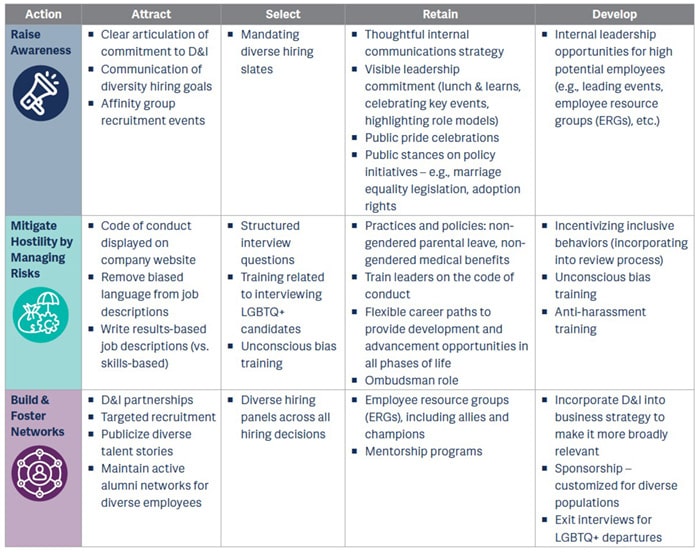 Building an inclusive work environment takes time. Non-LGBTQ+ employees need education and encouragement to change tone-deaf behaviors, and LGBTQ+ employees may understandably need to see a track record of improvement before they feel truly included.
The good news is that the first step is typically the hardest – and the more such steps become standard practice, the easier it will be for other companies to take them. With consistent and sincere investment, companies stand to see change that not only transforms their businesses, but also transforms lives.
Pride in Practice
A small cadre of organizations are widely recognized for their best-in-class approaches to fostering inclusive environments for LGBTQ+ employees. Here, we profile four of them based on our conversations and public information.
Across these and other leading organizations, a common theme is that they have learned how to customize efforts for raising awareness, mitigating hostility and building networks for each of the three groups most critical to making LGBTQ+ inclusion part of D&I strategy.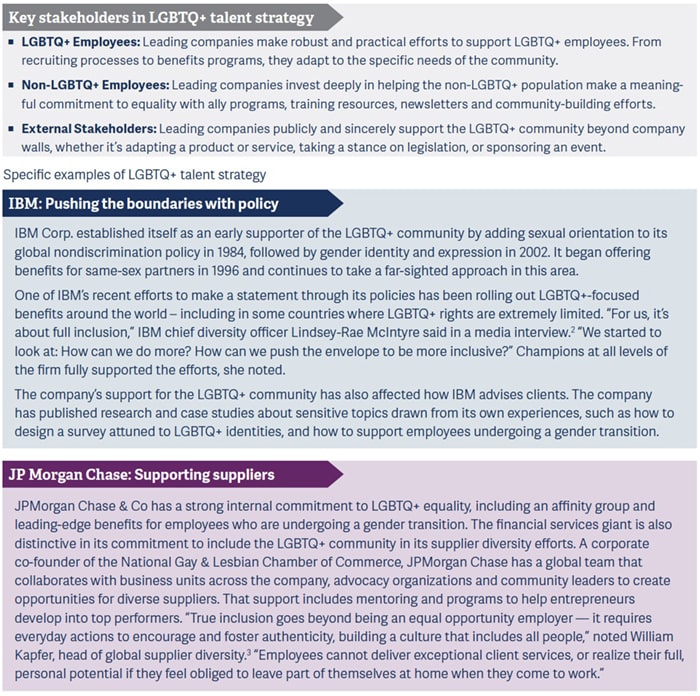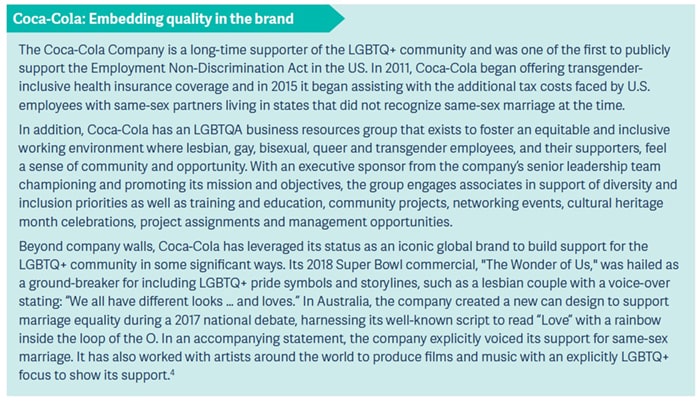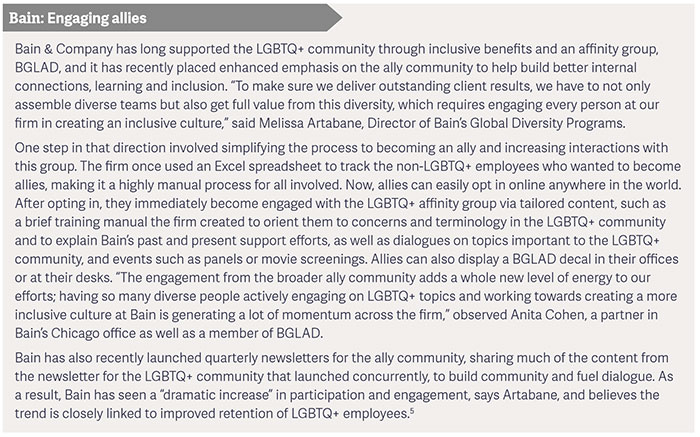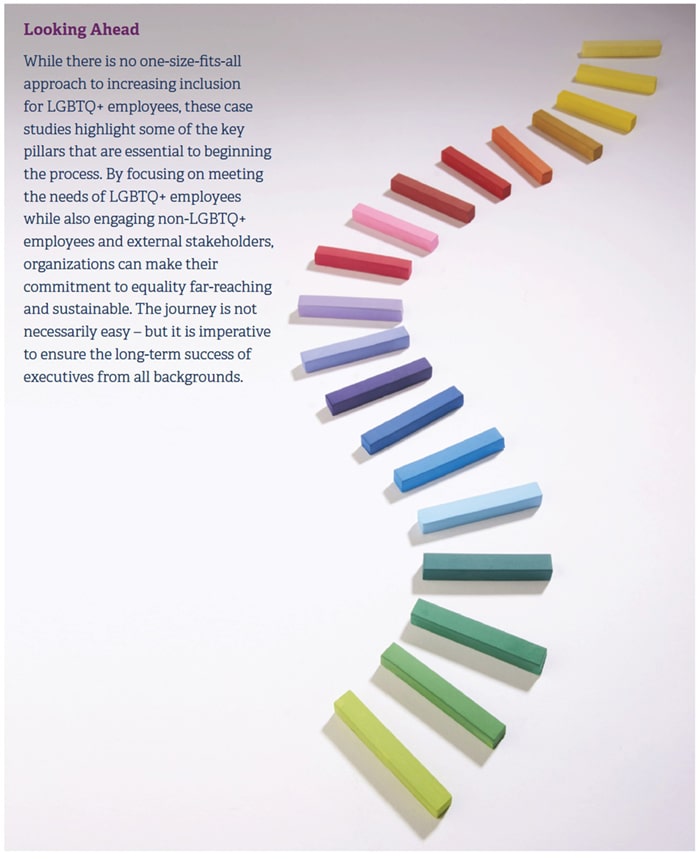 1 Juliet Bourke and Bernadette Dillon, The diversity and inclusion revolution: Eight powerful truths, Deloitte Review (Issue 22).
2 Amy Elisa Jackson, Leading By Example: How IBM Is Promoting LGBT Pride Across the Globe June 8, 2017, https://www.glassdoor.com/blog/ibm-diversity-lgbt-pride/
3 https://www.jpmorganchase.com/corporate/news/insights/pride-paving-way-for-others.htm

4 Based on The Coca-Cola Company website.
5 Based on interviews with Bain executives.