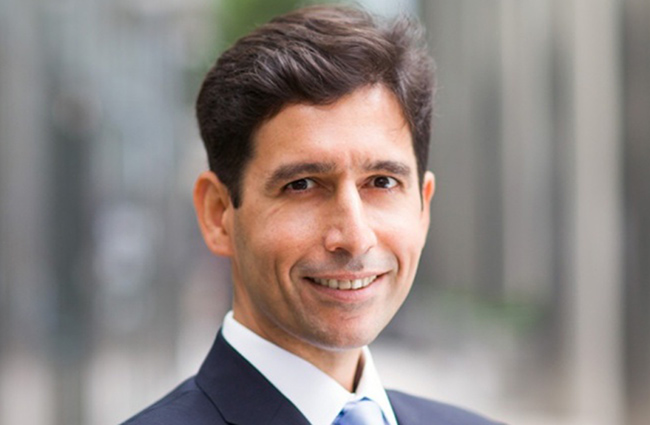 "Greater inclusion without exclusion"—Caroline Raggett interviews Sanjeev Chatrath, region head, Asia, Thomson Reuters

How can organizations engage male employees when pressing for progress on gender parity? What does the future hold for the next generation of working women?
"None of us have all the answers, but having the discussion leads to better dialogue and ultimately a deeper understanding of the challenges, which helps drive progress. We must make sure that in the drive for greater inclusion in the workplace, we don't disengage other groups" An interview with Sanjeev Chatrath, region head, Asia, Thomson Reuters
Sanjeev Chatrath is the region head and managing director of Financial & Risk, Thomson Reuters—covering Asia Pacific and Japan. He is responsible for client business in the region encompassing the end-to-end customer experience, account management, market development and sales. Sanjeev chairs the Corporate Responsibility & Inclusion Asia Council and the Regional Operating Committee in Asia. He is also a member of the Global Women's Action Taskforce and Global Operating Leadership Team.

Sanjeev has worked in the Asian financial markets for over 21 years in business leadership roles spanning Asia Pacific, South Asia and the Middle East. Prior to joining Thomson Reuters, Sanjeev worked with Citigroup, where he was chief operating officer and region head of Client Sales Management for the Treasury and Trade Solutions business. Sanjeev is a member of the board of governors of the American Chamber of Commerce in Hong Kong; board member of ASIFMA (Asia Securities Industry and Financial Markets Association); co-chair of the industry-wide Male Allies group in Hong Kong; and a member of the 30% Club, which supports gender diversity on Hong Kong boards.

Caroline Raggett: You have been critical in pushing for progress in the region regarding female representation in the workforce. What spurred your interest and passion for the topic?

Sanjeev Chatrath: I was very fortunate growing up with a working mother. She worked in a manufacturing company in India in the 1960s, and she would wake up very early in the morning and get our breakfast and lunch ready, before leaving for work. At that time, in India, this was very unusual and she was one of only a few working mothers in the whole neighborhood, which was hugely challenging for her. It wasn't until much later in life that I could actually appreciate how much of a purpose going to work gave her. In many ways, it molded my brother and me into who we are today. We are independent, and we have less bias and fewer expectations of what role we can or cannot play, whether it's in the kitchen, at home or within a company.

What I find so saddening is thinking about the significant progress we have made since the 1960s, in terms of technology, digital and other global innovations, yet it is remarkable how little progress we have made in terms of female representation in the workforce. Working women all over Asia still face many of the same biases and challenges that my mother faced in the 1960s. I think that this is very disappointing.

Caroline Raggett: Can you tell me more about the organization you co-chair, Male Allies?

Sanjeev Chatrath: A couple of years ago, a few other like-minded individuals and I, based in Hong Kong, who have a similar passion for diversity and inclusion, came together to discuss some of these issues. We recognized that a change in the system was required to deliver progress, and many of those who make up that system are male, so not engaging men would make changing the system even more difficult. So we started Male Allies as a way of bringing together male leaders in the region, mostly country or regional CEOs and MDs of multinational companies, in order to begin to engage more men on the topic.

All members have signed pledges, either personal or institutional, to hold themselves accountable. All have made commitments to drive positive change in their organizations, such as to have diverse candidate slates and diverse interview panels within the recruitment process. We are also looking into research to develop broader perspectives on what is holding women back, and we also plan to run events. None of us have all the answers, but having the discussion leads to better dialogue and ultimately a deeper understanding of the challenges, which helps drive progress. We must make sure that in the drive for greater inclusion in the workplace, we don't disengage other groups.
Caroline Raggett: Which leads directly into my next question, which is, how can you continue to push for progress on this topic without disengaging or disenfranchising men?
Sanjeev Chatrath: Frankly, I am still learning how to do this. The challenge is that this topic is deeply personal and everyone has their own perspective. Some men may be engaged because they have daughters and they think about the kind of world that they are leaving them, some because they have had a personal experience of some kind and others perhaps because they have been coached or mentored by a female colleague or manager. It is understanding these motivations that helps to engage people on the topic.

Personal stories also help. When people hear that a topic is close to your heart, it makes a difference. Ultimately, as long as the direction of progress is right, you eventually create a snowball effect that gathers more momentum over time.

Caroline Raggett: Thomson Reuters is globally renowned for being a great place for diverse talent to work. How are you driving this?

Sanjeev Chatrath: Thomson Reuters is anchored on consistently driving a strong culture of inclusion, which tries to ensure that there is a freedom from bias in the workplace. This is the tone of the organization as a whole and over time this has made a significant impact. It also comes through the actions of the organization, for example, our public commitment to improving female representation or the range of policies and practices in place. We also encourage our workforce to share their personal stories and often bring in inspiring speakers to tell theirs. There are so many different things that we do and it is an amalgamation of these things that truly drives a feeling of belonging.
Caroline Raggett: What do you think the future holds for the next generation of working women?
Sanjeev Chatrath: My view of the future is very optimistic because I'm very hopeful that the next generation is not going to face, or carry, the same biases that previous generations have. When I look at my sons, for example, I see them celebrate diversity of thought and embrace diversity in every form. I think that future leaders will be even more comfortable working in a more diverse and inclusive world because that is the world that they have been raised in. Seeing this gives me a lot of confidence and I think that the future is very bright.

Thank you, Sanjeev.