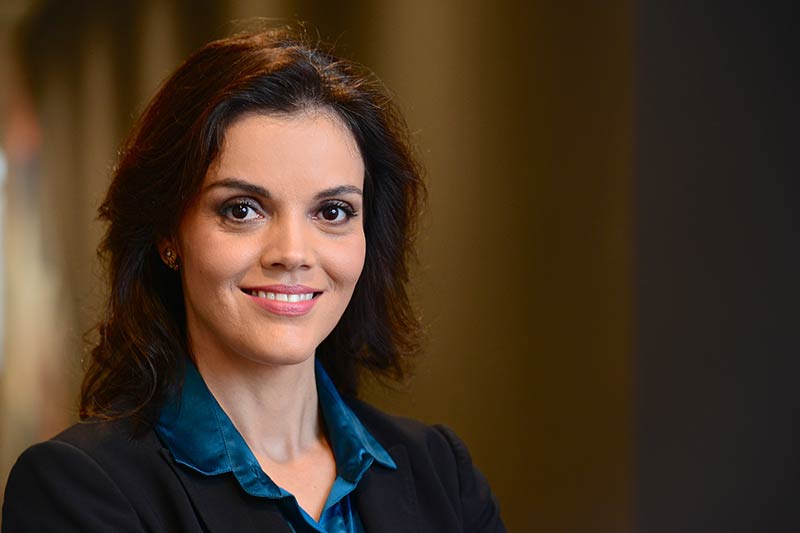 Tatyana Freitas interviews Ana Paula Assis, general manager of Latin America, IBM.
"Making an impact when it comes to diversity and inclusion requires changing society and providing education; it will need time, but is absolutely critical for organizational sustainability and societal responsibility."
Ana Paula Assis, the first female executive to lead IBM's operations in Latin America, is responsible for the company's business strategy, development of its professionals, and working with clients and the market to help accelerate digital transformation, adoption of artificial intelligence and new cognitive models in the region. Ana Paula has more than 20 years of experience in the information technology industry and strategic business development, as well as a broad international career, which includes a series of global leadership positions. In the last decade, she was IBM's director of the Global Technology Services unit for the Financial Services Industry in Latin America, as well as director of Strategic Outsourcing, IBM Brazil and vice president of the Software Group, IBM Brazil. In 2015, she was named vice president of the Software Business for IBM Greater China Group, an operation that includes China, Hong Kong and Taiwan. At the beginning of 2017, she returned to Latin America to lead the regional services organization.

Tatyana Freitas: What were some of the key factors that contributed to you becoming the first woman to lead a regional organization in the technology space in Latin America?

Ana Paula Assis: Having a very diverse background, both professionally and personally, was a very important element. Professionally, I had the opportunity to rotate and gain experience within multiple business units, which gave me a broad perspective on the business. Personally, I am from Brazil, so I have held Latin American roles before, but I've also lived in the United States and China for a while, and the cross-cultural experience enhanced my understanding of diversity in business.

My appointment is a natural manifestation of the true beliefs of the company. IBM has really been an example in terms of diversity and inclusion for a very long time: In 1947, we had our first female senior vice president, we hired people of color before the Civil Rights Act was issued in the United States and we signed the first equal-opportunity letter in the history of the United States. We're sending a clear message to the market that diversity in the form of gender, sexual orientation, and so on, must be respected but a solid background and strong competencies to deliver results are what ultimately speak the loudest. I think the fact that the longstanding career I built at IBM could culminate in taking this position is a clear indication that dedication, commitment and excellence in work pay off, and at no point did I feel that I would encounter obstacles due to the fact that I am a woman.

Tatyana Freitas: That's wonderful. What are some of the diversity challenges in the Latin America region?

Ana Paula Assis: I think a major challenge is around the maturity of skills that we have in the region. Technology is moving at a very fast pace, and Latin America needs to embrace that with agility. As a company with a societal responsibility, we have a mission to support governments and the education system to ensure that we have enough talent to address the technology transformation opportunity.

Regarding diversity, it depends on the specific area within the region; for example, it is a bigger challenge to be inclusive of people of different ethnic backgrounds in some countries, while there are certain countries where including women is the larger challenge. It's important to be mindful of the differences between cultures, even within our region, in order to drive specific initiatives and address diversity and inclusion in each of them.

The overarching goal is always to make sure that you attract the best talent you can find, no matter what their background is or who they are. As I mentioned before, in a high-performing environment like the one at IBM, competency and ability to adapt are really the only elements that we look for.
Tatyana Freitas: In a complex structure like IBM, how do you see the role of the board and the executive committees in creating and executing D&I strategy?
Ana Paula Assis: The board and the executive committees have very important roles. Most of the time, we talk about leadership setting the tone, but I think it's even more crucial that they set the example. Our board has the privilege of having iconic African-American CEOs: Ken Chenault from American Express and Dr. Shirley Ann Jackson, president of the Rensselaer Polytechnic University. Also, our chair and CEO is a woman. By being an organization that really demonstrates that it not only sets policies, but also executes and leads policies, IBM is able to actively engage with both diverse employees and clients.

Tatyana Freitas: What are the next steps for diversity and inclusion in the Latin America region?

Ana Paula Assis: It's challenging to build strategies for the inclusion of ethnically diverse, LGBTQ+ or female leadership because it's not simply about setting a metric and executing. First, we need to raise even more the awareness in the region. There is certainly much more dialogue happening today, but I still see a huge gap in moving from the intent toward reality. Second, we need to make the extra effort to execute; the dialogue is important, but it needs to be actionable. This also shouldn't be a corporate discussion, it has to embrace all parts of our society. Making an impact when it comes to diversity and inclusion requires changing society and providing education; it will need time, but is absolutely critical for organizational sustainability and societal responsibility.

Thank you, Ana Paula.