2. Both inclusion and equity must be addressed for members of diverse teams to develop a sufficient sense of belonging.
As part of our research, we also sought to understand how important inclusion and equity prove to be when aiming to foster belonging within a diverse team. Respondents to our Inclusion Index assessment evaluated different aspects of their workplace experiences, including:
Organizational climate: Includes measures of working across differences, workplace respect, and employee voice and influence (all of which are indicators of inclusion)
Organizational structure: Includes how the workplace accommodates differences, and handles employee recruitment, development, and retention (all of which are indicators of equity)
Overall sense of belonging: Includes outcome measures specific to their team or functional group
Our findings showed that when diversity increased within organizations, there was an observable lift to both equity and inclusion. That lift in equity and inclusion is what is ultimately driving that important growth in belonging among diverse teams – underlining the importance of the "D", the "E" and the "I" in diversity, equity, and inclusion work. Therefore, our findings suggest that as diversity increases, equity and inclusion will also see a lift, which will result in the end goal of increased belonging. Our findings also suggest that both inclusion and equity are required to create a feeling of belonging, rather than just one or the other. For organizations, this means that they must address both the systemic barriers which hinder equity, while also creating an environment where all employees feel like they may be authentic and contribute fully.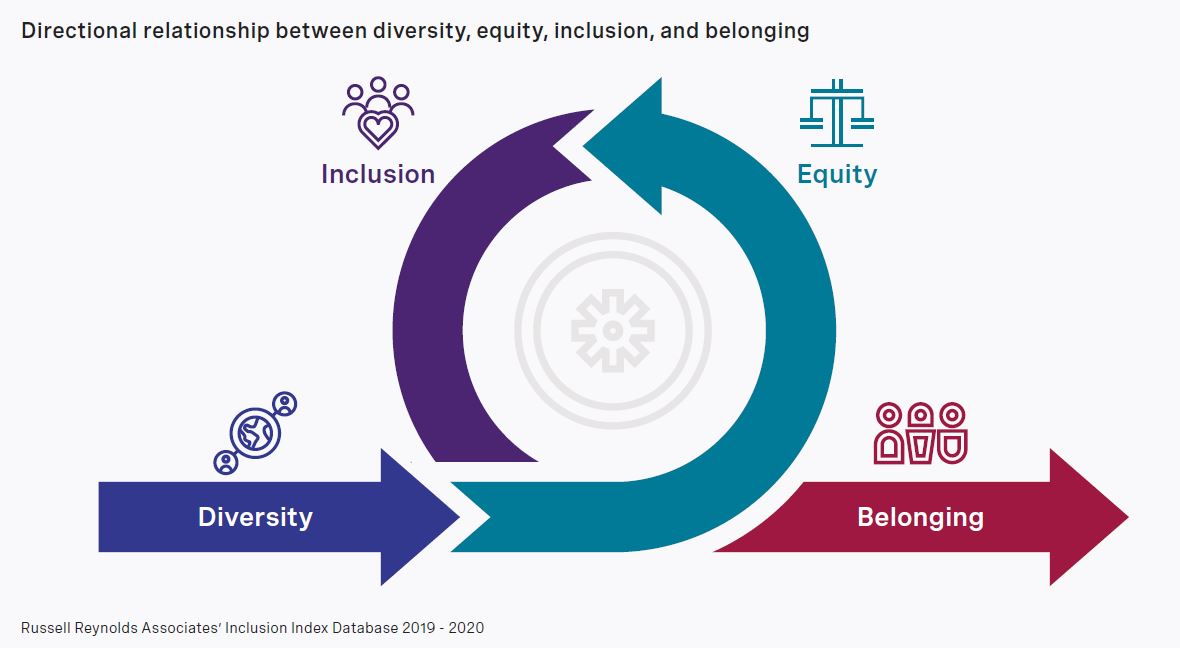 3. Inclusive leadership characteristics such as empathy and willingness to take feedback had a measurable impact on inclusion, and gave belonging a lift.
Beyond the practices and policies of an organization, the type of leadership that employees experience on a day-to- day basis can have a significant impact on their sense of belonging. In our work, we define inclusive leadership by four traits: innovative collaboration, empowering others, courageous accountability, and awareness and clarity (see appendix for full definitions). In this analysis, we set out to understand when inclusive leadership has the greatest impact on belonging and which of these four inclusive leadership traits might contribute the most towards bridging diversity and belonging
Our analysis confirmed that when employees perceive their leaders to communicate a commitment to diversity, equity, and inclusion and have an open ear to feedback, employees are more likely to have a strong sense of belonging to their team. This connection is most impactful when the environment is less inclusive, and less important when organizational inclusion is already very solid. In addition, we found that an investment in leadership training and development for people managers and leaders had a strong impact on increasing inclusion from year to year. Our analysis found that after inclusive leadership development programs were completed, employees' sense of inclusion within their teams increased by an average of 6 percentage points (see Figure 2). This was especially true of the areas of leadership commitment, working across differences, and accommodating differences.
Of the four inclusive leadership traits, (see Appendix for full definitions) strong capabilities for demonstrating awareness and clarity had the most significant impact on belonging for employees. This suggests that leaders who are self-aware about their own relative position and are willing to speak about that candidly with their teams can mitigate a low sense of inclusion among employees and drive belonging, regardless of their own gender or ethnic identity.
In addition, demonstrating a desire to empower others, through both an empathetic understanding of the lived experiences of those who are different and a willingness to receive feedback, also had a significant impact on building a sense of belonging among employees who felt excluded.
Empathetic leadership goes a long way towards making employees' challenges feel heard, but just as important is a leader being open to receiving feedback about where they can do more to mitigate the challenges of their team members. This is likely to be particularly true for diverse team members, who may have different perspectives on the organization than the majority of the group.
After the leadership workshops, belonging saw a small lift of 1 percentage point, which is a step in the right direction. However, through this work we learned that organizations need to make strides to improve their equity to see greater gains in belonging. Those efforts can take much longer than a single year.
This finding that certain leadership traits can contribute towards strengthening inclusion and belonging among diverse teams has important implications for leadership development training as organizations seek to diversify and improve DE&I for their workforces. These inclusive leadership behaviors are ones that can be taught and practiced, and as our analysis shows, make a significant impact on inclusion in just a short span of time, and over the long run positively impact belonging.