Within Our Firm
---
Setting a near-term, science-based GHG emissions reduction target and long-term Net Zero emissions goal, to be verified by the Science-Based Targets initiative (SBTi) in 2023
Launch supplier engagement program by engaging with five largest suppliers on environmental data and policies by the end of 2023
Work together to identify three opportunities to reduce the environmental impact of our business travel by end of 2023
100% energy usage from renewable sources by 2025 (either by renewable tariffs or RE100 compliant EACs)
100% diversion of e-waste from landfill by 2025, prioritizing reuse

In Our Community
---
Between 2023 and 2028, commit 100,000 working hours of volunteer service to community-based programs
---
Listening to Stakeholders
Our leadership advisory research shows that the most effective leaders are committed to listening. We started the formalization of our sustainability strategy by listening to the concerns and suggestions of our internal and external stakeholders through a research-based and collaborative approach.
Materiality Assessment
To start, we ran a thorough, four-part materiality assessment, spanning from Q4 2020 through Q1 2021. This process allowed us to hear from our stakeholders about the environmental, social, and governance issues material to our business and to prioritize our opportunities for impact. Our materiality assessment process included:
Research and Benchmarking
Stakeholder Engagement
Synthesis and Analysis
Validation
This assessment provided us with a deeper understanding of the internal operations, current priorities, and areas of most importance to our internal and external stakeholders.
The following matrix identifies and prioritizes the firm's most significant ESG impact topics based on our assessment findings.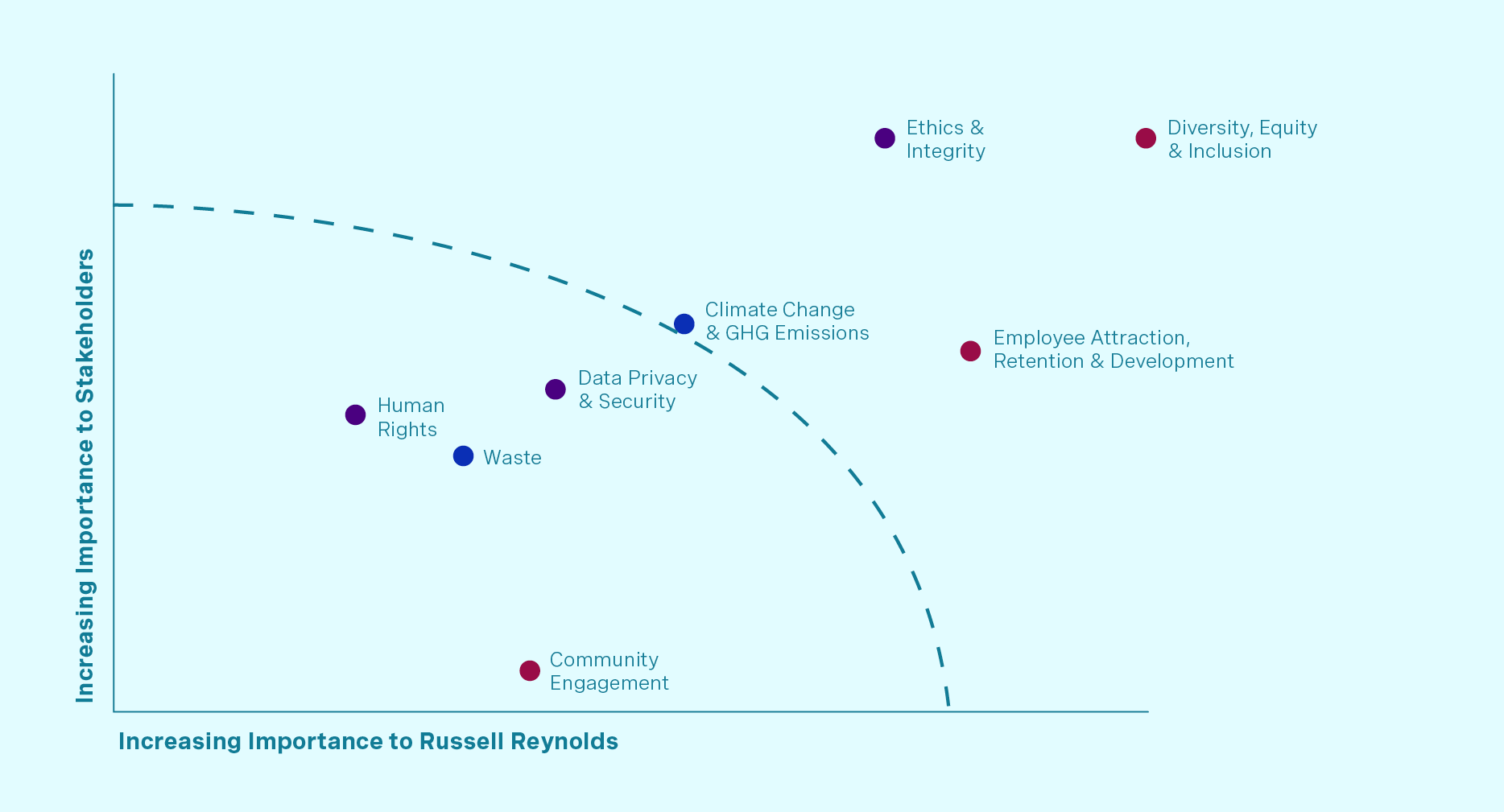 Environment

---

Reducing our greenhouse gas emissions
Reducing our waste

Social

---

Supporting the communities in which we live and work
Embedding diversity, equity, and inclusion more deeply into our culture
Attracting, retaining, and developing talent
Respecting human rights in all areas of our business

Governance

---

Continuing to ensure our leadership, colleagues, and partners conduct business with ethics and integrity
Protecting the confidential information we are trusted with by continuously enhancing data privacy and security
Ongoing Stakeholder Engagement
The best leaders continue to learn by listening. We're committed to continually and actively seeking feedback from our internal and external stakeholders. We'll report our stakeholder engagement activities as our sustainability approach evolves.
We facilitate a global, biannual culture survey to give RRA leadership a chance to hear from our colleagues on the issues that are most important to their wellbeing and engagement with the firm. We use our proprietary method—a program we also use with our clients—to survey an array of topics, including issues that relate directly to our sustainability journey, as well as those related to our material issues of diversity, equity, and inclusion, and our employee engagement and development programs.